Would you like to know the number 1 secret of running a successful blog that gets tons of relevant traffic and generates an average of $5,000 monthly income on the side?
Here it is: It's all about finding and investing in the right marketing tools.
The only problem? There's an infinite sea of marketing tools to choose from.
With tons of online tools vying for your attention (and wallet), separating the wheat from the chaff is easier said than done.
Which is why I decided to create this in-depth list of all the essential marketing tools (both free and paid) that a blogger like you needs to achieve blogging success. Below are some of my favorite online tools and resources — from web hosting to content creation to SEO to social media marketing — which have played a pivotal role in making my blogging journey easier and fun, and I guarantee they'll do the same to you.
Whether you're a beginner or a seasoned blogger, all the online marketing tools you'll ever need are right here in this post.
In other words, if you're looking for the perfect marketing toolkit to grow your blog, you've come to the right place.
In the last few years, blogging has evolved to a great extent, and several platforms and tools have now emerged to make our blogging journey a bit easier. A few of these tools are truly amazing and a few, quite frankly, just end up wasting your time.
Spending precious hours learning to make the smallest tweaks on your blog can be really frustrating.
This post details all the digital marketing tools, software, and apps that have been tried and tested for all three of my websites:
In addition to my own sites, I also recommend most of these tools to my clients at my digital marketing agency.
With that said, here are all the marketing tools you'll ever need to succeed at blogging.
2019 update: I've updated this article to accommodate a few more tools and resources, and also removed a few that no longer serve the purpose. Another addition is the information on price which you can find below the description of each tool. Many of these tools provide a free version or a free trial, so wherever applicable, I've included the appropriate links.
Affiliate Disclaimer: A few links featured here are affiliate links. This means if you click on the link and purchase the product/service, I'll receive an affiliate commission. That said, I'm recommending these tools to you because I use them almost every day and know how AWESOME they are.
If you'd like to access this resource offline in PDF format, you can download it from here for free.
Web Hosting & Blogging Platforms
BlueHost makes it super easy to setup a new website. If you're planning to use WordPress as your CMS, then look no further than BlueHost as your web hosting provider. They provide stellar customer service and will help you every step of the way in getting your website up and running.
Price: Starts from $3.95/mo (Click here to get started)
To learn more BlueHost's shared hosting plans, check out our BlueHost review
Namecheap offers some of the most affordable web hosting plans. They are fast, reliable, secure, and all plans come with a 14-day money back guarantee.
Price: Shared hosting plans start from $2.88/month
With over 25% of websites across the world running on WordPress, you don't have to second guess whether or not this is the right content management system (CMS) for you. Make your blogging journey much easier by choosing WordPress as your preferred blogging platform.
Price: Free
WordPress Themes
Most of the professional bloggers use Genesis Framework to power their WordPress blogs. It's the gold standard for WordPress themes. Buying a child theme for the Genesis Framework means that you'll have a website with super fast load times, optimizing your blog posts in search engine result pages.
Price: $59.95
All the Genesis Framework themes are powered by StudioPress. The StudioPress themes are easy on the eye, responsive, and SEO-friendly.
Price: Starts from $59.95/theme
This is the theme I currently use at 99signals. I use this theme for my wellness blog, Soulful Arogya, as well and recommend it highly to all my clients.
The Newspaper theme is excellent for a news, magazine, publishing or review site. It also offers a seamless integration with WooCommerce. And it's super fast.
Price: $59 for regular license
There are a ton of social media scheduling tools on the market, but my personal favorite is Publer because of its minimalistic user interface and ease of use.
Publer is a social media scheduler that helps you post, schedule, and analyze your content on all major social channels. You can connect your social accounts to Publer and start scheduling content on these channels within a few minutes.
Price: $15/mo; Publer's free plan lets you connect up to 3 social accounts
One of my favorite social media tools. Not only can you schedule posts across different social media channels using Buffer, but you also get to see which of your posts have performed well so you can re-Buffer them again in the future. Not to mention they have one of the coolest, most efficient customer happiness teams.
Price: Free (add up to 3 social accounts and schedule 10 posts/account at any one time) — Click here to create your free Buffer account
* Paid plans start from $15/mo
Shorby allows you to optimize your Instagram traffic with clickable links, messengers, and social networks. With Shorby, you can side-step Instagram's 'one link in bio' limitation and send Instagram users to your custom profile created via Shorby.
Price: Starts from $9/mo (Click here to start your free 5-day trial)
To learn more about Shorby, check out my in-depth video review and walkthrough.
SocialBee is an all-in-one social media tool that allows you schedule posts, curate content, and grow an audience. With SocialBee, you can post and schedule your content to Twitter, Facebook, LinkedIn, Instagram, Pinterest, and Google My Business.
SocialBee also lets you categorize your content to save time when creating your posts. You can schedule your posts with categories in mind, to get the best content mix across all your social profiles, and recycle your top evergreen content.
To learn more about SocialBee's key features, check out my in-depth video review and walkthrough of SocialBee.
Price: Starts from $19/mo
RocketLink allows you to retarget any link you share. With RocketLink, you can grow your audience by adding retargeting pixels and own calls to action (CTAs) to your branded links. In other words, everyone who clicks on your link can be converted into a perfectly targeted custom audience.
Price: Starts at $19/mo
IFTTT stands for "It Not This, Then That" and is quickly gaining popularity among professional bloggers and marketers alike. The best part of IFTTT is that you can access all its features for free. The reason why it's still not used by many professional bloggers despite being free is because it has a steep learning curve.
You'll need some time to fully acclimatize yourself with its different functionalities. But once you've mastered its features, then you've a powerful automation tool which can truly skyrocket your social media engagement.
Price: Free
Click here to get started with IFTTT
PromoRepublic is a social commerce platform primarily aimed at small businesses to help them grow their presence on social media. It's not just a social media scheduling tool, but a social media content creation and automation tool.
PromoRepublic features a post ideas library with 100,000+ hand-crafted visuals, integrated photo stocks, and easy-to-use graphics editor.
Watch this in-depth review and tutorial of PromoRepublic to learn more about the tool's key features.
Price: Starts from $9/mo (Try it free for 14 days)
Memes are great for increasing engagement on social media. Meme Generator allows you to create your own memes to engage and entertain your social media audience.
Price: Free
Landscape is a free image resizing tool by Sprout Social which helps social media marketers produce multiple image sizes optimized for social media profiles, messages, and campaigns.
Price: Free
SEO: Keyword Research
Semrush is not just my go-to SEO tool, it's also the preferred SEO tool of SEO experts and online entrepreneurs around the world. The tool is packed with features that can truly boost your site's traffic.
With Semrush, you can research organic keywords, paid keywords, keywords your competitors are using, do a site audit to fix issues with your website, and much more. It's a must-have tool if you are serious about SEO.
Price: Starts from $119.95/mo
Try Semrush free for 30 days (Worth $119.95)
Side note: To see how Semrush compares with other leading SEO and online marketing tools, check out these comparison posts from my blog:
GrowthBar is an SEO tool that gives you instant keyword suggestions and keyword metrics for any website or Google search result.
Just type in a search query on Google to get suggested keywords for that topic and see important SEO metrics like domain authority, organic traffic, backlink data, etc. for all the sites that rank for those keywords.
The best part? With GrowthBar's Chrome extension, you can do keyword analysis and tracking from the comfort of your browser.
Price: Free; paid plans start at $29/mo
Click here for a 5-day free trial of GrowthBar
HubSpot's SEO tools are integrated with all of their content tools, which means you can easily discover and rank for keywords that are important to your business and your target audience.
HubSpot provides you with keyword suggestions based on relevance, competition, popularity, and monthly search data. Once you've zeroed in on the keywords you'd like to rank for, you can use HubSpot's integrated content tools to create web pages and blog posts for each of the keywords.
Click here to sign up for HubSpot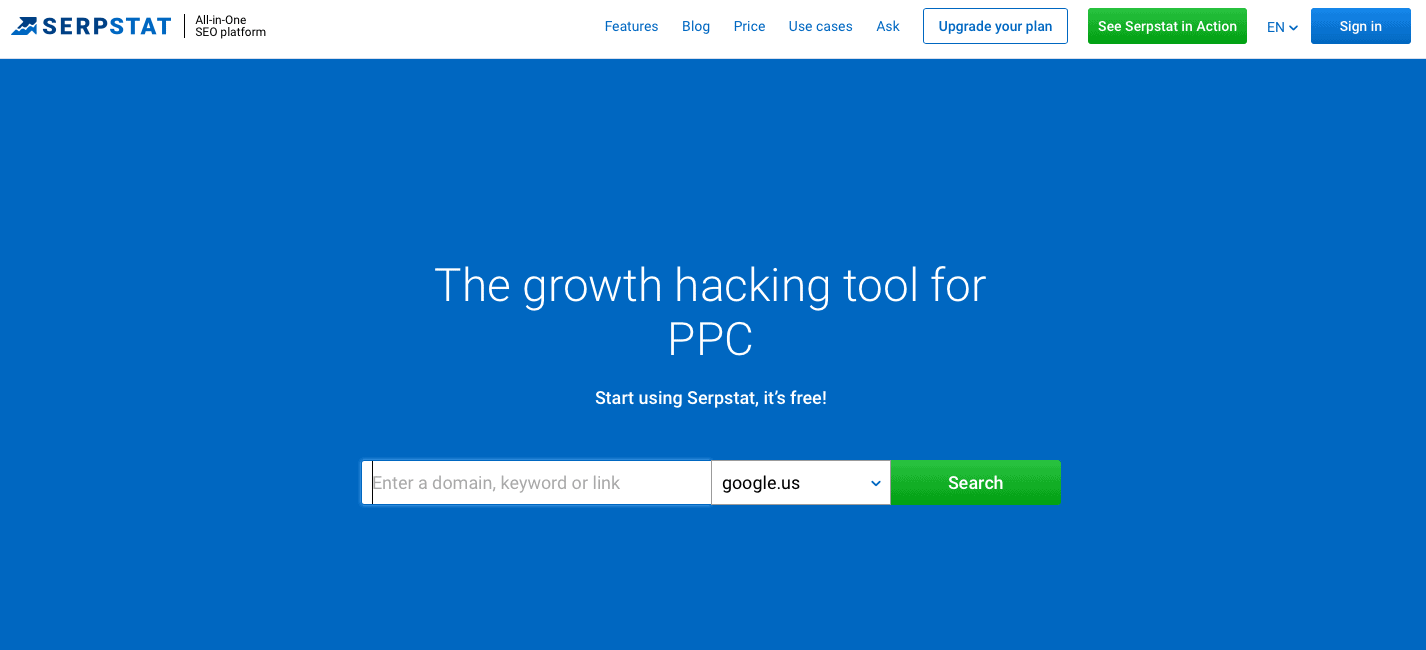 Serpstat is one of the most underrated SEO tools on the market. With Serpstat, you can do organic keyword tracking, spy on your competitor's keywords, perform an on-page audit, PPC analysis, and a lot more. Their basic plan starts at $69/month. You can even sign up for free to get limited access to Serpstat where you can perform 30 searches a day.
Serpstat Resources
KWFinder is an easy-to-use keyword research tool which helps you find keywords that you can easily rank for. With KWFinder, you can discover hundreds of long tail keywords with low SEO difficulty that your competitors are missing.
Launched in 2014, KWFinder has quickly become the preferred keyword analysis tool for SEOs and marketers around the world. It is now a part of the Mangools product suite which also includes 3 other SEO tools – SERPChecker (Competitor analysis tool), SERPWatcher (Rank tracking tool), and LinkMiner (Backlink analysis tool).
Price: Starts from $29.90
* KWFinder does offer a free plan, but it only includes 5 lookups/day and 50 keyword suggestions per search. Click here to get started.
To learn more about this SEO tool and its key features, check out our in-depth review of KWFinder
SE Ranking is an all-inclusive cloud-based SEO software which includes a powerful keyword suggestion/research tool that you can use to obtain a fantastic set of short tail and long tail keywords. The keyword suggestion tool is completely free to use during the trial (link below) and is a part of all the pricing plans.
Price: Starts from $7/mo
Click here to start your free trial of SE Ranking
Long Tail Pro is a powerful research and blogging tool which is very popular among internet marketers and bloggers alike.
Long Tail Pro allows you to find high-traffic keywords with low competition. Using this tool, you can find profitable keywords in competitive niches, do keyword research, and analyze the top ten results for any keyword in your niche.
Price: Starts from $25/mo
Click here to start your 7-day free trial of Long Tail Pro 
* Planning to upgrade your Long Tail Pro account? Use code "99SIGNALS" to get 30% off on your total bill amount.
Powered by machine learning and AI, Textmetrics (previously WebTextTool) enables you to create content that matches your target audience. Textmetrics' keyword optimization tips can help you rank better in search engines and improve your content's readability and credibility.
Price: Starts from $204.06/year
Try Textmetrics free for 30 days
To learn more about this tool's key features, check out my in-depth video review and walkthrough of Textmetrics
SEO: Backlink Checker Tools
When it comes to backlink research and audit, there is no better tool than Ahrefs. Ahrefs contains a wealth of link data – the number of backlinks a site has, the number of referring domains for a site, the link authority of a site, and a site's backlink growth over time. It's not cheap though.
Price: Starts from $99/mo
Check out our review of Ahrefs here
Yet another backlink checker tool which has a good reputation among SEO professionals. MajesticSEO charges you half of what Ahrefs charges for their basic plan. But don't expect the same quality. The interface is quite clumsy and the data reported is sometimes inaccurate.
Price: Starts from $49.99
SEO: On-page & Technical SEO 
WordPress has a plethora of SEO plugins, but YoastSEO is one of the most popular and favorite among the users. This is because it's super-easy to use, highly-effective, and most of its essential features are totally free.
Price: Free
Looking for an SEO tool that can gauge your site's speed and provide useful tips to speed up your website? Then GTMetrix is the tool you should try. The GTMetrix report gives you a complete picture on how your site loads and helps you detect where the bottlenecks are. The best part? It's totally free.
Price: Free
Along with keyword research, competition analysis, and backlink research, Semrush can also help you fix on-page and technical issues with your site.
Price: Starts from $99.95/mo
Google Webmaster Tools allows you optimize your site from Google's perspective. Apart from helping you create an XML sitemap and robots.txt file, It gives you a complete overview of your site from an SEO standpoint. Connect it to your Google Analytics account to get an even more in-depth SEO analysis.
Price: Free
A free web analytics tool by Google which helps you track the key content and performance metrics on your site.
Price: Free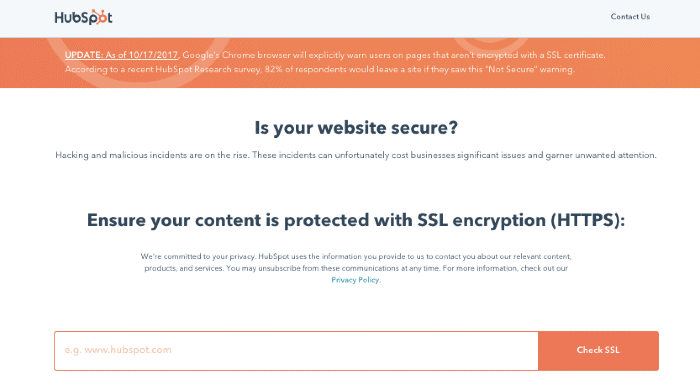 HubSpot's free SSL Checker lets you check the SSL security certificate status of your website.
Price: Free
Click here to use SSL Checker by HubSpot
If you create video content on a regular basis, then you need a tool like vidIQ to rank well and be discovered on YouTube.
With vidIQ, you can perform a channel audit to fully understand what's working with your content and get recommendations on optimizing your channel. You can also get video content ideas by seeing what's trending on YouTube and by getting a sneak peak at what your competitors are doing on YouTube. The tool contains a wealth of features to help your channel get noticed on YouTube.
vidIQ is one of the most powerful video marketing tools on the market and you can get started for free. If you'd like to unlock more features, however, you'll need to upgrade to one of their paid plans. Click here to check out their pricing plans.
Download the free vidIQ Chrome Extension
Exclusive Offer: Get 1-month free access to all vidIQ tools. Use promo code 99SIGNALS1M on checkout to activate. Click here for more details.
SEO: Link Building Tools
Every other influencer outreach tool pales in comparison to Ninja Outreach. You can use Ninja Outreach to find influencers in your niche and then promote your content to them to earn precious, high-authority backlinks.
Price: Starts from $99/mo
HARO makes it easy to get authority backlinks from sites such as FastCompany, Inc, Mashable, and Huffington Post. Sign up for HARO here, and you'll receive 3 emails/day from reporters looking for sources. If you respond with content that is relevant to their requirements, you'll fetch a backlink from authority sites.
Business Development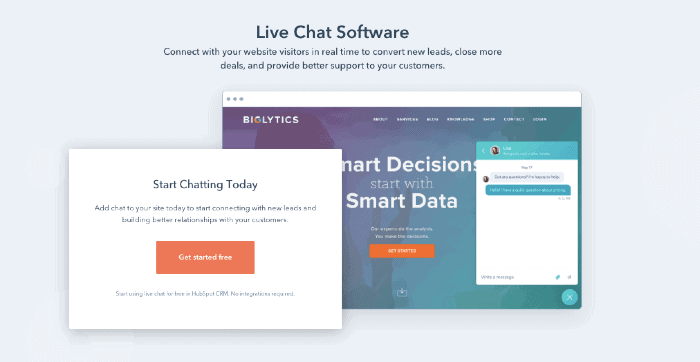 HubSpot's free live chat software allows you to connect with your website visitors in real time to convert new leads, close more deals, and provide better support to your customers.
Price: Free
Get started with HubSpot Live Chat for free
TARS lets you create engaging conversational bots that can be used on your website or Facebook messenger. The bots you create on TARS can be used for any of the following tasks:
Ordering and booking process
Feedback collection
Customer support automation
User onboarding
You can chat with our very own 99signals chatbot here.
Price: Starts from $99/mo
A buyer persona is a semi-fictional representation of your ideal customer based on market research and real data about your existing customers. HubSpot's free "Make a Buyer Persona" tool allows you to create a buyer persona for your brand. You can always keep this buyer persona in mind while creating new content for your blog to ensure that your content resonates with your target audience.
Price: Free
Click here to create your Buyer Persona
ItsAlive is a Facebook chatbot builder which provides a platform to easily build chatbots and services for brands that want to stand out.
Price: Free for 1 chatbot; paid plans start from $19/mo
Octane AI is a Messenger and SMS marketing, retargeting, and support platform that integrates seamlessly with Shopify and Shopify Plus to support small to enterprise businesses.
Price: Starts at $9/mo
Botsociety is a marketing chatbot platform that allows you to design conversations for any platform, including WhatsApp, Facebook Messenger, Google Assistant, Alexa, Slack, and more.
Price: Free plan for 2 designs; paid plans start from $79/mo
Get rid of that boring old email signature and let WiseStamp customize the perfect email signature for you. You can add your picture, your logo, links to your social media accounts, and even promote your latest product, tweet, or blog post with WiseStamp's dynamic signature.
Price: Starts from $6/mo
A marketplace for entrepreneurs which offers exclusive discounts and lifetime subscriptions to marketing tools. Thanks to AppSumo, I've got lifetime access to stellar tools like WiseStamp, Mailshake, Book Like a Boss, and Ninja Outreach.
[Click here to check out all the latest deals from AppSumo]
Book Like A Boss is an all-in-one scheduling platform for you to take appointments, sell your products/services, and manage your business. Really useful for entrepreneurs to manage their calendar and get payments online. It's integrated with PayPal and Stripe. The calendar is integrated with Google, Outlook, Office 365 or iCloud calendar, and you can also embed your calendar on your WordPress site.
Running an online store? Then you need a referral program to drive more customers to your store. ReferralCandy is a platform that powers referral programs for online stores of all shapes and sizes. With ReferralCandy, you can run a robust referral campaign that rewards existing customers for referring new customers and grow your sales through word-of-mouth marketing.
Try ReferralCandy for free for 30 days
Intercom is a live chat support and automation platform for sales, marketing, product, and support teams.
Price: Starts from $87/mo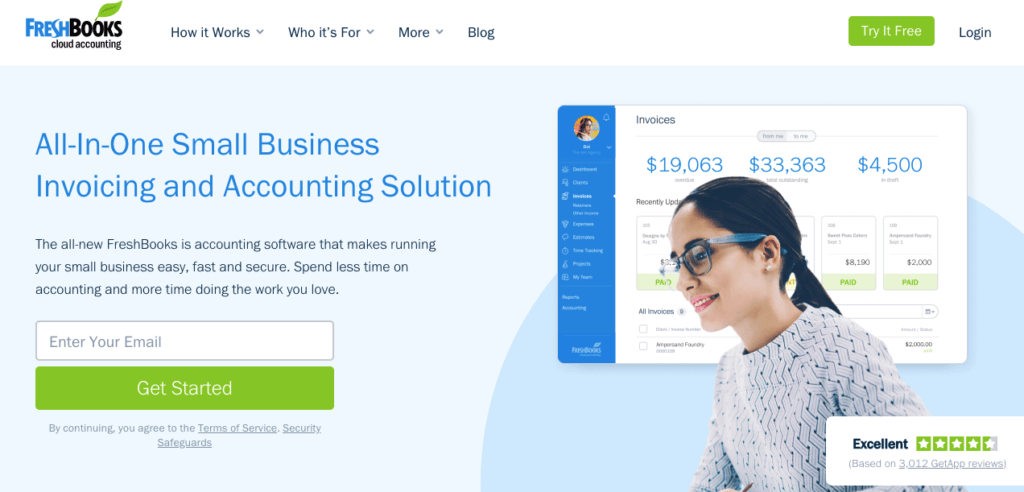 FreshBooks is a cloud-based accounting system which allows you to create and send professional-looking invoices in a flash. Perfect for small businesses.
Price: Starts from $15/mo
To learn more about FreshBooks and its top features, check out our FreshBooks review. You can also check out "FreshBooks vs QuickBooks: A Detailed Comparison."
Used by over 1 million business, ManyChat is a chatbot building platform that lets you automate and combine Facebook Messenger and SMS to grow your business.
Price: Free
Productivity & Collaboration
Asana is a project management app that helps you keep track of your work. If your blog-based business has a team, you can assign tasks to your team members via Asana and track progress.
Price: Free
ReviewStudio is a powerful review and approval software that helps teams easily markup and approve content. With ReviewStudio's online proofing software, you can gather feedback effectively on your content — whether it's a video, blog post, whitepaper, PDF, or any other type of media.
It simplifies your workflows, providing a smarter way to review and approve content.
Price: Starts from $24/mo
Organize notes, articles, documents, ideas, etc. using Evernote desktop or mobile app.
Price: Free
Brain.fm is an online tool (and mobile app) that provides music designed for the brain to enhance focus, relaxation, meditation, naps, and sleep within 10 – 15 minutes of use.
The company behind Brain.fm has done lot of research to prove the connection between music and optimized performance, and the team actually works alongside leading auditory neuroscientists to validate their findings.
Price: Starts from $6.95/mo
Click here to check out Brain.fm (the first 5 sessions are free)
Coffitivity is an app that recreates the ambient sounds of a cafe. This is based on research showing that such background sounds makes your brain more creative. In a nutshell, this means being a tiny bit distracted helps you be more creative.
Price: Free (Premium plan costs $9/year)
A simple countdown timer to help you complete your tasks.
Price: Free
F.lux is a lifesaver if you suffer from insomnia or sleep problems. F.lux makes the color of your computer's display adapt to the time of day, warm at night and like sunlight during the day, allowing you to sleep better.
Price: Free
When it comes to collaboration, there is no better tool than Google Drive.
Price: Free
Canva is a web-based design tool that allows you to create impressive graphics in all kinds of different formats (social media, infographics, email headers, etc). It's delightfully simple and you don't need a design background to create graphics on Canva.
Although there is a paid version of Canva, the free version has all the essential features to help you create professional graphics for your blog, website, or social media campaigns.
Price: Free
Venngage is an online infographic maker which lets you easily create infographics from hundreds of predesigned templates. It's a highly popular design tool, used by marketing veterans like Sujan Patel, Brian Dean, Neil Patel, among others.
Price: Starts from $49/mo
Check out our review of Venngage Infographics to learn more
Crello is an online design tool that can help you create graphics and animations for social media and blogging.
Crello features over 25,000 templates for all major social media, blogging, and marketing formats. You can customize these templates to create images, videos, and animations to suit your marketing needs.
Price: Free
If you have a bigger budget and would like a graphic design expert to handle all your design needs, then I'd highly recommend Design Pickle. I've been using their service for several months now and I couldn't be happier.
More than 90% of the blog graphics on this blog were designed by a Design Pickle professional, along with all the YouTube thumbnails on my channel as well as social media graphics. Their most basic package, the Standard Package, is $399/mo and you can outsource your entire design workload to the Design Pickle team — from social media graphics to blog graphics to even infographics.
Once you sign up, Design Pickle will assign a dedicated graphic designer for your account and, speaking from my personal experience, you can expect 2-3 graphics delivered each working day.
Price: Starts from $399/mo
Click here to check out Design Pickle
[Exclusive offer: Get $100 off on your first month]
Use TinyPNG to compress your large png and jpeg files without compromising on image quality.
Price: Free
TinyPNG is great for image compression for PNG files. But if you're looking to reduce image size further without compromising image quality, then you need to download a free tool called ImageOptim. That said, this tool is only available for macOS.
Price: Free
Click here to download it for free
Design: Logo Design
Logogenie is an online design tool that allows you to design a logo in a simple and professional way. You can choose from a wide range of designs and customize your logo in just a few clicks.
The standard logo pack at Logogenie is priced at $4.90 which includes high definition file formats (JPG, PNG, PDF) of the logo, perfect for using on your business cards, website, apparel, signs, and more. You can even design a company logo for free using Logogenie's free logo design system. Click here to design your logo for free.
Price: $4.90 Standard logo pack
Need a unique logo for your blog? Looka's AI-powered platform lets you design a logo that matches your vision — no design skills required.
Price: $20 (One-time purchase)
I've designed several logos using Tailor Brands, not just for my blog, but also for my agency's clients.
Price: Starts from $3.99/mo
48HoursLogo has helped over 30,000 brands get their logos through online logo contests. With 48HoursLogo, you can start your own online logo contest, inviting professional designers across the world to contribute their ideas and vision to create the perfect logo for you.
Price: Starts from $50
Design: Stock Images
This is my favorite free stock image website with truly breathtaking high-quality stock images. Unsplash is the brainchild of the design firm, Crew, and as such the image quality is simply unmatched.
Price: Free
Launched by Dmitry Sergeev in 2009, Depositphotos is now one of the most popular stock image sites with a library of over 60 million photos and 18 million vectors. They are well known for their discount offers, which they promote extensively on their own website and on AppSumo, and their excellent customer support.
Price: Flexible plan starts from $29/mo
Check out our Depositphotos review
Pixabay is one of the top free stock photo sites around with a wide collection of high-quality stock photos. It has a database of over 720,000 free stock photos and videos.
Price: Free
Shutterstock is perhaps the most popular stock photography website in the world, preferred by creative professionals from all backgrounds and businesses of all sizes. The website has a collection of over 250 million images, with 200,000 more added every day.
Price: Starts from $29/mo
Yet another free stock photo website which has a treasure trove of high-quality photos by talented photographers.
Price: Free
Content: Writing & Editing Tools
Grammarly is one of the best online tools for checking spelling and grammar. Apart from being highly accurate, it's also the only service of its kind that offers plagiarism detecting.
Price: Free
* Pricing for Grammarly Premium starts from $29.95/mo which has advanced features like plagiarism detector and vocabulary enhancement suggestions.
Click here to download the free Chrome extension
Hemingway App is free web-based tool which tests the readability of your content and suggests changes where your writing is too dense. To use it, simply paste your text, and the tool will indicate your mistakes by highlighting them in different colors (yellow and red). With Hemingway App, you can tighten up your prose, clear the highlights, and then share your work with your audience.
Price: Free
* You can also download the Hemingway Editor app for Mac and PC for $19.99. Click here for more details
Content: Content Outreach Tools
Ninja Outreach is the best outreach tool on the market. Find thousands of influencers & leads instantly in any country and pitch your content or your next big idea.
Price: Starts from $99/mo
Sign up for a 14-day free trial of Ninja Outreach
Not as good as Ninja Outreach, but still pretty useful. Mailshake allows you to find influencers in your niche and then send them an email to promote your startup or your latest blog post.
Price: Starts from $29/mo
Content: Video Tools
Lumen5 is a video creation platform powered by A.I. that enables anyone without training or experience to easily create engaging video content within minutes. You can use the videos created via Lumen5 for social posts, stories, and ads.
Price: Starts at $19/mo (billed annually)
Click here to get started with Lumen5
Hippo Video is a personalized video distribution platform that helps you easily create personalized videos and distribute them through multiple channels.
Price: Free; Paid plans start from $15/mo
PowToon allows you to make animated explainer videos and powerpoint presentations to dazzle your audience.
Here are some of the videos we created using PowToon.
Price: Starts from $16/mo
* There is a free PowToon plan which gives limited access to the tool. Click here to create your free account.
Shakr is an online video maker which allows you to create conversion-optimized videos for your social media channels. You can choose and customize from over 2,000 video designs (with new designs added each week) made by professional designers.
Price: Starts from $49/mo
Rocketium is a video creator which lets you create hassle-free text-overlay videos with zero design experience.
You can create horizontal, square, and portrait videos at the same time for YouTube, Instagram and Snapchat respectively with a feature called intelligent auto-sizing.
You can start creating videos using a variety of built-in video templates or start from scratch, and use Rocketium's intuitive editor to style your videos with 300+ effects to tell your story just the way you want to.
Price: Starts from $40/mo
* Rocketium has a free forever plan wherein you can create and download 3 videos per month. Click here to create your free account.
Content: Tools for Content Creation & Promotion
Coming up with interesting ideas for creating content can be a grueling task. This is where a tool like BuzzSumo can help you. With BuzzSumo, you can discover which content is performing the best in your niche.
Enter any topic into the BuzzSumo search box and within seconds, you will be presented with the most shared content on any topic, including a breakdown by social platform. You can also filter by content type (article, infographic, video, etc).
Price: Starts from $99/mo
Recommended reading: The Ultimate Guide to BuzzSumo
Did you know? 7 of the 20 most shared articles on Buzzfeed are quizzes! And with a tool like Outgrow, you too can create viral quizzes and reach a wider audience.
Outgrow is a content marketing tool that lets you create interactive calculators and quizzes to engage customers and boost lead generation for your business. You can also integrate your quiz/calculator with over 500 sales and marketing tools, and choose from a variety of templates to make your content as engaging as possible. 
Want to see how the tool works? Check out these quizzes and calculators we've created via Outgrow:
Price: Starts from $14/mo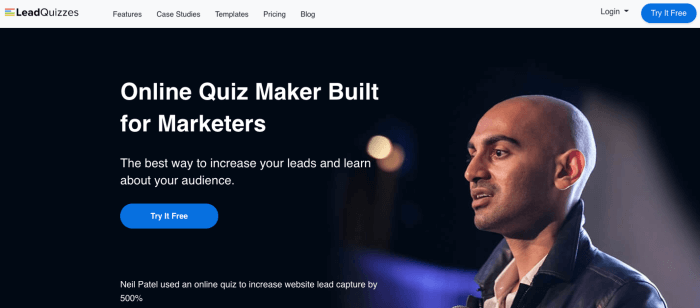 LeadQuizzes helps you create online quizzes, surveys, and forms to capture leads and understand your audience better. You can choose from 75+ templates to create your online quiz and customize the look and feel of every quiz created via LeadQuizzes.
Price: Starts from $49/mo
Sign up for a 14-day free trial of LeadQuizzes
Your blog post headline is the reason why people will click to read your article. CoSchedule Headline Analyzer shows you exactly strong your headlines are, removing any guesswork on your part.
This free tool will evaluate your overall headline quality and rate its ability to result in social shares, increased traffic, and SEO value. It helps you maintain the right balance of common, uncommon, emotional, and power words in your headlines.
Aim for a minimum score of 70 for all your headlines to ensure that it gets enough traction on social media and search engines.
Price: Free
Blog Ideas Generator is a free content marketing tool created by HubSpot to help you with ideas for your next blog post.
You can enter up to five different topics in the search box and hit the "Give Me Blog Ideas" button to generate 250 blog ideas for the topics you've entered.
Once the tool has generated blog ideas, you can download the same as a spreadsheet and refer to it whenever you're in need of new ideas.
Price: Free
Click here to start generating blog ideas
Growth Hackers is a vibrant community where you can network with marketing professionals from all around the world, find trending articles, and promote your content.
Price: Free
Quuu Promote helps you promote your content via real people who have signed up for content suggestions from Quuu.co, a popular content curation platform.
To get started, you need to submit your URL and select the most relevant interest category that relates to the topic of your submission. Quuu will then review your content to make sure it meets their quality guidelines.
Once your promotion is accepted, you can manage and keep track of your promotion from your dashboard. Each promotion lasts 30 days and you can expect to receive hundreds of shares and mentions on social media.
Price: Starts from $40
Email Marketing 
SendinBlue started as a digital marketing agency and then evolved into an email marketing platform in 2012. The company's email solutions are tailored mostly towards small businesses. From its beginner-friendly interface to pricing plans to features, everything in SendinBlue is designed keeping small businesses in mind.
The SendinBlue free plan allows you to send 300 emails per day. You can add unlimited contacts in your email list under the free plan and it also includes email automation features.
Price: Free (Up to 300 emails/day + unlimited contacts)
Check out our in-depth review of SendinBlue to learn more
Preferred email marketing software provider of several professional bloggers. Offers the perfect balance of powerful automation and segmenting features and ease of use.
ConvertKit Resources
You simply can't hate Mailchimp. The free plan offered by them is perfect for people who are just starting their blogging journey.
Price: Free (send up to 12,000 emails/mo to up to 2,000 subscribers)
Mailchimp Resources
AWeber is a veteran in email marketing with almost 20 years of experience and expertise. It is competitively priced and packed with features which are extremely practical for new and seasoned marketers alike.
Price: Starts from $19/mo. Click here to start your 30-day free trial
AWeber Resources
Voila Norbert was elected the most accurate email finder out there, according to Ahrefs. Whether you're trying to reach out to influencers, build marketing connections or reach potential recruits, Norbert's got you covered. Norbert also offers an email verifying feature to ensure your email marketing lists are clean and reach their desired prospects inbox.
Price: 50 free credits for the email finder. Email verification tool prices vary depending on amount of emails, plans start at $2.
WordPress Plugins
There's a flurry of caching plugins on WordPress, but WP Rocket is by far the best caching plugin. It's also recognized as the most powerful caching plugin by WordPress experts. With WP Rocket, you can drastically increase the speed of your website and improve your search rankings.
Before I started using WP Rocket, I tried and tested some of the free caching plugins available on WordPress, but none of them optimized my site's performance and speed as much as WP Rocket did. Highly recommended!
Price: Starts at $49/year (1 website)
HubSpot's WordPress plugin brings the power of HubSpot's Growth Platform to WordPress. This free plugin includes lead capture tools like forms, popups, live chat, and an integrated free contact database (CRM).
By adding this plugin to your WordPress site, you'll gain access to HubSpot's free CRM, marketing, sales, and customer service tools, as well as HubSpot Academy, HubSpot's free online educational resource.
Price: Free
Make it easier for people to share your content with Sumo's uniquely designed Social Share Bar.
Price: Included in the Sumo suite of tools under the free plan. Click here to get started.
To learn more about all the tools in Sumo suite, check out our in-depth Sumo review
Elementor is the #1 free, open source WordPress page builder. Elementor is already enjoyed by over 1 million users. You can build beautiful, fully-customized pages quickly and easily from your WP dashboard, no matter what theme you're already using.
Price: Starts from $49/year (for 1 site)
This list-building tool allows you to create custom designed pop-ups and other email capture forms. OptinMonster also integrates directly with popular email services such as AWeber, ConvertKit, and Mailchimp.
Price: Starts from $9/mo
Click here to check out our OptinMonster review
GetSiteControl is an easy-to-use set of smart widgets for website optimization. It lets a you quickly add elements that engage website visitors and helps increase conversions.
The widgets include surveys, lead forms, contact forms, live chats, popups, and social media buttons.
Price: Starts from $19/mo
Most blogs are inundated with spammy comments which can get a little frustrating to deal with. Akismet protects your website from spammy comments and makes your life a little easier.
Price: Free
An incredibly useful plugin created by Team Yoast which allows you to engage with people who comment on your blog by redirecting to a page of your choice. Very handy if you'd like to build your email list.
Price: Free
"Tweet about this" link generator to promote, share, and track your content on Twitter.
Price: Free
Convert your blog posts into eBooks or resource guides with the Beacon plugin.
Price: Free
* In order to access premium features such as PDF Download, Custom Domain Name, and to remove the Beacon logo, you'll need to upgrade to a paid plan. The paid plans start from $49/mo. Click here for more details.
Instapage is a landing page software which allows you to create fully customizable, conversion-friendly landing pages. A lot of bloggers prefer LeadPages as their primary landing page platform, but I just feel Instapage has more professionally designed landing pages and their support team is exception. Sign up for a 14-day free trial Instapage. 
Price: Starts from $99/mo
Check out our review of Instapage to learn more about the landing page builder.
Bonus: Detailed review of Instapage by Mofluid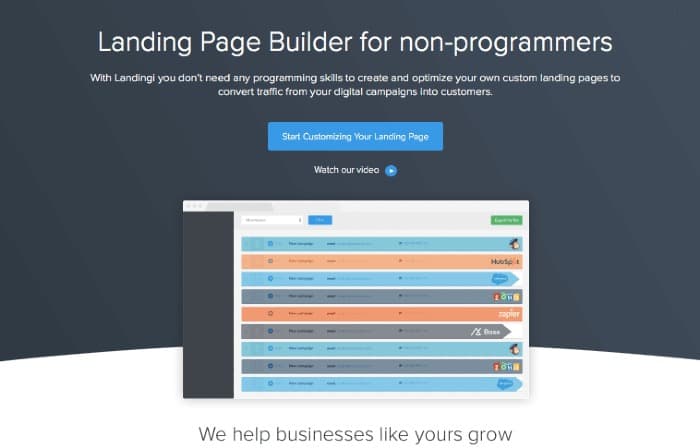 Positioning itself as a "landing page builder for non-programmers", Landingi provides you with 100+ templates, dropdown menus, and tools to customize your own landing pages. It's also way more economical than other landing page builders in the market as the pricing for its basic plan starts from $29/month (when paid annually). And yes, they also provide a free trial.
Price: Starts from $29/mo
You can register for Landingi's free trial by clicking here.
Generate an XML sitemap for your blog from Google's very own Sitemap Generator.
Price: Free
Recommended reading: Check out this awesome guide of Top 40 Growth Hacking Resources by Appcues
Miscellaneous Tools
Anchor (Podcasting)
Anchor allows you to create, host, and distribute your own podcast on all the major podcast listening platforms. You can record your podcast from anywhere — using Anchor's app on your iOS or Android device, or from the Anchor desktop platform.
Thanks to Anchor, I was able to launch my very own Marketing Mantra podcast. Click here to learn more about the podcast and to listen to all the episodes. Although the Anchor app does a decent job recording and editing your podcast, I'd recommend you invest in a good microphone and use a reliable editing software. I use the Samson Go Mic Portable USB Condenser Microphone to record my podcast and I use Audacity (discussed next) to edit the episodes.
Price: Free
Audacity is a free audio editor and recorder available on both MacOS and Windows operating systems. Audacity's editing capabilities are much more sophisticated than Anchor. So if you're using Anchor to record your podcast, I'd recommend you download this free software and edit your recorded podcast via Audacity.
Price: Free
Click here to download Audacity
Need royalty free music for your podcast or YouTube videos? SoundStripe is your best bet. Soundstripe offers a great variety of high quality royalty free songs, and its unlimited licensing model is one-of-a-kind in the industry.
Price: Starts at $11.25/mo
BuildFire (Mobile App Builder)
BuildFire lets you build mobile apps in a fraction of the time and cost using with a powerful and easy to use app builder.
I built the 99signals mobile app using BuildFire, and I'd recommend it to all the bloggers out there who'd like to transform their blog into an iOS or Android app.
Price: Starts from $59/mo
Visit the BuildFire website for more details
Unless allows you to personalize your website to give your visitors the unique experience they deserve. With Unless, you can improve your user experience, reduce bounce rate, and increase conversions.
Price: Starts at $54/mo
BONUS
Marketing Blogs You Need to Follow
In addition to the above, you can also check out these blogs: Social Media Examiner, Search Engine Journal, Moz Blog, Semrush Blog, ProBlogger, QuickSprout.
Books Every Entrepreneur/Blogger Must Read
(Side note: Check out my complete list of 85+ best books for entrepreneurs by clicking here.)
Related Articles