Chatbots, including ChatGPT, Watson, and BERT, have surged in popularity lately, thanks mainly to groundbreaking advancements in generative artificial intelligence (GenAI) and natural language processing (NLP).
To show just how mainstream chatbots have become, consider that there are now a whopping 300,000 chatbots on Facebook.
Chatbots are being increasingly used by businesses of all sizes to interact with their prospective and existing customers, not just in the area of customer support, but also in sales and marketing.
According to Outgrow, 53% of customers are more likely to shop with businesses that they can message.
Chatbot marketing may seem complicated at first, but due to the emergence of chatbot platform tools, creating and distributing a chatbot on your website and messaging apps is now easier than ever.
In this article, I've compiled a list of 9 best chatbot builders that you can use to build your very own chatbot and supercharge your marketing.
But first, let's cover the basics of chatbot marketing.
(Already know the basics? Click here to jump straight to the list of best chatbot builders.)
What is a Chatbot?
A chatbot is an AI-powered software that can simulate a conversation with users via a chat interface on a website or a messaging app like Facebook Messenger, Skype, WhatsApp, or Telegram.
With the help of chatbot technology, businesses can streamline their sales process and provide better customer support.
From the consumer standpoint, chatbots can make it easier for users to find the exact solutions they are looking for, without wasting any time spent on searching or navigating a website.
The chatbot technology is enabled through a set of if-then rule statements programmed via a chatbot builder.
In most cases, you don't require coding knowledge to create even the most advanced chatbots, thanks to some of the most innovative chatbot-building platforms which we will reveal below.
How Do Chatbots Work?
Chatbots are enabled through a technology called natural language processing (NLP), a subfield of computer science and AI that is concerned with the interactions between computers and human languages.
Essentially, chatbots process the text presented to them by users, interpret what they've said, and determine a series of appropriate responses based on this information.
Chatbot Examples: 3 of the Most Creative Chatbots on the Web
George Bernard Shaw once said, "Imitation is not just the sincerest form of flattery — it's the sincerest form of learning." So before you start building your own chatbot, let's take inspiration from the 3 most creative chatbots on the web.
Chatbot Example #1: LEGO
LEGO's chatbot, Ralph, is a classic example of customer support done well. Ralph acts as a virtual shopping assistant on Facebook Messenger and helps users find the perfect LEGO gifts for special occasions. This reduces the indecision consumers typically face while shopping for gifts.
Image Credit: Edelman Digital
Ralph the chatbot asks users questions like their age, budget, and the type of LEGO sets they are interested in. A few seconds later, Ralph presents a slew of kits ready for purchase.
Ralph was responsible for driving 25% of all in-season online sales, providing a 6x return on ad spend within certain markets.
Chatbot Example #2: Hipmunk
Hipmunk is a platform that helps travelers find the best travel deals. In other words, people can use the platform to book flights, hotels, and rental cars.
To help travelers book flights and hotels more easily, Hipmunk created a chatbot, Hello Hipmunk, which is available on Facebook Messenger, Skype, and Slack.
Image Credit: Hackernoon
The chatbot uses the traveler's location to determine where they are traveling from and sends them great deals from that location. The chatbot also shares maps, helping users ensure that the bot has determined the right location.
Chatbot Example #3: TechCrunch
TechCrunch is one of the leading technology blogs on the web. Their chatbot is a content marketing chatbot that shares personalized content from their blog.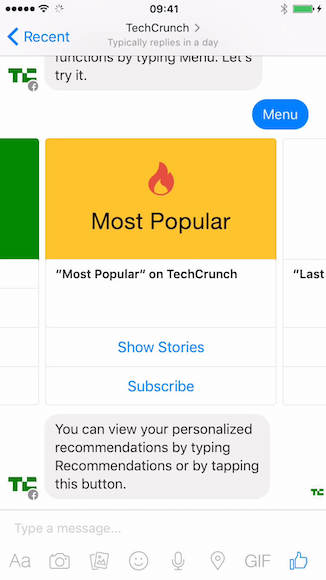 Image Credit: TechCrunch
The chatbot allows users to pick the number of times they'd like to receive new content, along with the type of content they'd like to receive (gadgets, startups, apps, etc.)
The TechCrunch chatbot is available on both Telegram and Facebook Messenger.
Now that you the basics about chatbots and have seen some of the most creative chatbot examples, here's a list of the 9 best chatbot platform tools.
9 Best Chatbot Builders
1. Customers.ai (Formerly MobileMonkey)
Customers.ai (formerly Mobile Monkey) is a popular Facebook Messenger platform that lets you build chatbots on Facebook Messenger, grow your contact list, segment your audience, and even build messenger funnels (an alternative to landing pages) that opt people into audiences when they click on the ad.
The chatbots created via Customers.ai can be programmed to make appointments, answer FAQs, track purchases, and use A.I. to match content to intent via keywords and interactions. The company was founded by leading internet marketer, Larry Kim.
Customers.ai Pricing Plans
Below are the pricing plans Customers.ai currently offers:
Free – $0 (50 leads)
Starter – $199/mo (250 leads/month)
Pro – $499/mo (700 leads/month)
Enterprise – Custom solutions
The Customers.ai free plan provides everything you need to design and deploy successful messenger marketing campaigns that will drive real results for your business.
It includes features such as a chatbot builder, messenger ads, chat blaster, Q&A triggers, and more. For advanced features like drip campaigns, bot analytics, and integrations, you'll need to upgrade to any of the paid plans.
Side note: Want to create a conversion-optimized Facebook chatbot? Check out Larry Kim's ultimate guide to Facebook Messenger ads.
Botsify is an easy-to-use chatbot building platform that lets you create powerful AI chatbots on your website and popular messaging apps like WhatsApp, Facebook Messenger, Telegram, and Instagram. It's designed with user-friendliness in mind, making it accessible for individuals and businesses alike, regardless of their technical expertise.
One of the key benefits using Botsify is its capacity to develop sophisticated, interactive chatbots that can streamline communication, enhance customer support, and even drive sales.
Given its features and ease of use, it's no surprise that many recognized brands, including Apple and Unilever, have turned to Botsify for their chatbot needs.
You can find examples of bots created via Bostify at their bot store.
Botsify Pricing Plans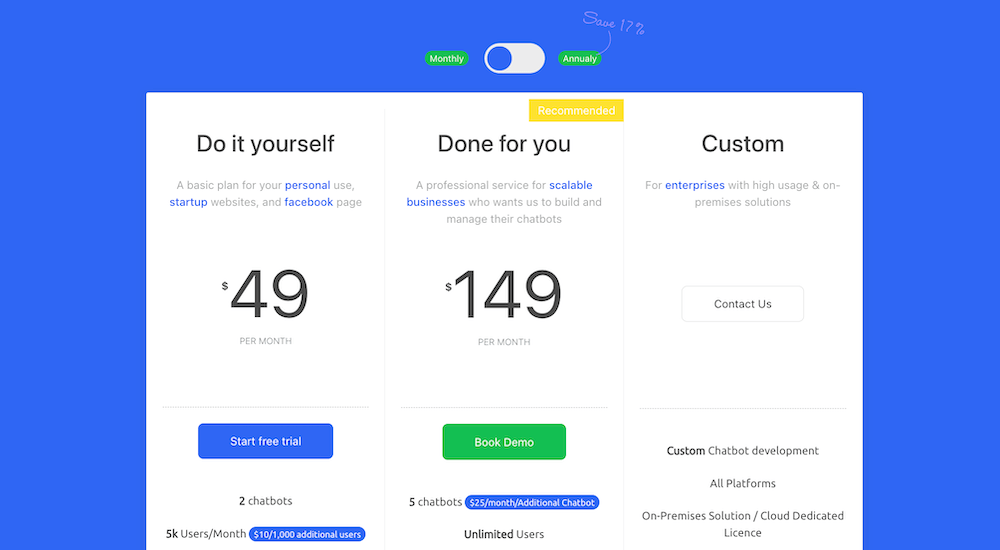 Botsify offers three pricing plans:
Do it yourself – $49/mo (2 chatbots, 5000 users/mo)
Done for you – $149/mo (5 chatbots, unlimited users)
Custom – Custom chatbot development
You can save 17% by switching to annual billing.
Register for Botsify's free plan
Landbot is a user-friendly, no-code platform for creating chatbots. Its primary emphasis is on creating conversational experiences that convert website visitors into leads, subscribers, or customers.
One of Landbot's strongest selling points is its user-friendly interface. Many other platforms require a steeper learning curve, but Landbot has positioned itself as accessible to both tech-savvy users and beginners.
Originally built for websites, Landbot has expanded its reach and allows deployment on various platforms, including WhatsApp.
Landbot Pricing Plans
Landbot offers different pricing plans for website and WhatsApp.
Let's cover the four website pricing plans first:
Sandbox – Free Forever (100 chats/mo, limited integrations)
Starter – €30/mo (500 chats/mo, basic integrations)
Pro – €80/mo (2500 chats/mo, essential integrations)
Business – €300/mo (Custom)
You can switch to annual billing to get 20% off on any of the above plans.
Here are the two pricing plans Landbot offers for building WhatsApp chatbots:
Pro – €150/mo (Ideal for small businesses and growth-stage startups just getting started with WhatsApp chatbots)
Business – €300/mo (Ideal for large businesses & startups looking for a custom plan & priority support)
Try Landbot's Sandbox plan for free
Chatfuel sets itself apart in the chatbot builder market with its tailored approach to optimizing interactions on WhatsApp and Facebook Messenger.
By offering specialized chatbot platform tools, Chatfuel ensures that businesses, particularly those in the eCommerce sector, can seamlessly integrate chatbots into their sales and customer service processes on WhatsApp and Facebook Messenger.
Currently, prominent sports leagues such as the NFL and NBA employ Chatfuel for their teams' engagement strategies. Moreover, top publishers like TechCrunch and Forbes leverage Chatfuel to streamline their audience interactions and content distribution.
Chatfuel Pricing Plans
Similar to Landbot, Chatfuel also adopts two different pricing models for WhatsApp and Facebook + Instagram.
Below are the two plans for WhatsApp chatbots:
And here are the five plans for chatbots on Facebook + Instagram. The price adjusts according to the number of subscribers:
Trial – Free (50 conversations/mo)
Entrepreneur – Starts at $14.99 (500 conversations/mo)
Startup – Starts at $24.99 (1000 conversations/mo)
Small Business – Starts at $59.99 (3000 conversations/mo
Growing Business – Starts at $119.99/mo (10000 conversations/mo)
You can sign up for a free trial of any of the above plans. Visit Chatfuel's pricing page to learn more.
In addition to the above plans, you can find a ton of chatbot-related educational resources on their documentation and blog.
Click here to sign up for Chatfuel's free plan
If you're in the eCommerce space and would like to learn more about how to build your own eCommerce chatbots, Chatfuel recently teamed up with Sumo to publish a mammoth guide on eCommerce Chatbots. Click here to check it out!
Flow XO is a chatbot platform that allows you to build and distribute smart chatbots on your website and messaging apps like Facebook Messenger, Telegram, WhatsApp, and more.
The platform offers a wide range of prebuilt chatbot templates that you can effortlessly customize using the drag-and-drop interface.
Beyond simple chat interactions, Flow XO provides tools to set up automated workflows. This means you can integrate various applications and set up sequences of tasks to run automatically based on specific triggers or conditions.
While it's designed to be beginner-friendly, Flow XO also offers advanced features for those who wish to fine-tune their chatbots' behavior. This includes setting conditions, filters, and logic paths to guide interactions based on user inputs.
Flow XO Pricing Plans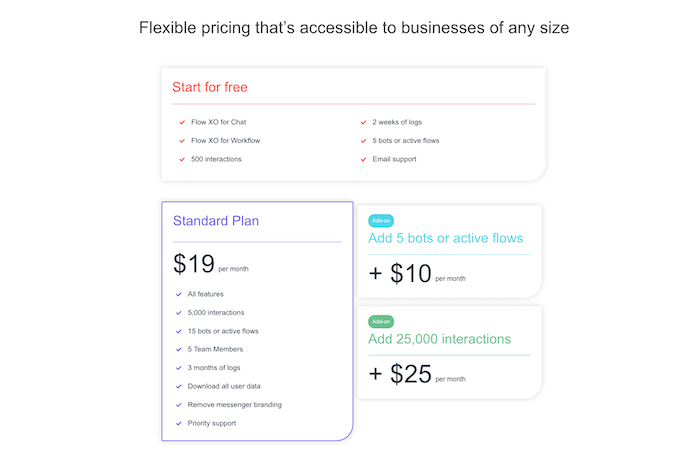 Free Plan – $0/month (5 bots and 500 interactions)
Standard Plan – $19/month (15 bots and 5000 interactions)
(+$10/month to add 5 bots and $25/month to add 25,000 interactions)
Click here to create your Flow XO account
Outgrow is a content marketing platform designed for marketers and businesses to create interactive content that can engage audiences and capture leads. This content ranges from calculators and quizzes to recommendation engines and chatbots.
Outgrow's chatbots can be tailored to guide users through personalized experiences based on their inputs, leading to more relevant and meaningful engagements.
What makes Outgrow's chatbots particularly powerful is their ability to be seamlessly integrated with the platform's other tools. For instance, a user taking a quiz might be directed to a chatbot for further engagement or vice versa.
If you're in need of ideas for chatbots, you can use Outgrow's Idea Generation Quiz to kickstart your creative process and discover innovative chatbot concepts.
Outgrow Pricing Plans
Outgrow currently offers 4 pricing plans. To create a chatbot with Outgrow, you'll need to select the Essentials or Business plan.
Freelancer – $22/mo (Allows 5 content types, chatbots not included; 250 leads/mo, 1 user)
Freelancer Pro – $45/mo (7 content types, chatbots not included; 1000 leads/mo, 1 user)
Essential – $115/mo (8 content types, including chatbots; 7500 leads/mo, 3 users)
Business – $720/mo (All content types, including chatbots; 50000 leads/mo, 10 users)
You can save up to 44% on any of the above plans by opting for annual billing.
Tidio is a powerful chatbot builder tailored for businesses aiming to automate and elevate their customer interactions. Designed for ease of use yet offering advanced customization, Tidio provides businesses, both big and small, the capability to craft chatbots that resonate with their brand and audience.
With Tidio's chatbots, businesses can ensure they're available round-the-clock. This means capturing leads, resolving queries, and offering assistance even when the team is offline.
Tidio Pricing Plans
While Tidio works as an excellent chatbot builder, it also offers complementary communication tools. The platform seamlessly blends live chat and email marketing functionalities, enabling your business to have a holistic approach to customer engagement.
Here's the current pricing model Tidio follows:
Free – $0/mo (includes 100 chatbot triggers, 50 livechat conversations, 3 users)
Starter – $29/mo (includes 500 chatbot triggers, 100 livechat conversations, 3 users)
Tidio+ – $394/mo (custom features)
The following plans can be bundled together:
Communicator – $25/mo per seat (100 chatbot triggers, unlimited conversations)
Chatbots – $29/mo (2k – 40k chatbot triggers)
Founded in 2015 by Vinit Agrawal and Ish Jindal, TARS enables individuals and businesses to create chatbots that can be used on your website and Facebook Messenger with no programming knowledge at all.
The chatbots created via TARS can be used for ordering/booking process, feedback collection, conducting surveys, user onboarding, training, customer support automation, and a lot more.
We created our own content marketing chatbot using TARS. You can find a lot more chatbot examples created via TARS on this page.
TARS Pricing Plans
TARS has recently revamped their pricing structure, and they've opted not to display the rates directly on their site. To get a detailed insight into their offerings and how conversational AI can benefit your business, you can head to the TARS website and book a free demo consultation.
Wit.ai is a free chatbot software that lets you easily create text or voice based bots on your preferred messaging platform. Wit.ai learns human language from every interaction, and leverages the community: what's learned is shared across developers.
To see how a Wit.ai chatbot works, check out their demo app here.
Wit.ai Pricing Plans
Wit.ai is a free chatbot platform. You can create a Wit.ai account by logging in via Facebook. Once you've done that, you can create your first chatbot using Wit.ai's chatbot building platform. To see how it works, click here.
Conclusion
So these are the 9 bot-building platforms you can leverage to build your own chatbots to interact with your prospects and customers. There will be more chatbot platform tools emerging very soon and it's only a matter of time before the big players jump on the chatbot bandwagon. But for now, these are the top 9 chatbot building tools you can rely on to build chatbots for your business.
Bonus Resources
Here are the best chatbot platform tools in all the key industries and categories:
Editor's Note: This article was originally published on June 5, 2018 and has been updated regularly since then for relevance and comprehensiveness.
Related Articles