Blogger outreach remains one of the most popular and effective techniques to create viral content that gets tons of social media shares and high-quality backlinks. In other words, an effective outreach strategy is key to rapid blog growth. As such, it's important that bloggers have a robust blogger outreach strategy in place.
To implement a strong outreach strategy, you need to use the best blogger outreach tools to help you connect with the top influencers in your niche.
In this article, we'll reveal 5 of the best blogger outreach tools that can help you find and engage with influencers and maximize the reach of your content.
Note: While some of these tools have a freemium version, the true potential of these platforms can only be realized once you upgrade to any of the paid plans.
5 Best Influencer Outreach Tools
The free version of BuzzSumo is primarily used for content research and content curation. In other words, you can use BuzzSumo to find top content for any topic in any niche, and get access to an article's share activity across all the major social networks.
But once you upgrade to the Pro version, BuzzSumo becomes a powerful influencer marketing and outreach tool.
With BuzzSumo, you can search for key influencers in any topic area or location and see what content an influencer shares, review the topics and domains they share most often.
Moreover, you can filter influencers by factors such as reach, authority, influence, and engagement. You can also build and maintain outreach lists and export as CSV or Excel for detailed analysis and use in other applications.
BuzzSumo Pricing
Buzzsumo offers four pricing plans:
Pro ($99/mo) – The basic plan of Buzzsumo includes unlimited content research and influencer searches, 5 alerts, and 5000 mentions.
Plus ($179/mo) – Includes unlimited searches, 10 alerts, 20,000 mentions, and the newly-launched Question Analyzer feature.
Large ($299/mo) – Includes unlimited searches, 30 alerts, 30,000 mentions, Question Analyzer as well as Facebook Analyzer features
Enterprise ($499+/mo) – This is essentially a custom plan tailored to your requirements. It includes unlimited searches, 50+ alerts, 50,000+ mentions, all the additional features offered under Large plus full access to 5 years of data from Buzzsumo's content research reports.
You can save 20% by opting for yearly payments. And all plans include a free 30-day trial. For most bloggers, the Pro plan should provide sufficient data to launch successful outreach campaigns.
Recommended reading: The Ultimate Guide to BuzzSumo: 18 Advanced Ways to Use BuzzSumo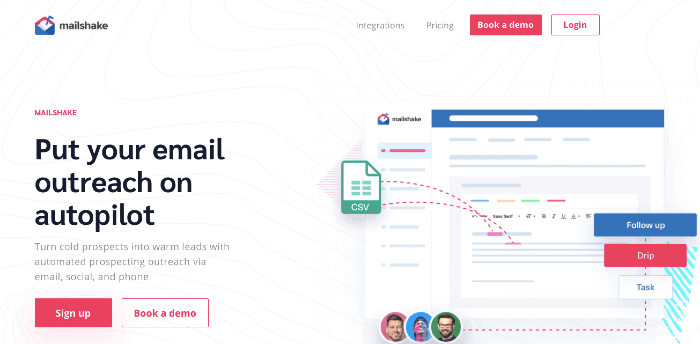 Founded by Sujan Patel, Mailshake is a blogger outreach software that helps you generate leads, promote content, and build strong relationships with top industry influencers.
Here's what Mailshake offers its users:
Pre-written outreach templates: Select from a wide collection of pre-written messages. Just answer a few simple questions and Mailshake will generate a personalized email for your campaign.
Automatic follow-ups: You can schedule follow-up emails triggered by link clicks. Mailshake stops the sequence when a reply is detected, handles unsubscribe requests, and ignores auto-responders.
Personalization: Mailshake allows you to merge fields to quickly customize your messages. You can preview every single email and make edits efficiently.
Powerful integrations: Mailshake is integrated with premium services like Zapier, Google Forms, and Salesforce to help you successfully craft your outreach strategy.
Mailshake Plans and Pricing
Mailshake provides two pricing plans:
Email Outreach ($59/mo/user) – includes email tracking, email personalization, A/B testing, and automated email sequences.
Sales Engagement ($99/mo/user) – includes all Email Outreach plan features, plus social selling,
With the Email Outreach plan, the monthly fee is $59 per user. If you opt for annual payment, then your monthly fee will be reduced to $44 per user.
Click here to sign up for Mailshake
Ninja Outreach is a web-based influencer outreach platform that helps you create successful influencer and blogger outreach campaigns. With a database of over 100 million users, you can find the right influencers in any niche and country.
As Instagram happens to be the preferred social media channel for a majority of influencers, Ninja Outreach has over 76 million Instagram influencers in its database. Best yet, you can filter these accounts by follower counts and engage with influencers with the highest followers.
In addition, you'll also have access to 8 million YouTube influencers, 7 million Twitter influencers, 10 million TikTok influencers, and 6 million bloggers.
Ninja Outreach is loaded with features, but in regards to blogger outreach, here are the four features that stand out:
Personalized influencer outreach messages: Ninja Outreach equips you with tons of outreach email templates which you can customize to deliver the right message to the influencers.
Analytics and automation: You can automate your email sends and track stats such as open rate, click-through rate, and reply rate.
Find any email: The Email Finder feature allows you to find anyone's email address just by giving a search for the specific domain.
Your very own outreach inbox: Ninja Outreach includes an in-app inbox that syncs with your email client to copy relevant prospect conversations, making it super-easy for you to view your influencer outreach history and follow up.
Ninja Outreach Pricing Plans
Over the years, Ninja Outreach has experimented with different pricing options. This is the current pricing structure:
Flex ($299/mo) – The basic plan of Ninja Outreach lets you connect one email account and send 10,000 emails/month to 1,000 contacts.
Pro ($499/mo) – With this plan, you can connect up to 4 email accounts and send 15,000 emails/month to 4,000 contacts.
You can get 60% off on any plan by opting for annual billing.
For a detailed comparison of all the features, click here or take Ninja Outreach for a test drive by clicking the link below.
Start your 7-day free trial of Ninja Outreach
Related: 15 Best Marketing YouTube Channels (That Are Worth Subscribing To)
BuzzStream is a popular blogger outreach software that's used by thousands of marketers every day. With BuzzStream, you can research influencers, manage your relationships, and conduct outreach that's personalized and efficient.
Here are some of the key features BuzzStream provides its users:
Outreach campaign management – Browse prospect lists, add new bloggers, websites, and social profiles to your database as you browse the web. Once you find the right contacts for your campaign, you can either personalize each email or send an email to everyone in your campaign at the same time.
Contact management – Upload a list of URLs, and BuzzStream will automatically discover contact information, website stats, and social metrics for you.
Influencer research – Use simple keyword searches to find influencers based on relevant content and get a full picture of their online presence.
Outreach templates – You can choose an outreach template that best suits your requirements. BuzzStream will track open rates, click rates, and response rates, so you can see what's working best.
In addition to these, you also get the following features:
Send later & reminders
Automated follow-ups
BuzzMarker chrome extension – This extension makes prospecting faster and outreach smarter by offering benefits of using BuzzStream while browsing the web.
Link monitoring
BuzzStream Pricing
BuzzStream provides four different plans:
Starter ($24/mo) – includes 1,000 contacts, 50 discovery results per search, and 30 prospecting searches for 1 user.
Group ($99/mo) – includes 25,000 contacts, unlimited discovery results per search, and 250 prospecting searches for 3 users.
Professional ($299/mo) – includes 100,000 contacts, unlimited discovery results per search, and 1,000 prospecting searches for 6 users.
Custom ($999/mo) – includes 300,000+ contacts, unlimited discovery results per search, and 4,000+ prospecting searches for 15+ users.
Click here to start your 14-day free trial of BuzzStream's Starter Plan
Related: 38 Best Marketing Podcasts You Should Listen To
Pitchbox is an incredibly powerful influencer outreach platform for bloggers and SEO agencies. With endorsements from leading industry influencers like Brian Dean and Neil Patel featured prominently on the website, what sets Pitchbox apart from other influencer tools is that it's integrated with top SEO platforms such as Semrush, Moz, and Majestic.
Furthermore, the tool is extremely user-friendly and completely devoid of any bottlenecks that may derail your outreach campaign.
These features, however, come at a cost. Pitchbox is quite expensive compared to the other tools on this list as they no longer offer fixed pricing plans. While some bloggers may not mind spending so much on a premium outreach tool, it's safe to say Pitchbox is mostly targeted towards marketing agencies.
Here's what you get with Pitchbox:
Prospecting made easy: Pitchbox is user-friendly and allows you to find influencers in your niche in a matter of seconds.
Customizable outreach: You can customize each outreach email to your target opportunities.
Automatic follow-up: Pitchbox lets you automatically follow up with prospects who haven't responded.
SEO integrations: As stated above, Pitchbox is integrated with premium SEO platforms. These integrations transform Pitchbox from a regular outreach tool to a powerful SEO software.
Pitchbox Plans and Pricing
Pitchbox changed their pricing model from fixed plans to custom plans in 2017. They now offer fully customizable subscriptions. To take a deeper look at the platform and to learn if Pitchbox is the right fit for your requirements, you can book a demo by clicking here.
Conclusion
The blogger outreach tools listed above can help you launch effective outreach campaigns and achieve greater success. Best yet, they can help you build strong relationships with the right group of influencers in your niche.
Did we leave out any of your favorite outreach software? If so, please mention the name of the tool in the comments section and also state why it's your favorite.
Found this article useful? Please share it on Twitter using the link below:
Editor's Note: This blog post was first published on 10 January 2018 and has been updated regularly since then for relevance and comprehensiveness. An earlier version of the blog post featured the outreach tool "EpicBeat by Epictions" at #4. EpicBeat shut down its operations in November 2018. In the updated version of the post, EpicBeat has been replaced by BuzzStream.
Related Articles