As a social media marketer, your work life can get a bit hectic and you can get easily overwhelmed by a multitude of tasks at hand.
Which is why you need to use the right apps and tools to make your work a bit more organized.
The apps featured here can make your life easier and enable you to work smarter and faster. Here are 25 of the best apps for social media marketers.
25 Best Apps and Tools for Social Media Marketers
SocialBee is an all-in-one social media tool that allows you to schedule posts, curate content, and grow your audience. With SocialBee, you can post and schedule your content to Twitter, Facebook, LinkedIn, Instagram, Pinterest, and Google My Business.
SocialBee also lets you categorize your content to save time when creating your posts. You can do something called "Evergreen posting", meaning you can just set a specific content category as "Evergreen" and the tool keeps recycling your evergreen content on all your social channels. This saves you the time and effort of repeatedly sharing your evergreen content.
Price: Starts from $19/mo (Sign up for a free trial here)
Note: To learn more about SocialBee's key features, check out my in-depth video review and walkthrough of SocialBee below:
Shakr is an online video maker which allows you to create conversion-optimized videos for your social media channels. You can choose and customize from over 2,000 video designs (with new designs added each week) made by professional designers.
With Shakr, you can increase your social media engagement, beat ad fatigue, and quickly create a variety of video ads for your Facebook ad campaigns.
Price: The basic plan starts from $49/mo
A traditional 'Swipe File' is a physical folder that a marketer uses to place good pieces of marketing or advertisements in. Keeping the same concept in mind, SwipeFile.com is an online place where you have an open-to-the-public Swipe File.
The site curates some of the best and highest converting pieces of adverting and marketing across the web and posts them all in one place.
If you're in need of some inspiration or ideas for copywriting and advertising, SwipeFile is a good resource to seek interesting examples.
Price: Free
TouchRetouch is an extremely useful app which allows you to remove unwanted content in your photos. It's super fast and easy to use.
With just a few touches, you can remove all kinds of distractions (telephone wires, power lines, etc.) and blemishes from your photos and make them perfectly clear when you post them on social media.
Price: $1.99 (one-time fee)
Available on: App Store | Google Play Store
Character Count Online is a free online character and word counting tool. It's free to use and works on any device.
To start using it, type or simply copy/paste your text in the text area. The counter will be updated instantly, displaying the amount of characters, words, sentences, paragraphs and whitespace in your text.
This tool is really useful if you'd like to keep your character count in check while posting social media updates, especially on Twitter.
Price: Free
Landscape is a free image resizing tool which helps social media marketers produce multiple image sizes optimized for social media profiles, messages, and campaigns.
To use it, simply upload your image and on the next page, select the social networks for which you'd like the resize for. You can pick multiple social networks at the same time. Next, you need to select the photo size for each platform (header photo, in-stream, etc.) and hit 'Download'.
Landscape makes the social media image sizing process easy, saving you time for other important tasks.
Price: Free
7. Rocketium
Rocketium is a video creator which lets you create hassle-free text-overlay videos with zero design experience.
You can create horizontal, square, and portrait videos at the same time for YouTube, Instagram and Snapchat respectively with a feature called intelligent auto-sizing.
You can start creating videos using a variety of built-in video templates or start from scratch, and use Rocketium's intuitive editor to style your videos with 300+ effects to tell your story just the way you want to.
Price: Free (up to 10 videos of 30 sec. each) | $49/mo for the Professional Plan
8. Buffer (Mobile App)
Buffer is one of the most popular social media scheduling tools in the market which can help you post, schedule, and analyze content on all the major social platforms. The Buffer mobile app on iOS and Android can help you manage your social channels on the go.
If your job involves a lot of travelling or you're quite simply a globetrotter, then you need to use an app like Buffer to schedule your social media posts at optimal times and track the performance of your content on Facebook, LinkedIn, Twitter, and Instagram.
Available on: App Store | Google Play Store
Social Media Poster is a social media scheduling tool from SEMrush, one of the leading SEO and competition analysis software in the world. With Social Media Poster, you can schedule posts and track their performance on Facebook, Twitter, LinkedIn, and Instagram.
Social Media Poster is a part of the SEMrush software suite and as such, you'll need an active subscription of SEMrush to access it. The pricing for SEMrush starts from $99.95/month. Click here for more details.
Side note: If you haven't used SEMrush before, I highly recommend you sign up for the 14-day trial of SEMrush Pro by clicking the link below. The trial will give you full access to all the tools within SEMrush, including Social Media Poster.
Click here to try SEMrush PRO for free for 14 days
 To learn more about SEMrush and its key features, check out my in-depth review
Launching a podcast is a great way to reach out to a new audience and increase brand awareness. With an app like Anchor, you can create and launch your own podcast using just your mobile phone.
Anchor removes all the logistical barriers of podcasting, making it easy and fun without sacrificing the podcast's quality. Using Anchor's recording and editing tools on mobile (iOS and Android) or desktop web, you can easily record your voice without any extra equipment, and distribute your podcast to every major podcast platform.
Side note: We launched our own Marketing Mantra podcast using the Anchor app. Click here to listen and subscribe to our podcast on Anchor. Marketing Mantra is also available on Apple Podcasts, Spotify, Google Podcasts, and 9 other major platforms.
Price: Free
Available on: App Store | Google Play Store
Outgrow allows you to create interactive content (quizzes, calculators, surveys, etc.) to engage customers and boost lead generation for your business.
You can also integrate your quiz/calculator with over 500 sales and marketing tools, and choose from a variety of templates to make your content as engaging as possible. 
Here are some of the quizzes and calculators we've built using Outgrow:
Unsplash is a great resource to find free high-quality stock images that you can download and use for any project; whether it's a blog post, a social media graphic, or a presentation.
Unsplash now has a mobile app which you can download for free on your iOS device.
Price: Free
Available on: App Store
13. Canva (Mobile App)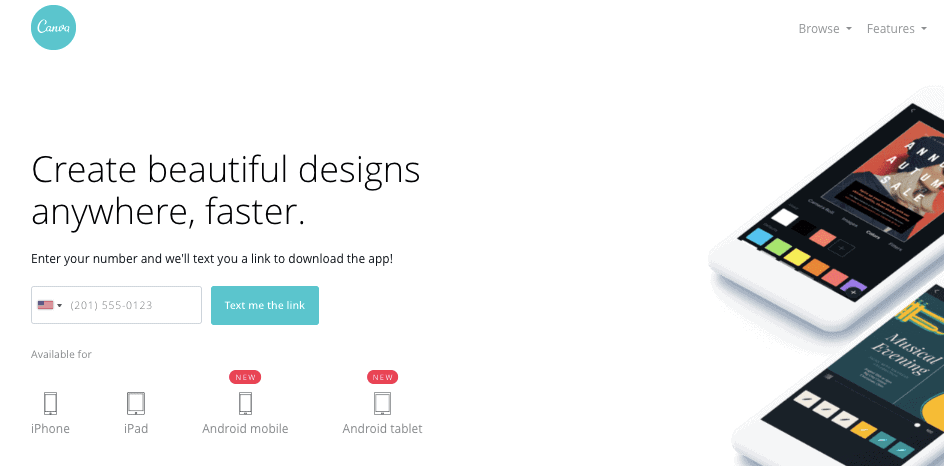 Canva is a web-based design tool which allows you to create impressive graphics in all kinds of different formats (social media, infographics, email headers, etc).
It's delightfully simple and you don't need a design background to create beautiful graphics on Canva.
Available on: App Store | Google Play Store
Repost is the most popular reposting app for Instagram. The app makes it easy to re-post (with hashtag #repost) your favorite photos and videos on Instagram while giving credit to the original Instagram account.
With Repost, you can regram content from popular Instagram accounts on your Instagram feed and keep the engagement on your account alive even when you don't have the time or bandwidth to create native content. Additionally, you can also share user-generated content (UGC) on Instagram to show appreciation towards your followers, employees, or clients.
Price: Free
Available on: App Store | Google Play Store

Hemingway App is a free web-based tool which tests the readability of your content and suggests changes where your writing is too dense.
To use it, simply paste your text, and the tool will indicate your mistakes by highlighting them in different colors (yellow and red). With Hemingway App, you can tighten up your prose, clear the highlights, and then share your work with your audience.
Price: Free
Note: Desktop app available (on Mac and Windows) for $19.99 (one-time fee). Click here to learn more
Percentage Calculator is a free online tool which lets you calculate percentage increases and decreases for their reports. This tool is really useful when you're preparing analytics reports for your social media campaigns.
Price: Free
E.ggtimer is an online countdown timer which helps you stay focused on the task at hand. You can set special timers like pomodoro (25/5 minute cycle), tabata (8 reps of 20/10 second intervals), and even brushteeth (for healthy teeth).
Price: Free
If you need to stay on top of your tasks, you need a project management app like Asana. Asana is a project management app which helps you keep track of your work, get organized, and hit deadlines.
Price: Starts from $9.99/mo
A big problem with Instagram, especially for marketers, is that you can't drive traffic from individual Instagram posts. You can't post clickable links in the caption nor can you include multiple links in your Instagram bio.
Luckily, with a social media tool like Shorby, you can side-step Instagram's 'one link in bio' limitation and drive an insane amount of traffic to your site from Instagram.
Your Shorby profile can include links to your most popular blog posts, podcast episodes, videos, messengers, and social channels. Visit my Shorby link profile to see what an optimized Shorby profile looks like.
Price: Starts from $9/mo (Click here for a free trial)
Note: The new and improved Shorby, dubbed Shorby 2.0, has some exciting new features. Check out my in-depth review and walkthrough of Shorby to learn more about these features:
Ripl makes it easy to create and share eye-catching videos that stand out on social media. You can engage your audience with animated posts and slideshows created via Ripl.
Ripl also allows you to post your videos to all your social accounts with one click or schedule them to go live later.
Available on: App Store | Google Play Store
Quuu Promote is an influencer marketing tool by Quuu.co, a content curation platform.
Quuu Promote helps you promote your content via real people who have signed up for content suggestions from Quuu.co. Your content is added to Quuu's content suggestions and users can then receive and share your content every day.
To get started, you need to submit your URL and select the most relevant interest category that relates to the topic of your submission. Quuu will then review your content to make sure it meets their quality guidelines.
Once your promotion is accepted, you can manage and keep track of your promotion from your dashboard. Each promotion lasts 30 days and you can expect to receive hundreds of shares and mentions on social media.
Price: Starts from $40
To learn more about Quuu Promote, check out my in-depth review and walkthrough below:
Unfold is a mobile app which lets you create beautiful stories on Instagram, Snapchat, and Facebook with minimal and easy-to-use templates.
The free version of Unfold lets you choose from a collection of 25 minimal, elegant, easy-to-use print-media inspired templates designed to bring your Instagram stories to life.
Price: Free
Available on: App Store | Google Play Store
Let's Enhance is a free tool which lets you increase image quality and resolution.
With Let's Enhance, you can fix the quality of a JPEG image, boost resolution of an image up to 4x times, and even add missing details to make an image look more natural.
Meme Generator allows you to create your own memes to engage and entertain your social media audience. You can pick a template from the most popular memes or choose from the collection of new memes and customize it for free.
Facebook Live is now one of the most significant trends in social media marketing.
If you are searching for some creative ways to use Facebook Live, LiveReacting is definitely what you need. It's a cloud-based tool that provides interactive templates for Facebook Live.
Top features of LiveReacting include:
Pre-recorded video streaming
Interactive games, such as trivia quiz, word search puzzle, and 4 pics-1-word game
Real-time countdown clock.
It's an easy-to-use tool that allows you to create interactive live videos in several clicks without any third-party software.
Final Thoughts
Start using these above apps and tools to boost your social media reach and engagement.
Do you have any favorite tools and apps which we missed out on? Please share your thoughts in the comments section.
Related Articles