Scammers are ubiquitous in the age we live in.
Cases in point: In the US, one in ten adults fall victim to a scam or fraud every year. And around 50% of people contacted by a scammer engage with them.
The importance of staying informed about various frauds and scams circulating in the digital age cannot be overstated. The best way to do this is by watching documentaries that provide a comprehensive look into the subject.
In this article, we've compiled a list of 15 best documentaries about scams and fraud that are worth adding to your watchlist. From high-profile cases of corporate fraud to small-time con artists, these true crime documentaries have it all and will give you an inside look into the world of fraud and scams.
15 Best Scam Documentaries
When serial entrepreneur Billy McFarland and rapper Ja Rule announced the Fyre Festival, it was touted as the greatest music festival of all time. It was promoted heavily on social media by celebrities and influencers, and the tickets cost up to $100,000. Guests were promised luxury accommodations and gourmet meals from celebrity chefs. On top of all this, the final lineup of artists for the festival included over 30 of the biggest names in the music industry.
When the guests finally turned up to the Bahamas, they instead received cheese sandwiches in foam containers and FEMA tents as their accommodation. To make matters worse, the festival attendees were stranded on the island with no means of escape.
This Netflix scammer documentary provides an exclusive behind-the-scenes sneak peak into the fraudulent music festival. It includes McFarland's team members, business partners, and festival attendees making shocking revelations about what went on at the festival. It's a hilariously entertaining cautionary tale for entrepreneurs and explains what happens when you plunge enormous amounts of money into advertising and influencer marketing without building an actual product.
Side note: If you can't get enough of the Fyre scandal, then I'd recommend you watch Hulu's Fyre Fraud as well. It's a well-made documentary that was released at the same time as the Netflix documentary, and features an exclusive interview with Billy McFarland, the perpetrator of the Fyre scam.
IMDB Rating: 7.2/10 (48,000 user ratings)
Rotten Tomatoes Score: 93%
Where to Watch: Netflix
Watch the trailer below:
Art and Craft examines the life of Mark Landis, a prolific art forger who donated his paintings to a large number of institutions across the United States. His work spanned thirty years, covering a wide range of styles, including Picasso and Walt Disney.
Art forgery is a highly lucrative fraud. In almost all cases, the forgery is committed with a financial intent. But in Mark Landis's case, there's a surprising twist in the tale. Landis didn't forge famous paintings for money, fame, or recognition. Instead, he posed as a philanthropic donor or a grieving executor of a family member's will and donated several of his paintings to a large number of American art museums. As a result, he was never prosecuted.
Art and Craft provides an unbiased perspective of Landis's fraudulent pursuits and allows us to draw our own conclusions about the implications of his actions. This narrative not only provides a captivating peek into the complex and murky world of art forgery, but it also explores the themes of obsession, authenticity, and the deep-seated human desire for meaning.
IMDB Rating: 7.1/10 (1,700+ user ratings)
Rotten Tomatoes Score: 91%
Where to Watch: Netflix
Watch the trailer below:
The Tinder Swindler is one of the best documentaries about fraud and scam on Netflix. Released in early 2022, the documentary scored 46.8 million global views in just five days.
The true crime documentary tells the story of how Simon Leviev (real name Shimon Hayut) used the dating app Tinder to dupe multiple women into lending him money that he would never repay. He did this by presenting himself as the son of diamond mogul Lev Leviev and living a lavish lifestyle using money from other women he had swindled on Tinder.
It's a gripping documentary featuring three of the women conned by Simon and how they collaborated with investigative journalists from the Norwegian tabloid Verdens Gang (VG) to bring down the Tinder swindler.
While the women who were swindled do get a sense of justice and one of them even manages to swindle the Tinder swindler, the ending shows that Simon essentially got a slap on the wrist despite conning millions of dollars from women all around the world.
IMDB Rating: 7.1/10 (based on 67,000+ user ratings)
Rotten Tomatoes Score: 96%
Where to Watch: Netflix
Watch the trailer below: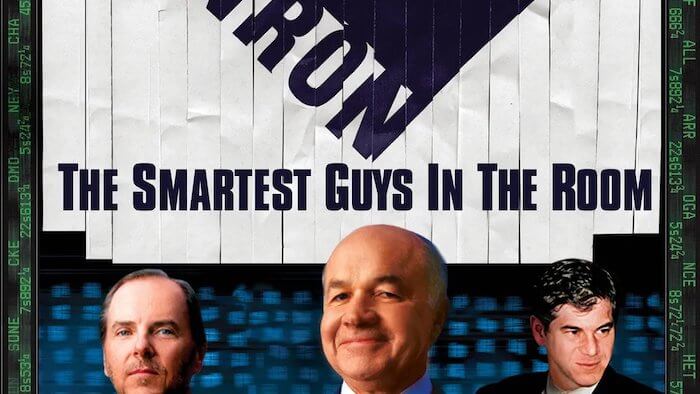 Based on the book of the same name, Enron: The Smartest Guys in the Room examines the Enron scandal and all the key players involved in one of the biggest corporate frauds in history.
Featuring interviews with ex-Enron employees, stock analysts, reporters, and the former Governor of California Gray Davis, the documentary film sheds light on the unethical practices of the former Enron executives that led to its ultimate downfall. It offers an eye-opening look into the world of corporate greed and the devastating consequences it can have.
The name "Enron" has become synonymous with corporate fraud and this documentary goes into great detail highlighting the toxic corporate culture and deceitful practices that unfolded at Enron.
IMDB Rating: 7.6/10 (based on 19,000+ user ratings)
Rotten Tomatoes Score: 97%
Where to Watch: YouTube
Watch the trailer below:
Most of us have had to deal with annoying roommates at some point in our life, but the roommates covered in this Netflix true-crime documentary will send a chill down your spine.
Worst Roommate Ever is a 5-episode docuseries which features roommates with malevolent and sometimes violent intentions who wreak havoc on unsuspecting victims.
Since the show is from Blumhouse Productions, a production house known for horror movies and shows (Get Out, Paranormal Activity, Smiley Face Killers), the horror element in the documentary is taken up a notch.
For me, the standout episode was the first episode which deals with the crimes of an elderly woman named Dorothea Puente and how she murdered the elderly and disabled residents in her boarding house to cash their Social Security checks. It's a chilling story that reminds us not to trust anyone easily, even if they look like a loving, caring grandma.
IMDB Rating: 7.1/10 (based on 8,500+ user ratings)
Rotten Tomatoes Score: Not enough ratings
Where to Watch: Netflix
Watch the trailer below:
The Inventor chronicles the rise and fall of Theranos, a biotech company that was once valued at $9 billion. With its revolutionary Edison blood-testing device, Theranos was poised to revolutionize the healthcare industry. The company's enigmatic founder and CEO, Elizabeth Holmes, was touted as the next Steve Jobs and her personal net worth was estimated to be around $4.5 billion.
However, when investigative journalist John Carreyrou from the Wall Street Journal questioned the authenticity of Theranos' technology, he uncovered a complex web of lies and deceit orchestrated by Elizabeth Holmes. This documentary goes into great detail explaining the fraudulent practices that Holmes and Theranos indulged in to mislead investors, business partners, and customers.
While the documentary provides a good overview of Theranos' meteoric rise and dramatic fall, I'd recommend you read John Carreyrou's brilliant book Bad Blood to get a better understanding of the whole Theranos scandal.
IMDB Rating: 7.2/10 (13,000+ user ratings)
Rotten Tomatoes Score: 79%
Where to Watch: HBO (US & UK); Disney+ Hotstar (India)
Watch the trailer below:
Corporate greed is a recurring theme on this list and LulaRich perfectly encapsulates that by documenting the rise and partial fall of LuLaRoe, a multi-level marketing (MLM) company that sells women's clothing.
This 4-episode documentary series provides a detailed account of the issues that arose within LolaRoe, as well as the disastrous effects that MLMs and pyramid schemes can have on individuals' lives.
In addition to including interviews with the company founders, retailers, and employees, this docuseries also features Robert L. FitzPatrick, author and president of Pyramid Scheme Alert, who brilliantly deconstructs how multi-level marketing and pyramid schemes work and the damage they can cause.
IMDB Rating: 7.5/10 (3,500+ user ratings)
Rotten Tomatoes Score: 100%
Where to Watch: Amazon Prime
Watch the trailer below: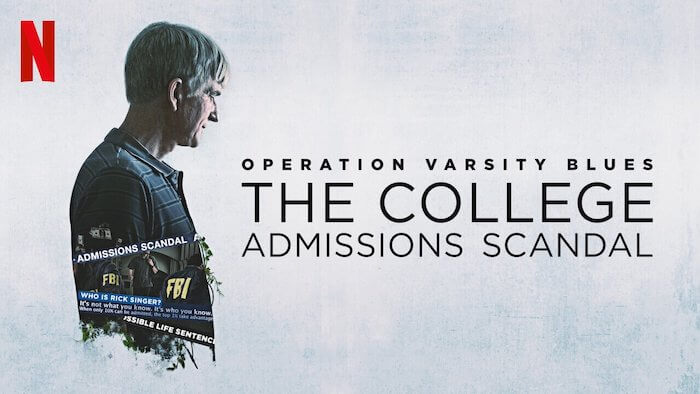 The 2019 college admissions bribery scandal sent shockwaves through America. Code named Operation Varsity Blues, the scandal revealed how prominent business people and celebrities around the country were trying to influence undergraduate admissions decisions at several top American universities, including Harvard, Stanford, and Yale.
Operation Varsity Blues is a documentary about the Varsity Blues college admissions bribery scandal. The documentary features reenactments and interviews with real people involved in the scandal. It provides an in-depth look at the inner workings of the scheme and the motivations of the individuals involved.
The film also explores the wider implications of the scandal, including the role of wealth and privilege in the college admissions process and the impact of the fraud on the students and institutions involved.
IMDB Rating: 6.9/10 (8,000+ user ratings)
Rotten Tomatoes Score: 88%
Where to Watch: Netflix
Watch the trailer below:
This documentary is not as well known or critically acclaimed as the rest of the scam documentaries on this list. But if you enjoy business and financial documentaries, then Lords of Scam on Netflix is definitely worth checking out.
This French documentary film traces the rise and crash of scammers who conned the EU carbon quota system and pocketed millions before turning on one another. It's a fascinating examination into how they managed to pull off this large-scale scam and the lengths they went to in order to keep the money flowing.
The documentary introduces us to all the key players who were involved in the EU carbon quota scam and around the half-way mark, there's a revelation that turns this film from a straightforward scam documentary to something far more sinister.
IMDB Rating: 6.3/10 (700+ user ratings)
Rotten Tomatoes Score: Not enough ratings
Where to Watch: Netflix
Watch the trailer below:
If you're looking for a riveting and informative documentary series that covers corporate fraud and corruption, then Netflix's Dirty Money is the perfect choice. Each season of this critically-acclaimed show consists of six episodes, each an hour long and focusing on a single example of corporate fraud.
This docuseries offers insight into the many different forms of corporate greed, from crooked bankers to deceptive pharmaceutical companies. You'll learn about the infamous Volkswagen emissions scandal, Wells Fargo's fraudulent sales practices, HSBC's money laundering scandal, among other things.
IMDB Rating: 8.1/10 (9,500+ user ratings)
Rotten Tomatoes Score: 100%
Where to Watch: Netflix
Watch the trailer below:
Bad Vegan tells the story of Sarma Melngailis, former owner of the popular raw food restaurant called Pure Food and Wine in New York. The restaurant was a massive success and public figures like Alec Baldwin, Howard Stern, and Bill Clinton were some of the frequent guests. But when Melngailis got herself involved with a high-level conman named Anthony Strangis, things took a dramatic turn for the worse.
Among other things, Strangis convinced Melngailis to siphon profits from her restaurant to sponsor his gambling addiction. The documentary reveals the disturbing details of how Strangis manipulated Melngailis into stealing money from her investors and employees, leaving her with a debt of around $6 million.
IMDB Rating: 5.9/10 (based on 7,000+ user ratings)
Rotten Tomatoes Score: 88%
Where to Watch: Netflix
Watch the trailer below:
The Woman Who Wasn't There is a documentary about fake 9/11 survivor Tania Head. Head's vivid account of her miraculous escape from the World Trade Center and tragic loss of her fiancee resonated with everyone. She eventually became the president of the 9/11 survivor community.
However, it was later revealed that Head's story was completely fabricated. On the day of the attacks, Head wasn't even in the US, let alone the World Trade Center. Head's deception was subsequently exposed by journalists and members of the 9/11 survivor community.
This documentary film explores the motivations behind Head's deplorable actions and the impact her lies had on the 9/11 survivor community. Although it's hard to find this documentary on streaming services, there's another documentary about Tania Head called The 9/11 Faker that you can watch on YouTube.
IMDB Rating: 6.8/10 (based on 2,400+ user ratings)
Rotten Tomatoes Score: Not enough ratings
Where to Watch: Amazon Prime (US)
Watch the trailer below:
Sour Grapes is a documentary about wine fraudster Rudy Kurniawan. In the early 2000s, Kurniawan developed an obsession with Burgundy wines and, over the course of the next few years, managed to convince the world's leading wine auction house, Acker Merrall & Condit, to sell US$35 million worth of his collection. But unbeknownst to the auction company, Kurniawan had sold them fake wines.
When the FBI raided his house in 2012, they discovered the magnitude of the wine fraud. In reality, Kurniawan had been collecting empty wine bottles, refilling them with cheap wine, and then forging the labels.
This scammer documentary takes you on a fascinating journey of Kurniawan's life, from his humble beginnings to his eventual downfall.
IMDB Rating: 7.2/10 (based on 5,500+ user ratings)
Rotten Tomatoes Score: 96%
Where to Watch: Amazon Prime
Watch the trailer below:
If you're fascinated by the world of art forgery, this is another documentary you can add to your watchlist as it details the largest art fraud in American history.
In 1995, when Knoedler Gallery, the oldest art gallery in New York, bought a Rothko painting from Ann Freedman for $750,000 and subsequently auctioned it for $5.5 million, they had no idea it would lead to the gallery's downfall. This painting, along with other paintings sold by Freedman, was a fake.
Aside from exploring the scale of the art fraud itself, the documentary also makes you question the legitimacy of art experts and critics who authenticated Freedman's fake paintings. In the same way that Sour Grapes exposes the gullibility of wine connoisseurs, Made You Look reveals the fragile credibility of art critics.
IMDB Rating: 7/10 (based on 4,000+ user ratings)
Rotten Tomatoes Score: 88%
Where to Watch: Netflix
Watch the trailer below:
Before the FTX scandal enveloped the crypto world under a cloud of controversies, there was the Quadriga scandal. Quadriga was the largest cryptocurrency in Canada before it was forced to declare bankruptcy due to the untimely death of the company's founder and CEO, Gerald Cotten. To make things worse, up to $190 million in cryptocurrency could not be accessed because only Cotten had the password to offline cold wallets.
To suggest that Cotten died under suspicious circumstances would be an understatement. Trust No One is a Netflix original documentary film that follows a group of investors who are convinced that Cotten faked his death and absconded with their money. By shedding light on the Quadriga scandal, this Netflix documentary serves as a reminder to approach crypto investments with caution.
Until Netflix or some other streaming service eventually releases a documentary on the FTX scandal, Trust No One is the best documentary on crypto scams you can watch online.
IMDB Rating: 6.3/10 (based on 5,000+ user ratings)
Rotten Tomatoes Score: Not enough ratings
Where to Watch: Netflix
Watch the trailer below:
Final Thoughts
That wraps up my top picks for the best documentaries about scams you can watch online. Did I miss out on a documentary that deserves to be on this list? Let me know in the comments section below.
Editor's Note: This article was first published on January 3, 2023 and has been updated regularly since then for relevance and comprehensiveness.
Related Articles