In the last few years, ConvertKit has emerged as the go-to email marketing tool for professional bloggers. Some of the most prominent bloggers have made the switch from AWeber or other popular email services to ConvertKit.
But what is so special about ConvertKit that made these bloggers switch from their trusted email marketing service provider (ESP)?
As the company proclaims throughout their website, ConvertKit is an email marketing company built by bloggers for bloggers. The company takes this motto seriously as most of its features are streamlined for bloggers who are serious about growing their email lists.
In fact, ConvertKit seems to do most things right in a quick and efficient manner. But there are still a few areas where AWeber has an edge over newer services like ConvertKit. Once a leader in the email marketing space, AWeber has gradually lost its market share due to its lacklustre user interface and unimpressive updates.
Regardless, AWeber continues to assert its dominance in the email marketing space, enjoying a market share of 5.09%, making it the third largest email marketing service in terms of market share. This is no small achievement, considering there are 165 email marketing services in the market at the time of writing this article.
On the other hand, ConvertKit's market share is less than one percent. So clearly they have a long way to go before they can even come close to AWeber's share of the market.
Now, let's compare these two popular email services to help you decide which service is more suited for your requirement.
This article will not follow the regular review comparison template we use at 99signals. Instead, it'll follow the comparison template we used for the Mailchimp vs ConvertKit article. We'll reveal top 5 reasons why one may choose ConvertKit over AWeber and 5 reasons why one may opt for AWeber. Let's get started!
Related: 8 Best Alternatives to Mailchimp
ConvertKit vs AWeber: 5 Reasons Why ConvertKit is Better
1. Advanced Email Automation
Until ConvertKit came along, AWeber's autoresponders were considered the gold standard in email automation. In fact, AWeber had built a reputation around email automation. All that changed with the launch of ConvertKit with its simple, yet powerful automation builder.
The advanced automation features of ConvertKit are what sets it apart from other ESPs on the market. ConvertKit provides a visual automation builder which allows you to send well-timed, targeted content to your email list. More importantly, you can customize a subscriber's path based on their actions on your site and segment your audience based on their customer journey.
2. Cleaner, More Stylish User Interface
ConvertKit takes a not-so-subtle dig at AWeber with this bold statement on their website: "Email marketing is too important to use a tool stuck in 1999."
And they do seem to have a point. At least in terms of user interface and email templates. AWeber's UI looks old, dated, and frankly could do with a revamp. Though you get to choose from a wide variety of customizable email templates, the templates are just too old-fashioned, impractical, and look like something that may just end up in your subsribers' spam folders.
In comparison, ConvertKit's user interface looks clean and elegant, making it easy for new as well as advanced users to understand all the important features.
In regard to email templates, you get to choose from three types: text, classic, and modern. When it comes to the design of these email templates, ConvertKit focuses more on simplicity and less on intricacy. Their templates are not over-styled and lack design elements that may compromise the readability of emails. In fact, ConvertKit makes a strong case for why beautiful email templates can hurt your business.
3. Well-designed Sign up Forms and Landing Pages
ESPs are generally not known for the design of their sign up forms and landing pages. Nonetheless, the ability to create well-designed signup forms and landing pages is an added bonus. And ConvertKit provides these features to its users.
The sign up forms and landing pages are not as good as the ones you'd find on Sumo or GetSiteControl, but if you don't use a separate software to create opt-in boxes and landing pages, then you'll probably be satisfied with what ConvertKit has to offer in this department.
4. It's More User Friendly
The first thing you'll notice after setting up your ConvertKit account is the ease at which you can go about your business. This is true even if you're just starting your email marketing journey with ConvertKit. In fact, you can join ConvertKit Beginners Facebook Group to get answers to any email marketing question that you may have.
If you're an advanced user migrating from another service, ConvertKit has guides to help you through the process. If you have over 5,000 subscribers, you can opt for their concierge migration service where ConvertKit's team does the migration on your behalf to make the move as seamless as possible.
5. Subscriber-centric platform
At its core, ConvertKit is a subscriber-centric email platform as these features below illustrate:
You'll never be charged for the same subscriber twice
You can easily manage your subscribers with tags and segments (learn more about this in our in-depth ConvertKit review)
Unsubscribers are automatically dropped and inactive subscribers are automatically highlighted for removal or re-engagement.
Click here to try ConvertKit for free
ConvertKit vs AWeber: 5 Reasons Why AWeber is Better
1. AWeber is Cheaper
For a platform that claims to be built for bloggers, ConvertKit sure does feel like a premium service. Being relatively new in the market and competing with widely popular services like MailChimp, Constant Contact, and AWeber, one would naturally assume ConvertKit would lower its prices to entice news users to sign up and advanced users to switch. Sadly, this is not the case. AWeber is considerably cheaper than ConvertKit if we were to take their list-based pricing into account.
For comparison purposes, let's say you have decided to go for a new email marketing software and you have around 4500 subscribers that you need to import. If you choose AWeber as your email platform, you'd have to pay a monthly subscription fee of $49. In contrast, you'd have to pay $79 if you choose ConvertKit as your preferred email software.
For a service that's been around for years, AWeber still manages to price its tools competitively and is hence a more practical solution for bloggers who are on a shoestring budget.
[irp posts="2800″ name="12 Best Google Chrome Extensions for SEO"]
2. AWeber's Amazing Analytics Reports
Email marketers know the importance of email marketing analytics. Nevertheless, tracking the performance of your email campaigns can be extremely complicated. That's not the case with AWeber. With AWeber, you can track everything from open rates to sales with a few clicks. You can even segment your email list based on open rates, purchases and more.
This is not to say ConvertKit's email analytics capabilities are bad. It's just that AWeber makes it so easy to use and understand.
3. Positive Reviews and Overall Sentiment
Despite its dwindling market share, AWeber continues to garner incredibly positive ratings and reviews on software review sites such as G2Crowd, Capterra, and TrustRadius. Despite receiving rave reviews and endorsements from popular bloggers, ConvertKit has not been able to generate enough reviews on the same sites.
One could argue that ConvertKit is relatively new compared to AWeber, but their average rating is only marginally higher than AWeber's on G2Crowd, and they have no reviews on Capterra and TrustRadius.
Update: As of August 2019, ConvertKit has better ratings on G2Crowd and Capterra, but it is yet to garner any reviews on TrustRadius.
4. Better Customer Support
One of the primary reasons for AWeber's stellar reputation online is because of their "award winning customer support". Once again, this is not a criticism of ConvertKit. It's just that AWeber places special value on customer support and goes the extra mile to ensure its new as well as existing users understand the platform and its various features completely.
AWeber's knowledge base can help you find instant answers to frequently asked questions. In addition to this, there are tons of free live webinars and video tutorials where you can learn new tricks and get better at email marketing.
You can also tune into their Twitter chat #EmailChat which they host every Wednesday. It's one of the longest running business chats on Twitter and you can gain new insights into email marketing and blogging.
5. Integration with Third-party Apps
AWeber integrates with a wide array of third-party tools and services, allowing you to easily merge your email marketing campaigns with the rest of your business tools.
AWeber has been in business for almost two decades, making it easier for them to develop an API which can easily integrate with other online services. On the other hand, ConvertKit has 80+ integrations, but it still has a long way to go before it can catch up with the level of integrations that AWeber has. For instance, one of my favorite landing page builders, Landingi, still has no integration with ConvertKit.
Click here to try AWeber for free
3 Best Alternatives to ConvertKit and AWeber
While both ConvertKit and AWeber are incredibly useful tools, they may not be the right fit for your business. Here are 3 ConvertKit and AWeber alternatives you can consider:
SendinBlue's platform is tailored to the needs of small and medium-sized businesses. Originally launched as a digital agency, SendinBlue has evolved into an all-in-platform that offers Email, SMS, Facebook, Chat, and CRM to effectively scale your business.
You can start using SendinBlue for free — the free plan allows you to send 300 emails per day with no restrictions on the number of contacts in your email list.
To send more than 300 emails per day and to get access to advanced features such as landing pages, marketing automation, and more, you'll need to upgrade to one of their paid plans:
Lite – $25/mo (40,000 emails /mo)
Essential – $39/mo (60,000 emails/mo)
Premium – $66/mo (120,000 emails/mo)
Enterprise – Custom
Click here to try SendinBlue for free
HubSpot's email marketing tool is easy to use, packed with features, and has an extremely high deliverability rate.
HubSpot lets you easily customize your email template, add images, CTA buttons, and modify any other content in your email with ease.
Furthermore, since HubSpot's email tool is powered with the free CRM tool, you get access to valuable contact insights, helping you deliver personalized emails to your subscribers.
HubSpot's ESP is free to use — you are allowed to send 2,000 emails per month and create five different email lists.
To send over 2,000 emails per month and to use advanced features such as A/B Testing, Time Zone Sending, and Email Automation, you'll need to upgrade to HubSpot Marketing Hub. The basic plan starts at $50/month, which also includes premium access to other HubSpot lead conversion tools like live chat, conversational bots, ad targeting, and more.
Click here to try HubSpot's email tool for free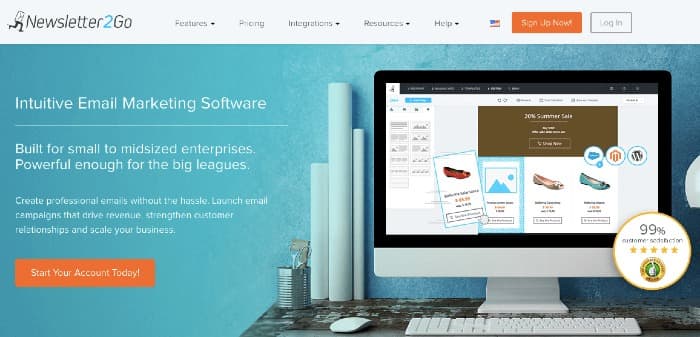 Founded in 2011, Newsletter2Go is one of the leading providers of sales-driving email marketing software in Europe. It has over 40,000 customers in more than 50 countries.
Newsletter2Go's ESP is specifically designed for e-commerce companies, digital marketing agencies, associations, and small to mid-sized companies.
Some of Newsletter2Go's key features include 1-click product transfer and 1-click content transfer, a host of integrations including Shopify, Zapier and Unsplash, granular reporting, and a highly configurable editor that gives you complete control over how your email campaigns look.
Newsletter2Go's free plan (Lite Plan) allows you to send 1,000 emails a month and offers the basics for getting started with email marketing. Their paid plans start at $18/month.
Click here to create your free Newsletter2Go account
ConvertKit vs AWeber: Final Verdict
By now, you probably know about the strengths and weaknesses of both these email platforms. If you value customer service, better overall reputation, and price, you should go with AWeber. You'd presumably have to compromise on design of email templates. On the other hand, if you prioritize ease of use, advanced automation options, and a cleaner interface over pricing, then opt for ConvertKit.
Hope you found this comparison article useful. If you did, please share it on Twitter using the link below.
Related Articles