Mailchimp and ConvertKit are both popular email marketing services among professional bloggers and marketers alike.
Founded in 2001, Mailchimp is somewhat of a veteran in the email marketing service provider (ESP) space. Mailchimp began as a paid email marketing service and a freemium option (Forever Free Plan) was added in 2009. The free plan provided by Mailchimp is incredibly popular, allowing you to send 12,000 emails to up to 2000 subscribers. At the time of this review, Mailchimp commands a market share of 45.71%. Its closest competitor, Constant Contact, has a market share of 18.36%.
ConvertKit, on the other hand, is relatively new but quickly gaining a foothold, thanks to endorsements from leading bloggers and its advanced automation features. Some have compared the automation features to those provided by premium software such as InfusionSoft and HubSpot. We published a detailed review of ConvertKit a few months ago which you should definitely check out if you need a more detailed analysis of the tool.
In this Mailchimp vs ConvertKit comparison review article, we'll compare these two tools in core areas and help you decide which one you should sign up for.
This article will not follow the regular review comparison template we usually follow at 99signals. Instead, we'll show you 5 areas in which Mailchimp trumps ConvertKit and 5 areas where ConvertKit is better.
Mailchimp vs ConvertKit: 5 Reasons Why Mailchimp is Better Than ConvertKit
1. Pricing
Mailchimp offers a free plan wherein you're allowed to send 12,000 emails to up to 2000 subscribers. If you exceed the limit, you'll have to upgrade to one of their paid plans which start from $10/month. The free plan doesn't give you access to email automation and some of the other premium features such as send time optimization and advanced segmentation.
In contrast, ConvertKit is not just more expensive than Mailchimp, but is probably one of the most expensive ESPs in the market. The basic plan starts from $29/month and includes only 1000 subscribers. There is no trial offered either.
Mailchimp is one of the most affordable ESPs in the market, even when you decide to upgrade to any of their paid plans.
2. Email Templates
Mailchimp offers a plethora of professionally-designed email templates to choose from. The email templates are tailored for different businesses and websites – generic, real estate, blog, consulting, travel, etc.
All the email templates are mobile-friendly and easily customizable to suit your needs.
3. Send Time Optimization
Available only to paid users, Send Time Optimization feature on Mailchimp takes the guesswork out of sending emails at optimal times.
When you create a campaign and turn on the Send Time Optimization feature, Mailchimp uses that data to pinpoint an ideal time within 24 hours of your selected send date, and send your campaign at that time. This feature is incredibly useful, especially if you have a diverse list of subscribers from different countries.
4. Ease of Use
Because of the awesome free plan, many people start building their email list on Mailchimp. As such, Mailchimp is one of the most beginner-friendly ESPs in the market.
The dashboard is straightforward and easy to understand. Beginners and pros alike will find it easy to learn the basic functionalities of the tool and even master premium features such as email automation and A/B testing in no time. 
5. Positive Reviews and Overall Sentiment
Mailchimp has stellar reviews on review sites such as G2Crowd, TrustRadius, and Capterra. Leading marketing professionals, influencers, and bloggers just love the tool.
Mailchimp has 4.3/5 stars based on 12,000+ reviews on G2Crowd, a score of 8.3/10 based on 1,500+ reviews on TrustRadius, and 4.3/5 stars based on 10,000+ reviews on Capterra.
Most users find the tool easy to use and the navigation simple. The free plan offered by Mailchimp sets industry benchmark in terms of features offered and is a great way to learn the basics of email marketing before moving on to advanced features.
Mailchimp vs ConvertKit: 5 Reasons Why ConvertKit is Better Than Mailchimp
1. Email Automation/Autoresponders
ConvertKit is all about automation, offering you endless possibilities to automate your emails. It allows you to tag subscribers with any custom tag you want after they complete a particular course of action.
With ConvertKit, automation is based on a simple "if this / then that" sequence. There is a bit of learning curve involved here, but you'll eventually get used to it. And this is the feature that sets ConvertKit apart from other ESPs in the market. You can determine who receives sequence emails and when they receive them by setting up a number of 'triggers' and 'actions' that will execute when the trigger's condition occurs.
2. Well-designed Sign Up Forms
ESPs are not particularly known for the design of their sign up forms. ConvertKit is an exception to the rule. Not only are the sign up forms easy to setup and customize, but they also look great.
You can display the forms inline with content, display as a modal, or slide in from the bottom. Because of the professionally designed forms, you need not invest in expensive optin form plugins to grow your email list.
3. Broadcasts and Sequences
ConvertKit allows you to send emails as one-time broadcasts, but the real USP of ConvertKit lies in its sequences.
The tool will guide you through a number of different email types and develop chains of emails that will be sent to subscribers who are tagged to receive them.
4. Landing Pages
ConvertKit provides 3 landing page templates to design a custom page. These are great if you are providing a free eBook, webinar or course to grow your email list.
Landing pages are easy to create and design with a few customization options thrown in to create the perfect lead magnet to build your email list.
5. Email Analytics
Tracking email metrics on a consistent basis helps you refine and improve your email marketing strategy. It's one of the essential aspects of what makes email marketing work.
Analytics and reporting on Mailchimp are pretty basic, giving you an overview of important email marketing metrics such as open rate, click rate, unsubscribes, etc. ConvertKit's analytics are a little more advanced. Every form, landing page, and email has detailed stats so you can know exactly how each of these elements are performing.
If you're a sort of person who likes detailed reports for each email campaign or sign up form, then you'll love ConvertKit's advanced analytics and reporting features.
3 Best Alternatives to Mailchimp and ConvertKit
Both Mailchimp and ConvertKit are excellent email marketing services with lots of features and functionalities. That said, they may not be the right email software for every business out there. Here are a few other powerful email marketing service providers you can consider:
SendinBlue's email marketing services are tailored to small businesses and solopreneurs. From its beginner-friendly interface to pricing plans to features, everything in SendinBlue is designed keeping small businesses in mind.
Among these alternatives, SendinBlue's free plan is the only one that can rival Mailchimp's free forever plan. The free plan allows you to send 300 emails per day. Unlike Mailchimp, there is no restriction on the number of contacts you can have in your email list.
If you'd like to upgrade your plan and send more than 300 emails per days, you can choose any of the following pricing plans:
Lite – $25/mo (40,000 emails /mo)
Essential – $39/mo (60,000 emails/mo)
Premium – $66/mo (120,000 emails/mo)
Enterprise – Custom
Click here to try SendinBlue for free
HubSpot's email marketing tool is easy to use, packed with features, and has an extremely high deliverability rate.
With HubSpot's drag and drop editor, you can easily customize your email template, add images and CTA buttons, and modify any other content in your email with ease.
Plus, since HubSpot's email tool is powered with the free CRM tool, you get access to valuable contact insights, helping you deliver personalized emails to your subscribers.
HubSpot's ESP is free to use — you are allowed to send 2,000 emails per month and create five different email lists.
To send over 2,000 emails per month and to use advanced features such as A/B Testing, Time Zone Sending, and Email Automation, you'll need to upgrade to HubSpot Marketing Hub. The basic plan starts at $50/month, which also includes premium access to other HubSpot lead conversion tools like live chat, conversational bots, ad targeting, and more.
Click here to try HubSpot's email tool for free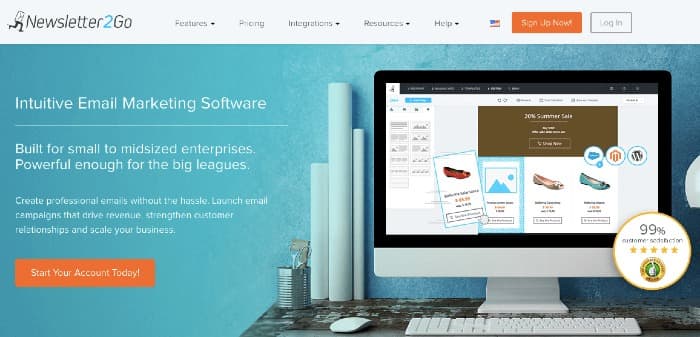 Newsletter2Go is a German-based email marketing software. With Newsletter2Go, you can create and send high-impact emails in minutes.
Some of Newsletter2Go's key features include 1-click product transfer and 1-click content transfer, a host of integrations including Shopify, Zapier and Unsplash, granular reporting, and a highly configurable editor that gives you complete control over how your email campaigns look.
Newsletter2Go's free plan (Lite Plan) allows you to send 1,000 emails a month and offers the basics for getting started with email marketing. Their paid plans start at $18/month.
Click here to create your free Newsletter2Go account
Mailchimp vs ConvertKit: Final Verdict
Both Mailchimp and ConvertKit are exceptional tools and both have their own their pros and cons as listed above. Mailchimp is more affordable and beginner-friendly while ConvertKit has advanced automation features and better-looking sign up forms.
Your choice of ESP will depend on your requirements and budget. If you want a reliable yet affordable email marketing tool, then go for Mailchimp. If you're looking for advanced automation features and don't mind spending over $29/month on an ESP, then opt for ConvertKit.
If you liked this MailChimp vs ConvertKit comparison review article, please share it on Twitter using the link below:
Related Articles