Google's Chrome web store offers a variety of different SEO tools that can help you with your SEO efforts with just one click.
In this article, I'll share 26 of the best SEO Chrome extensions you need to add to your web browser right away.
Side note: If you'd like a smaller list, check out this video below where I share my 5 favorite Google Chrome extensions for SEO.
26 Best SEO Chrome Extensions
GrowthBar's Chrome extension gives you instant access to critical SEO data points about any website and unlocks the growth channels and keywords that are working for them.
You can do SEO and keyword research from the comfort of your Google browser as the tool allows you to explore any website's best-performing keywords, keyword ranking difficulty score, domain authority, backlink data, page word count, Facebook ads, and more.
Just type in a search query on Google and GrowthBar instantly provides you with a treasure trove of SEO insights and metrics to help improve your search rankings.
GrowthBar's paid version costs $29/month, but you can use it for free for 5 days. Once the trial is over, you'll either need to upgrade to the paid version or continue using the free plan.
GrowthBar's free version allows you to see basic SEO metrics like ranking difficulty score, domain authority, and organic traffic, but everything else will be locked.
To learn more about GrowthBar, check out my in-depth GrowthBar review.
[Exclusive offer] Get 50% off on GrowthBar for the first three months. Use promo code 99signals at checkout. Grab this offer now.
SEOquake is a free SEO Chrome extension by Semrush that provides you with key SEO metrics, keyword analysis, and a complete SEO audit of any webpage you visit. Since it's basically an extension of Semrush, which is the best keyword research tool on the market, it's perhaps one of the best Chrome extensions for keyword research.
The best part? You don't need to have an active Semrush subscription to get maximum benefits out of SEQquake Chrome extension.
Here's a quick breakdown of what you can do with this free plugin by Semrush:
Get a thorough analysis of SERPs
Get an instant SEO summary for any webpage
Examine external and internal links
Compare domains and URLs in real-time
Estimate keyword difficulty instantly
Get a detailed and structured report on all keywords found on any page.
Related: Semrush Review: The SEO Tool Trusted by Experts
The SEO Meta in 1 Click chrome extension is the best SEO extension I've used in the recent past. It's also perhaps the most popular free SEO Chrome extension on the Chrome web store, used by over 300,000 users. This free tool displays all the meta tags and important SEO metrics for any page you visit.
With the SEO Meta Chrome extension, you get instant insights on metadata and crucial metrics like:
Title, its length, and meta description
URL (and canonical URL)
Robots tag
Headers in order of their appearance in HTML (H1, H2, H3, H4, H5, and H6)
Number of images with and without alt text
Number of links (internal and unique)
Open graph and Twitter social data
In addition to these metrics, you can also connect SEO Meta in 1 Click with SEO performance tools like Google's Mobile-Friendly Test, GTmetrix, PageSpeed Insights, and more to quickly analyze the speed and performance of any page.
Get SEO Meta in 1 Click for Chrome
One of the most effective techniques to generate contextual backlinks is via blogger outreach. That said, it's not easy. Even after you've identified the bloggers and influencers in your niche you'd like to reach out to, you may not have their emails to start your outreach.
FindThatLead's Chrome extension saves you the trouble by finding the right emails on any website or LinkedIn profile.
Not just that, but with FindThatLead's verification process, you'll know if the email generated is correct. It's a must-have tool if you're planning on sending outreach emails.
FindThatLead's free plan gives you 50 free credits per month.
Side note: To learn more about FindThatLead, check out my in-depth video review and tutorial below: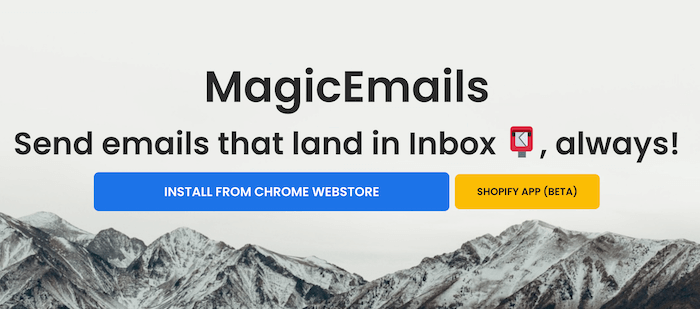 MagicEmails is an email outreach Chrome extension that allows you to send cold emails that land directly in your prospects' inbox. With a seamless integration with Gmail, MagicEmails helps you send your first campaign in under 30 seconds.
With MagicEmails' proprietary approach, you can send emails by accurately scheduling them in batches. Once the emails are sent, MagicEmails monitors your email open rate in real-time and provides active feedback on campaign performance. The tool also automatically detects email bounces and pauses your email campaign to protect your inbox reputation.
You can also import your CSV, XLS, or Google Sheets contacts right inside MagicEmails.
Mangools SEO Extension is a powerful way to perform a quick SEO analysis that includes authority and trend metrics, backlink analysis, key on-page SEO data, and rank tracking.
You will basically get the essential data from their popular SEO tools package (which includes KWFinder, SERPChecker, LinkMiner, and more) right in your browser with the ability to use the tools anytime for an in-depth analysis.
The extension has smart context menu integrations and advanced features that are available directly in Google SERP such as localized results and shortcuts to analyze backlinks and the URL profile.
Get Mangools SEO Extension for Chrome
Side note: While you can use this SEO Chrome extension for on-page SEO and page speed checks, it works best with an active Mangools subscription. To learn more about Mangools and to see how it compares with Semrush, check out my comprehensive Semrush vs Mangools comparison guide.
Ahrefs' Chrome extension gives you an instant on-page SEO report for any page you visit. What's more, you can also use it as a broken link checker, redirect tracer, and get a ton of important SEO metrics for any webpage right in your browser.
Get Ahrefs SEO Toolbar for Chrome
Side note: If you have an active Ahrefs account, you can unlock advanced SEO metrics such as domain rating, page rating, number of backlinks, and more. Read my in-depth Ahrefs review to learn more about its key features.
MozBar is a Chrome extension for SEO by Moz that allows you to get instant SEO insights about different websites or search engine result pages (SERPs) without leaving your web browser.
Along with various backlink metrics, you can also see a website's domain authority and page authority from this extension. Providing invaluable data and stats, the MozBar Chrome extension is a must-have for all SEOs.
vidIQ is one of the leading YouTube SEO tools on the market. If you'd like your videos to rank well on YouTube and generate more views and subscribers, then you need vidIQ's Chrome extension by your side.
vidIQ goes beyond YouTube Analytics to provide you insights on how to get more views and subscribers on YouTube. vidIQ lets you perform a channel audit to show you what's working with your content and the areas where you need to make improvements. You can also get insights into what your competitors are doing to rank high and generate more views on YouTube.
While vidIQ's free Chrome extension is packed with features such as Channel Audit, vidIQ Score, and vidIQ Competitors Tool, you can unlock premium features and higher limits by upgrading to one of their paid plans. Click here to check out their existing pricing plans.
Get vidIQ Vision Chrome Extension
Exclusive Offer: Get 1-month free access to all vidIQ tools. Use promo code 99SIGNALS1M on checkout to activate. Click here for more details.
Buzzsumo is one of the most popular content marketing tools that allows you to search for the most popular/shared content online for any given topic.
Buzzsumo's Chrome extension provides you insight into how a particular content piece is performing without leaving your web browser. The extension displays the number of engagements on Facebook, Twitter, Pinterest, and Reddit, along with the number of links and the article's Evergreen score.
To view these stats, just visit the article you'd like to analyze and click on the BuzzSumo extension icon.
You can use the Buzzsumo extension to not just analyze your own posts, but also your competitors' posts.
While you can use this extension for free, BuzzSumo's advanced features are accessible only if you have an active BuzzSumo subscription.
Get BuzzSumo Extension for Chrome
Ubersuggest is one of the most popular SEO tools on the market. This free SEO Chrome extension shows you important keyword data not just for Google search results, but also for YouTube and Amazon search results.
In addition, the Ubersuggest Chrome extension also provides you with backlink data, social share count, domain metrics, and more to streamline your SEO efforts right in your web browser.
Related: Semrush vs Ubersuggest: Which SEO Tool is Better?
Hunter is yet another email finder that helps you find email addresses associated with the websites you visit. In addition to email addresses, you can get the names, job titles, social networks, and phone numbers.
Hunter's free plan provides you with 50 free credits per month.
Serpstat is an all-in-one SEO platform for keyword research, rank tracking, backlink analysis, site audit, and comprehensive competitor analysis.
Serpstat also provides a free extension that makes website analysis accessible in one click. The extension has three sections: On-page SEO parameters, Page analysis, and Domain analysis. There you'll find data on your domain visibility, traffic, top 10 keywords your site ranks for, meta tags, and even more.
Some reports don't require registration. All you need is to install the plugin in your browser and start the site analysis. With API token, free users can make up to 100 requests per day and 1 request every 5 seconds.
Get Serpstat Plugin for Chrome
Want to learn more about Serpstat? Check out my Serpstat review to learn more about Serpstat and all its key features.
SEO Search Simulator is a free SEO Chrome extension by Nightwatch, an SEO performance tracker, that simulates search engine queries from any location on Google.
It's a useful tool for tracking your website's rankings as well as your competitors' rankings in different locations.
Get SEO Search Simulator for Chrome
Google's Page Analytics extension is a great tool to understand how your customers are interacting with your website.
The tool gives you useful data like where your users click and the number of active visitors your website has in real-time.
It also shows your usual Google Analytics metrics like Pageviews, Unique Pageviews, Average time on page and Bounce Rate. A must-have extension if you rely on Google Analytics for traffic stats.
Ninja Outreach is a powerful blogger outreach and prospecting tool and its Chrome extension is a 'lite' version of the tool which you can use to extract extremely useful website data.
The information available through the tool includes full name, location, social media follower counts, email address, Alexa rank, backlinks, page authority, domain authority, and more. It also adds powerful prospecting and outreach capabilities to your web browser.
The tool also displays links to key pages within a website such as contact, about, resources, reviews, infographics, etc., and provides email outreach templates that you can use from the extension itself.
Get Ninja Outreach Lite for Chrome
Broken link building is one of the most effective ways to build backlinks for your site. However, it's also time-consuming and without the help of proper tools, it can be an unrewarding task.
Which is why you need to use a tool like LinkMiner to help you in this endeavor.
LinkMiner scans webpages for broken links and pulls metrics on those links. It shows backlink info and social data for any link on a page and allows you to export those links from a page onto a CSV file.
You can also use LinkMiner to find out how many total or external links are on the webpage you're viewing.
SEO Analysis & Website Review is a Chrome extension by WooRank which provides an in-depth SEO report for any given website.
When you click on the WooRank extension icon, the tool opens a right-click menu with an SEO analysis of the website covering stats such as traffic estimations, traffic rank, Google Ads traffic, etc.
It also provides on-page and off-page data such as title, meta description, meta keywords, headings, text/HTML ratio, internal and external links, anchor text, etc.
Get WooRank Extension for Chrome
Google Analytics is an extremely powerful tool to track your website traffic.
Analytics UTM Builder is a useful add-on to quickly tag the URLs that you want to track in your Google Analytics campaigns.
To use this extension, click on the UTM Builder icon which looks like a shopping cart. The tool will then automatically capture the current URL of the page. You will then need to complete a form including fields like the source, medium, campaign, etc.
Once you've filled the form, the tool will autogenerate the final URL. You can then share this new tagged link through your social media accounts and track them independently using Google Analytics.
Get Analytics UTM Builder for Chrome
Lighthouse is a free SEO Chrome extension by Google that audits your URLs and provides recommendations for improving the performance, accessibility, and SEO of your webpages on both desktop and mobile.
Redirects are an important part of SEO. Redirect Path will show you all the redirects from the URL you entered to your final URL.
The extension flags up 301, 302, 404, and 500 HTTP status codes as well as client-side redirects like Meta and Javascript redirects, bringing potential issues that may not otherwise be seen.
The tool also displays other HTTP Headers (such as server types and caching headers) and the server IP Address at the click of a button.
Link Grabber allows you to extract links from a webpage and display them in another tab. You can also automatically block links from a configurable list of domains.
These links are clickable, and you can also copy/paste them onto a spreadsheet.
SEO Minion is a free SEO Chrome extension that you can use to analyze on-page SEO, check broken links and redirects, SERP preview, and more.
You can also use the tool to check Google rankings for your website across multiple locations without personalization.
AMP Validator is a super useful SEO Chrome extension if you use AMP (Accelerated Mobile Pages). This extension automatically checks each page for AMP validation and reports if the page passes or fails via the extension icon.
SEOStack Keyword Tool is a free SEO Chrome extension that lets you find long-tail keywords quickly and easily.
The tool allows you to generate a ton of keyword ideas from multiple search engines, including Google, Bing, YouTube, Yahoo, and more. What's more, you can then export the keyword data to CSV.
Get SEOStack Keyword Tool for Chrome
The SimilarWeb Chrome extension lets you check website traffic and other key metrics for any website, including engagement rate, traffic ranking, traffic source, and keyword ranking.
Final Thoughts
By now, your web browser must be loaded with extensions to make SEO easier on a day-to-day basis. Test these SEO Chrome extensions out and see how much value they are adding to your SEO efforts.
If you're a Firefox user, check out these 10 best Firefox extensions for SEO.
What's your favorite Google Chrome SEO extension? Let us know in the comments below.
Side note: If you're looking to boost your social presence, check out these 15 Google Chrome extensions for social media marketing.
And if you found this article useful, please share it on Twitter by clicking on the link below.
Editor's Note: This article was first published on 19 Jan 2017 and has been updated regularly since then for relevance and comprehensiveness.
If you liked this article, you may also like: