Despite stiff competition, Mozilla Firefox continues to be a popular web browser with a very loyal user base. As of May 2022, Firefox still commands a 7.66% browser market share, making it the third most popular web browser worldwide.
If you're an SEO professional, a blogger, or an entrepreneur who's looking for efficient and quick ways to improve your site's SEO right in your web browser, then we have good news for you. There are several Firefox add-ons and extensions you can install on your browser to turn it into an SEO powerhouse.
In this article, we'll reveal 10 of the best Firefox SEO extensions you can install right away to improve your search rankings and boost your traffic.
Are you a Chrome user? We've got you covered. Check out these 26 best SEO extensions for Google Chrome.
Top 10 SEO Extensions for Mozilla Firefox
SEOquake is a free SEO extension by Semrush which helps you accelerate your SEO efforts on the fly. SEOquake provides you with key SEO metrics for a specific page, along with other useful tools such as the SEO Audit tool, the Keyword Density report, Internal/External link analysis, and even social metrics.
With SEOquake installed on your Firefox, you can:
Get an SEO overview of any page at a glance
Discover your SERP competitors' strengths and weaknesses
Analyze a webpage's external and internal links
Get detailed information about your backlinks and much more.
Further reading
Ahrefs SEO Toolbar provides the most important SEO metrics right in your web browser.
This add-on gives you instant access to major page and keyword metrics, including domain rating (DR), URL rating (UR), estimated organic search traffic, number of referring domains, number of backlinks, and more.
The only problem? You need an active Ahrefs subscription in order to use this extension. We've covered Ahrefs extensively on this blog and it's a phenomenal tool for link building and website analysis. Check out our in-depth review of Ahrefs to learn more.
Add Ahrefs SEO Extension to Firefox
Mangools SEO extension allows you to speed up your SEO right in your browser.
With this free extension added to your Firefox, you can see all the key SEO metrics, popularity trends, backlinks, and on-page SEO insights of any domain or URL.
Add Mangools SEO Extension to Firefox
Related: Semrush vs Mangools: Which SEO Tool is Better?
SEO & Website Analysis is a free Firefox extension by WooRank which provides a review for any given website.
SEO & Website Analysis extension provides several tips for your website to improve your rankings in Google, Bing, and Yahoo. It is a powerful extension for digital marketing professionals, SEOs, web developers, mobile developers, and bloggers.
Add WooRank Extension to Firefox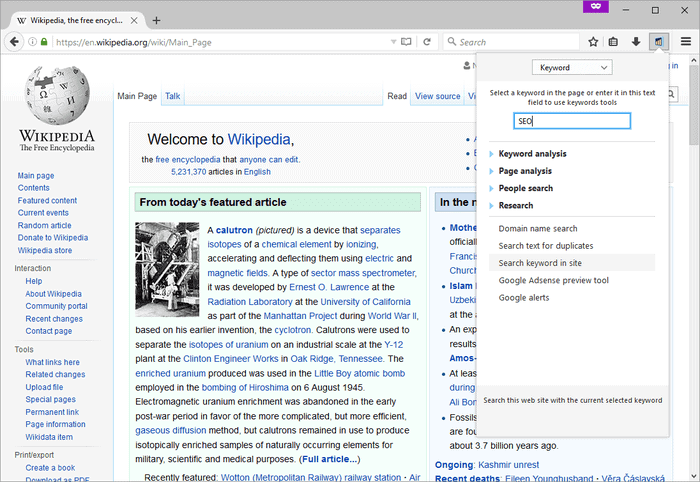 Foxy SEO Tool is an exclusive add-on to Firefox which provides quick and easy access to a multitude of search engine functions and web traffic analysis sites such as Alexa, Compete, and Semrush.
With this tool, you can check your website's listing in important directories, references in Wikipedia, Twitter, Facebook, and find shortcuts to useful network functions and social media sites.
Majestic Backlink Analyzer gives you instant insights into the number of backlinks and domains linking to the URL and domain you are currently browsing.
With this Firefox add-on, you can see SEO metrics like link profile charts, link counts at the URL, subdomains and root level, and the two Flow Metrics scores (Majestic's version of domain authority) from 0-100 for pages you visit.
While the above information can be viewed for free, you'll need an active subscription to Majestic to unlock all the key features. Majestic users can get more in-depth data into backlinks, anchor text, and get access to backlink analysis tools from Majestic.
Add Majestic Backlink Analyzer to Firefox
Link Redirect Trace lets you perform advanced and comprehensive analysis of links, redirects, and canonical URLs.
Here are some of the things you can use this Firefox add-on for:
Check for problems with your site's on-page SEO
Check for problems with your site's off-page SEO (incoming links)
Perform competitor research
Check your affiliate links
Understand the full redirect chain
Check your links after a website migration or redesign
Check if a shortened URL points to a dangerous website
Trace a hacker website redirect
Track links from advertising and affiliate networks.
Add Link Redirect Trace to Firefox
Link building through reverse image search is one of the most scalable ways to build quality backlinks.
Luckily there's a Firefox extension that reduces the manual work associated with reverse image search. Search by Image is a browser extension that allows you to initiate a reverse image search from the right-click context menu or the browser toolbar.
This extension will find all images positioned in the clicked area, including those declared in CSS. It also supports uploading local images and searching for images from private sites.
Add Search by Image to Firefox
Further reading
Link Research SEO Toolbar lets you view all the advanced SEO metrics for every page you visit on Firefox.
Here are some of the things you can do with this extension:
See the power and trust of a domain or page
Discover great places to get links from
See how successful a page is on social media
Understand user engagement
See the strongest pages by Keyword Ranking
Spot drastic changes in the number of links
See how many backlinks a page has.
Add Link Research SEO Tool to Firefox
Keywords Everywhere add-on for Firefox is a free keyword research tool that shows you useful keyword search volume, CPC, and competition data on 15+ websites, including Google Search Console, Google Analytics, Ubersuggest, Majestic, Moz Open Site Explorer, AnswerthePublic, YouTube, Amazon, eBay, Bing, Etsy and more.
This browser extension saves you the hassle of copying data from various websites and using the Keyword Planner tool in Google Ads to see relevant search volume and CPC data.
Add Keywords Everywhere to Firefox
Summary
So these are the 10 best Firefox add-ons and extensions we'd suggest you install on your Firefox browser.
Did we miss out on any of your favorite Firefox add-ons for SEO? Let us know in the comments section.
If you liked this article, please share it on Twitter using the link below or share it on your preferred social channel using the social share bar on the left.
Editor's Note: This article was first published on November 7, 2018 and has been updated regularly since then for relevance and comprehensiveness.
Related Articles