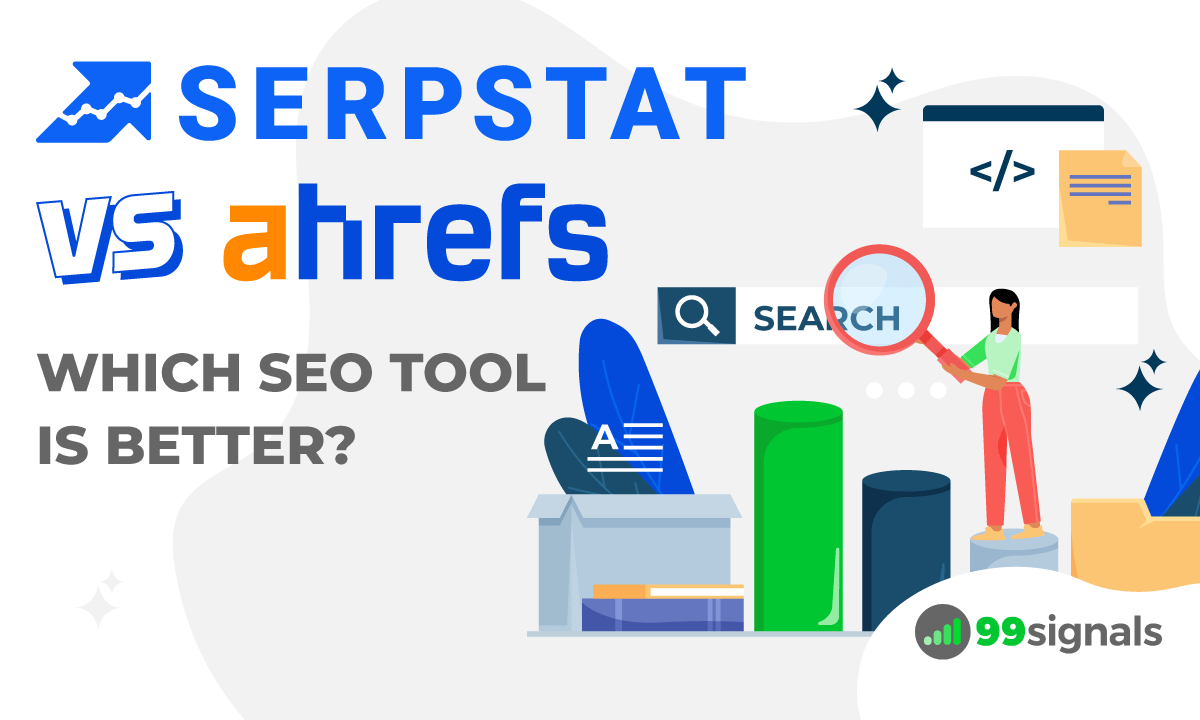 If you want to take your website to new heights, search engine optimization (SEO) is the secret sauce you need. It helps your website stand out and achieve your campaign goals in a timely manner, all while adhering to Google's guidelines.
But let's face the truth: SEO can be a real challenge.
But that doesn't mean you must fight for better positions in SERPs, website visibility, and other SEO essentials bare-handed. Fortunately, there are various tools available that can assist you.
Even if you are just starting your SEO journey, there are established industry leaders with an impressive range of features to help you achieve your goals.
While it may be difficult to determine the ultimate winner in the highly competitive arena of premium SEO tools, exploring the offerings of renowned contenders such as Serpstat and Ahrefs can help you identify the best solution for your needs.
Without further ado, let's dive into the topic!
Editor's Note: To get the most out of this comparison guide, I'd encourage you to create an account on Serpstat and Ahrefs. While Serpstat offers a 7-day free trial to access its premium features, Ahrefs offers free access to Ahrefs Webmasters Tools (AWT). With AWT, you get basic site audit, keyword research, and backlink analysis features. Alternatively, you can sign up for a 7-day trial of Ahrefs for $7.
Sign up for Ahrefs Webmasters Tool (AWT)
Brief Overview: Introduction to Serpstat and Ahrefs
For those new to SEO, it can be challenging to determine which solution best suits their needs, as there are several similarities among the platforms presented:
Serpstat and Ahrefs are advanced SEO solutions catering to various marketing strategies. They offer services for both novice and experienced users through an all-in-one search tool interface.
Their websites have clean, user-friendly interfaces that facilitate seamless navigation and a smooth and intuitive user experience.
These platforms offer a range of similar features, including comprehensive training opportunities for SEO specialists, backlink and website analysis, rank tracking, and keyword research.
However, it's important to note that both these SEO platforms offer capabilities beyond that of a basic SaaS tool. To better understand their unique features and capabilities, let's take a closer look at each one.
What You Should Know About Serpstat
Trusted by well-known companies like Lenovo and Shopify, Serpstat is a strong contender in the pool of SEO platforms available to beginner and seasoned marketing professionals.
Serpstat's intuitive and multifunctional interface is designed to help users achieve various website goals. The platform offers a range of SEO tools, from basic to advanced, allowing end users to tailor their target platforms to the requirements of their niche.
Of course, what Serpstat has to offer is not just limited to SEO strategies:
Serpstat regularly updates its service portfolio every two weeks, ensuring that any errors or limitations are promptly addressed.
Serpstat understands this need and offers a welcoming community of like-minded professionals. Through its private Facebook group, members can connect with peers and share their perspectives on SEO-related topics. Moreover, Serpstat regularly organizes webinars and meetings with influential personalities in the SEO industry. Its Twitter community is equally engaging, providing another platform for exchanging ideas and knowledge. By joining the Serpstat community, you can not only expand your network but also keep your skills sharp through continuous learning.
Serpstat offers a comprehensive range of educational resources to help users acquire new skills and enhance their expertise. Its impressive knowledge base offers a variety of learning formats, including YouTube videos and academic materials. Serpstat users can access plenty of resources to develop their skills at their own pace and convenience.
[Exclusive Offer] Get 22% discount on any yearly Serpstat plan. Use promo code 99signals2023. Grab this deal now.
What About Ahrefs?
Overall, Ahrefs is a competitive player in the SEO industry. SEO professionals can improve their website analytics and content marketing performance using its extensive range of SEO tools. To become familiar with the interface and its capabilities, a demo is readily available on the home page of the platform.
By signing up for Ahrefs, you become a member of an international community of like-minded SEO enthusiasts committed to improving their domains' rankings and driving more traffic. You can quickly check Ahrefs' new member statistics, which typically reveal a weekly influx of over ten thousand new customers subscribing to its services.
Sign up for Ahrefs Webmasters Tool (AWT)
Keyword Ranking and Research: Serpstat vs Ahrefs
As the analysis shows, many features of different platforms share similarities. However, it's misguided to assume that identical titles equate to the same functionality.
To determine the most suitable platform, it's recommended to evaluate similar metrics to gain a comprehensive understanding of their authentic potential.
To get started, let's explore how Serpstat and Ahrefs stack up in terms of keyword research.
Without a doubt, keywords play a crucial role in defining a brand's SEO approach. The ability to monitor and identify the most effective combinations to secure top positions in SERPs is invaluable.
Let's examine which tool offers better keyword research features.
Serpstat: Keyword Research Features
Serpstat provides a comprehensive keyword research solution that allows you to analyze various parameters, including keyword difficulty, phrase competition, and popularity, without being overwhelmed by the number or complexity of keywords.
This keyword research tool provides a comprehensive range of data to collect and analyze:
With just a few clicks, you can manage multiple keywords and obtain the required results.
It's a useful tool for identifying other websites' achievements and their most relevant keywords. This way, you can complete a significant portion of competitor analysis and access a database of readily available enhancements for your SEO strategy.
With several billion keywords and four billion suggestions, the platform offers extensive niche coverage. This lets you identify what Google's algorithms may favor when considering a user's search intent.
Its tools are ideal for analyzing the competition for any keyword and related topics in organic and paid searches.
Serpstat offers another remarkable feature that sets it apart from its competitors, which is keyword clustering. As the name suggests, this function allows optimizing advertising results by grouping keywords in a pay-per-click (PPC) manner.
Ahrefs: Keyword Research Features
If you opt for diversely analyzing keywords, Ahrefs is exactly what you need. It offers various methods to explore a selected topic and discover numerous valuable ideas, including:
Keywords Explorer by Ahrefs lets you use a question-phrased query to inquire about the search engine and obtain relevant keywords.
Labels such as "newly discovered," "search suggestions," and "having the same terms" are useful markers for identifying keywords that can aid in competitor and overall market analysis.
Additionally, Ahrefs considers the specific communication channels to provide you with tailored keyword metrics for platforms such as Amazon, YouTube, and more.
In addition to keyword difficulty and position history, this SEO tool offers access to other advanced data to enhance your keyword research and analysis.
Site Audit: Serpstat vs Ahrefs
There are various methods to analyze and evaluate your or a competitor's website for SEO. Through this process, you can determine your domain's spam score, the quantity and quality of inbound links, headings, titles, broken links, meta descriptions, and other parameters.
However, instead of individually seeking each variable, you can simplify your work by leveraging the strengths in site explorer tools available in advanced SEO databases.
Stay tuned to learn how popular platforms like Ahrefs and Serpstat differ in this regard.
Serpstat: Site Audit Features
With the user-friendly yet advanced features of Serpstat, it's easy to get a grasp of the technical SEO status of your website and address any issues both in the short term and long term.
Below are several factors that highlight the benefits of opting for Serpstat's site audit tools compared to alternative solutions:
You can benefit from Serpstat's exceptional speed of performance. This lets you quickly identify and fix any website errors, which is crucial for maintaining and improving your search engine ranking. For example, you can use these tools to easily locate and address page failures, resulting in a healthier and more optimized online presence for your domain.
Serpstat's site audit feature is highly customizable, giving you the flexibility to determine the number and frequency of automated audits. In addition, you can receive regular detailed reports with individual parameters for scanning, allowing you to tailor the analysis to your specific needs.
The information you get is second to none. Unlike other tools that simply identify website errors and flaws, Serpstat provides actionable insights on improving your website's overall state. With the upgraded service plans, you can have access to white-label reports and customize your on-site SEO strategies quickly and easily.
Ahrefs: Site Audit Features
The site audit features of Ahrefs are diverse and extensive. The tool offers demo videos and tutorials to optimize your website audit experience.
Different types of reports and overviews allow you to locate issues and fix them accordingly. Ahrefs is known for its easy access to large volumes of data — its infographics and data charts are easy to understand, making it an excellent choice even for beginners.
The technical part of the audit is highly versatile, as it can analyze and report on any issues discovered for various types of tags, resources, links, and pages.
As a cloud-based platform, it allows users to work on their website's health and technical progress from anywhere and at any time.
Backlink Research and Analysis: Serpstat vs Ahrefs
Maintaining the quality and quantity of backlinks on your domain is crucial in building your site's reputation with Google and other search engines.
Using a backlink checker tool to eliminate low-value and poor backlinks is an efficient way to achieve this.
But what sets each tool apart? Let's explore and find out.
Serpstat: Backlink Analysis Features
The user-friendly interface of Serpstat ensures easy navigation, allowing even novice SEO professionals to build their website's reputation with high-quality backlinks effectively. Here's the data you can obtain from Serpstat's backlink analysis features:
Backlinks — This tool differentiates itself from other solutions by offering direct competitor analysis, enabling you to identify credible backlinks from authoritative third-party domains. Additionally, it serves as a potent resource for seeking out and acquiring high-quality backlinks for your own website.
Referring domains — The highly detailed referring domains report makes it an essential resource for improving your website's reputation and ranking on the internet, particularly in SERPs. It evaluates the quality of backlink sources, enabling you to acquire relevant and penalty-free connections for your white hat link-building strategy with ease.
Anchors — In simple terms, anchors refer to the text used to link to your website from external sources. It's crucial to choose appropriate keyword phrases that are both catchy and relevant to your brand, as they can significantly impact the click-through rate and overall brand recognition. Additionally, search engines also consider anchor text while determining the ranking of a web page. Fortunately, with the help of Serpstat, selecting suitable anchor text becomes a hassle-free task.
Batch analysis — Manual analysis of hundreds of keywords can be a tedious and time-consuming task. However, with Serpstat's 18 comprehensive metrics, identifying the most appropriate keywords for your domain based on factors such as visibility, organic traffic, and other requirements has never been easier.
Links intersect — this service enhances the complexity of your competitor analysis and the comparison of links.
Ahrefs: Backlink Analysis Features
Unlike some other SEO platforms, Ahrefs does not offer a separate tool for direct exploration and analysis of backlinks. This functionality is accessible through the Site Explorer feature, which may require additional navigation.
However, once in the Site Explorer, you can access a comprehensive suite of backlink tools to evaluate your website's backlink profile and inform your link building strategy.
To proceed with backlink analysis, you must enter the target site's URL in the corresponding field and check the results.
While the feedback provided by the program is prompt, it does not support batch analysis and demands a considerable amount of manual input.
That said, Ahrefs stands out for possessing the largest indexed backlinks – its database contains an enormous 14 trillion live backlinks, making it a highly comprehensive and valuable tool for SEO professionals.
Rank Tracking: Serpstat vs Ahrefs
A key objective of an effective SEO strategy is to enhance a website's ranking in search engine results pages (SERPs).
However, to achieve this goal, it's important to have a reliable way to measure it.
Both Serpstat and Ahrefs offer impressive rank tracking capabilities.
To help you select the most suitable option, consider the following factors.
Serpstat: Rank Tracking Features
Serpstat offers an efficient rank tracking tool to monitor and analyze the search rankings of your target keywords. It provides insights into your domain's role within the industry, along with a feature to compare your performance with other domains.
The tool also offers advanced capabilities to cluster and group keywords based on various filters, allowing you to identify the gaps in your strategy and take action to drive more organic traffic to your website.

Ahrefs: Rank Tracking Features
With Ahrefs' Rank Tracker, you can efficiently schedule and organize rank tracking reports for both mobile and desktop devices.
The data is presented in a chart format, which streamlines its analysis. With 13 distinct variables, you can differentiate and improve your website's visibility and positions in SERPs. The list includes thumbnails, ads, site links, and more.
Unique Features: Serpstat Edition
In addition to enhancing SEO fundamentals, the ability to explore non-standard features can significantly enhance your competitiveness.
From both a technical and practical standpoint, Serpstat is a top resource.
With the array of extra features it offers, the 7-day Serpstat free trial presents you with a chance to uncover incredible insights:
Batch analysis in Serpstat lets you compare and examine up to 100 keywords or domains with essential metrics under consideration. This feature showcases the tremendous amount of data Serpstat can analyze and interpret simultaneously. You can effortlessly track keyword or your domain presence on 5 search databases of your choice, making it a powerful tool for optimizing SEO strategies.
Serpstat prioritizes automation and AI-driven progress, allowing you to leverage over 10 multifaceted tools tailored for SEO, PPC, and SMM experts, editors, and technical content writers.
Local SEO is a crucial strategy for acquiring new visitors and turning traffic into revenue. Serpstat's Local SEO tool lets you upgrade your profile with intuitive tools. You can also adjust automatic posting and use special keywords related to your local area for better results.
The Keyword Trends tool can make your content strategy better by helping you pick the right keywords to focus on. By analyzing ready-made trending keyword listings for your chosen topic and search queries, you can simplify the process of naming new content pages and capture the attention of your target audience.
Pricing Plans: Serpstat vs Ahrefs (Which Tool is More Affordable?)
In the realm of all-in-one SEO tools, it's not realistic to expect comprehensive solutions at no cost.
This is a fiercely competitive market where even a single feature and its capabilities can make a substantial difference.
To determine the optimal plan that meets your requirements, it's crucial to compare your budget expectations with the actual pricing options available.
Rolling in Serpstat
Serpstat's pricing strategy is a prime example of clarity and transparency. You can find all the necessary information about anticipated costs in one place.
To get started, you can sign up for a 7-day free trial of Serpstat to test out all the features explained in this post. Once your trial is over, you can select a pricing plan that best suits your needs from the four available options.
Opting for an annual subscription entitles you to a 20% discount on the full price.
Among the various subscription options, the standard package is the most sought-after choice. Here's what you can expect from it:
A decent number of searches per day, as well as comprehensive reports on website and backlink analysis.
Complete access to Search Analytics API and up to fifty projects related to site audit and rank tracker.
Although lacking white-label reports and phone support, the standard package offers an excellent cost-effective solution compared to more expensive plans. You'll also miss the chance to provide suggestions to the Serpstat team. Nonetheless, the standard package is a valuable resource for businesses seeking high-quality SEO services.
Serpstat's local SEO service is an excellent option for those looking to expand their plan's capabilities. For just USD $20 per location, it's a fantastic tool for branding and reputation management in the competitive business landscape.
[Exclusive Offer] Get 22% discount on any yearly Serpstat plan. Use promo code 99signals2023. Grab this deal now.
Getting Started with Ahrefs
With its extensive experience in the industry, Ahrefs offers a range of collaboration options for SEO professionals and business owners.
While Ahrefs' prices have increased since the product's inception in 2010, they remain competitive. Take a closer look to see the value Ahrefs can offer:
If you opt for an annual subscription, Ahrefs will reward you with two complimentary months of usage.
Naturally, as you upgrade to more advanced plans, the platform equips you with greater capabilities, such as Content Explorer, Competitive Analysis, and Alerts , alongside other features.
The prices mentioned earlier are not the ultimate prices to consider.
On the one hand, the cost of Ahrefs' services may vary based on your country and the currency used, and additional taxes may apply. On the other hand, if you exceed the specified limits of the chosen plan, you may be charged more.
Ahrefs' pricing policy is multi-tiered, making it more complex than the pricing plans offered by Serpstat.
If you'd like to invite a few SEO experts to work with Ahrefs tools, you must add chargeable users to your account. There is a credit-based system too, where you can use credits to access reports or request additional data.
Inviting guests to your Ahrefs profile can be free or require a fee depending on your credit usage.
If you exceed 5 credits, the cost for this additional service could be over USD $200 annually.
You can easily monitor the number of available credits with Limits & Usage in the account settings.
It's also possible to regulate credit consumption and limit it for profile visitors at Ahrefs.
Sign up for Ahrefs Webmasters Tool (AWT)
User Feedback: Serpstat vs Ahrefs
While Serpstat offers free trials of their solutions, Ahrefs only provides a 7-day trial for $7. This may be viewed as a drawback by some users who prefer a more extensive trial period without cost.
You have the option to register for Ahrefs' free Webmasters Tool; however, you will only receive restricted access to the aforementioned features.
On review aggregator sites such as G2, Capterra, and TrustRadius, both Serpstat and Ahrefs have garnered positive feedback and reviews from users.
Serpstat is praised for its user-friendly interface, data accuracy, and impressive customer support. Many users find its backlink analysis and keyword research tools particularly valuable. Nevertheless, some users have noted that the accuracy of search volumes for keywords in Serpstat can sometimes be inconsistent.
Ahrefs is known for its comprehensive backlink analysis and keyword research features. Users appreciate the vast amount of data available in its database and find it helpful for competitor analysis.
However, some users have mentioned that the learning curve for using Ahrefs can be steep, especially for beginners. Additionally, Ahrefs' introduction of usage-based pricing has sparked intense debate and negative feedback.
Final Verdict: Serpstat vs Ahrefs
In conclusion, Serpstat and Ahrefs are powerful SEO tools that offer a wide range of features to help you improve your website's visibility and rankings.
The best tool for you depends on your needs, budget, and preferences.
It's recommended to try out the free trials or versions of each tool and see which one aligns best with your requirements.
Sign up for Ahrefs Webmasters Tool (AWT)
Related Articles