Despite myriad changes to the SEO landscape in recent years, backlinks still play a crucial role in establishing website authority, improving search rankings, and driving organic traffic.
Backlinks are the social currency of the internet, much like genuine recommendations from friends in real life. Just as you trust your friend's suggestion for a great movie or a must-try restaurant, search engines trust websites that have quality backlinks pointing towards them.
Case in point: According to Semrush's study on ranking factors, there's a strong correlation between backlinks and search rankings. The more backlinks a domain scores, the higher it tends to rank in search results.
Which is why a backlink checker tool is a must-have in your SEO stack. Whether you're focused on managing your own backlinks or gaining valuable insights into your competitors' strategies, a trusted backlink checker tool provides all the necessary ingredients to boost your SEO efforts.
In this post, we'll explore and compare the top backlink checker tools available to help you audit and analyze your backlink portfolio.
9 Best Backlink Checker Tools
Semrush is a powerful and comprehensive SEO tool that provides a range of features for analyzing and optimizing your website's performance.
When it comes to backlink checker tools, Semrush offers some of the best features available, making it the default choice for marketers and bloggers around the world.
To get started with backlink analytics on Semrush, visit the dashboard and navigate to "Backlink Analytics" under the "Link Building" module.
Enter your domain in the search box and hit "Analyze."
The overview report will show you all the important backlink metrics you need to analyze, including referring domains, backlinks, and authority score, alongside different widgets that will reflect a vivid picture of your backlink portfolio.
These widgets are extremely useful in helping you collect insights on your overall backlink profile, most authoritative backlinks, recently-built backlinks, and your most important partnerships. For instance, the Network Graph widget offers a quick evaluation of your domain's backlink profile and link building influence.
To delve deeper, you can visit the "Backlinks" tab to open the Backlinks report. This report has all the necessary sorting, filtering, and exporting options for an in-depth analysis of all the backlinks pointing to your site.
You can also use Semrush's Backlink Analytics for competitor analysis by researching on your competitors' backlink profile strength, most important referring domains, latest backlinks, and more.
Pricing: Starts at $119.95/mo
Semrush Free Trial: Normally, Semrush offers a 7-day trial to Semrush Pro. However, with our exclusive offer, you can take advantage of a 14-day free trial that will allow you to use the entire toolkit. Click on the link below to start your 2-week free trial of Semrush Pro.
Try Semrush Pro free for 14 days
Recommended reading: How to Build Backlinks with Semrush: 10 Actionable Tips
BuzzSumo is primarily a content marketing toolkit, but its backlink analysis features can give stalwarts in the SEO space a run for their money. Which is why it's placed so high on this list of backlink checker tools.
When you enter a domain into BuzzSumo's search box, you don't just get to see their most popular content, but also the total number of backlinks for that domain.
But there's more: you can enter any URL into BuzzSumo and get insights on the total number of backlinks for that particular piece of content. This is a great way to see the websites that are linking to your competitors' top posts.
With the Backlink Analyzer tool, you can enter any domain or URL into BuzzSumo and get instant insights on all the pages that link to the specified domain or URL.
BuzzSumo offers an additional advantage that sets it apart from many other backlink monitoring tools: it provides insights into social shares and engagement. This can help you determine the types of topics that strongly resonate with your audience in your specific industry and have the potential to generate authoritative backlinks.
Pricing: Starts at $119/mo
BuzzSumo Free Trial: BuzzSumo offers a 1-month free trial on all their plans. Click on the link below to start your trial.
Recommended reading: BuzzSumo: The Ultimate Guide (18 Advanced Ways to Use BuzzSumo)
SE Ranking provides a variety of tools and features that can assist you in optimizing your online presence. One of its prominent tools is the Backlink Checker tool, which allows you to check and analyze your backlink profile, assess the quality of referring domains and backlinks, and obtain a score for each backlink based on its quality.
You can also compare your backlink profile with your competitors to gain insights into their backlink strategies.
For a deeper analysis into your backlink profile, you have the option to review the report on your backlinks. Each backlink is evaluated based on a set of essential SEO parameters, such as domain/page trust, link type, and whether it's a nofollow or dofollow link. You can also examine the target URL and anchor text associated with each link.
Another noteworthy backlink tool in SE Ranking is the Backlink Tracking tool. This tool allows you to monitor your most important backlinks.
To use this tool, you can either import your backlinks from Google Search Console or SE Ranking's Backlink Checker. Once the backlinks are added, SE Ranking will run regular parameter checks and notify you of any changes via email.
Armed with the Backlink Tracking tool, you can make sure you never lose sight of your most critical backlinks.
Pricing: Starts at $39/month
SE Ranking Free Trial: SE Ranking offers a 2-week trial on all their plans. You can sign up by clicking on the link below to test out all the key features (no credit card required.)
Try SE Ranking free for 14 days
Recommended reading: SE Ranking vs Ahrefs: Which SEO Tool is Better?
Mangools is a full-fledged SEO toolkit that provides an extensive range of features, including keyword research, backlink analysis, rank tracking, and more. Its specialized tool, LinkMiner, serves as a dedicated backlink checker, allowing you to monitor your own backlinks as well as those of your competitors.
As with other backlink checker tools, LinkMiner allows you to explore and evaluate the backlink profile of any website or webpage.
Once the backlinks have been identified, LinkMiner provides a range of SEO metrics to help you evaluate their quality, including referring domains, backlinks, and link strength.
LinkMiner also provides other link evaluation metrics — the two most critical ones to watch out for are:
Citation Flow (CF) – a score that helps you measure the influence or link equity of a webpage or website.
Trust Flow (TF) – a score that predicts how trustworthy a URL might be based on how trustworthy sites link to it.
LinkMiner also allows you to analyze the backlink profiles of your competitors. This helps you identify their strengths and weaknesses and find opportunities for link building.
If you're looking for an affordable option for backlink analysis, LinkMiner is a solid choice, even though it may not offer the same extensive feature set as Semrush. However, considering its affordability, LinkMiner still is a great option for analyzing backlinks and is well-suited for those on a tight budget.
Pricing: Starts at $49/month
Mangools Free Trial: Mangools offers a 10-day free trial on all their tools, including LinkMiner.
Try LinkMiner free for 10 days
Recommended reading: Mangools vs Semrush: Which SEO Tool is Better?
Ahrefs started as a backlink analysis tool before it evolved into a full-fledged online marketing toolkit. With an emphasis on staying at the forefront of backlink data, it maintains one of the largest and most up-to-date backlink databases, continuously crawling the web to discover new links.
So it's no wonder it's making this list of best backlink checker tools.
The only reason Ahrefs is not placed higher on this list is because of its usage-based pricing. What this essentially means is that an average Ahrefs user has only 500 monthly credits. When this limit is exceeded, you're charged extra for the additional data consumed. You can read all about Ahrefs' controversial pricing change in this Ahrefs vs Semrush comparison post here.
Nevertheless, Ahrefs remains a popular backlink analysis tool among marketers.
With the Ahrefs Backlink Checker tool, you can check the backlinks of any website, URL, or subsection and see actionable SEO metrics. Ahrefs' proprietary Domain Rating (DR) score is a useful metric for evaluating the backlink strength of a target.
Furthermore, you can use this tool to find "linkworthy" pages by accessing the "Best by links" report, which allows you to identify your competitors' most linked-to pages.
With the Link Intersect feature, you can identify backlink opportunities by comparing your website's backlink profile with that of your competitors. You can then develop targeted outreach strategies to acquire new backlinks.
Ahrefs also offers a free version of its Backlink Checker tool that you can use to glean basic backlink metrics like domain rating, total number of referring domains, and total backlinks.
The tool also shows you some of the most authoritative pages linking to your domain.
Pricing: Starts at $99/mo
Ahrefs Free Trial: While Ahrefs doesn't offer a free trial on any of their paid plans, they do have a free toolkit called Ahrefs Webmaster Tools (AWT). With AWT, you get basic site audit, keyword research, and backlink analysis features.
Try Ahrefs Webmaster Tools for free
Ubersuggest is another cost-effective SEO tool that offers backlink analysis features, making it a viable option to consider. Like all the other tools we've examined here, it has all the essential features to help you track and analyze backlinks.
Ubersuggest's Backlinks tool provides insights into your domain's new backlinks, lost backlinks, number of referring domains and backlinks, alongside other crucial backlink metrics.
The Backlinks report in Ubersuggest allows you to analyze either your own website or your competitor's website. It provides a full list of URLs that are linking to the specified website.
When analyzing a competing domain, if you're looking for specific link building opportunities, you can use advanced filters on top of the report to find the best link prospects.
The best part about Ubersuggest is that you can start using it for free. But as with all things free, there are certain restrictions to the limits and features. For more advanced backlink analysis, you'll need to upgrade to one of the paid plans.
Pricing: Starts at $12/month
Ubersuggest Free Trial: Ubersuggest offers a 7-day free trial on all their plans. Click on the link below to start your trial.
Recommended reading: Ubersuggest vs Semrush: Which SEO Tool is Better?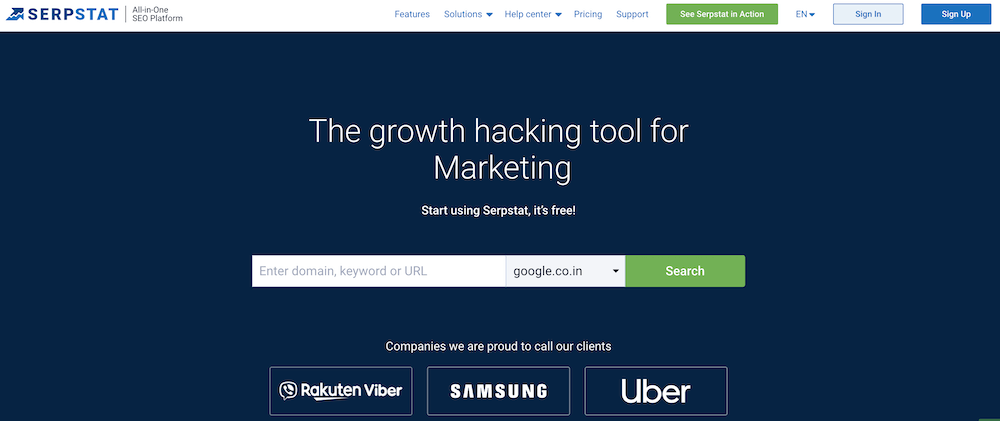 Like SE Ranking and Semrush, Serpstat is a complete SEO suite that offers keyword research, backlink analysis, site audit, and competitor research features. In recent years, Serpstat has expanded its backlink index and it now offers a wide range of features and reports to help you get a deeper understanding of your backlink profile.
Similar to the other tools mentioned in this list, Serpstat's Backlink Checker allows you to monitor the status of your website's backlinks, discover the websites that are linking to your competitors, and pinpoint any low-quality backlinks that could result in potential penalties.
Serpstat also has a nifty feature called the Link Intersect tool, which identifies common backlinks between multiple websites. Using filters, you can see which websites are linking to your competitors but not to your own site.
Pricing: Starts at $69/month
Serpstat Free Trial: Serpstat offers a 7-day free access on their plans. Click on the link below to start your Serpstat trial.
Yet another stalwart in the SEO space, SpyFu offers decent backlink analysis features along with its primary strength in competitor research.
With SpyFu's Backlinks tool, you can identify your best backlinks, see what they have in common, and weed out any toxic backlinks that are affecting your domain strength.
Since the main focus of SpyFu remains in competitive research, you can use it to gain insights into your competitors' link building strategies. For instance, with SpyFu's Top Organic Competitors report, you can find the sites your content is most often competing with for search traffic.
Once you've identified your closest organic competitor, you can plug their domain into the Backlinks tool and use various filters on the generated report to uncover the most authoritative backlinks pointing to your competitor's website.
Pricing: Starts at $39/month
SpyFu Free Trial: Unfortunately, SpyFu is one of the few SEO tools on the market that doesn't offer a free trial on any of their plans. However, you can schedule a free demo of SpyFu to get a sneak peek into how the tool works.
Recommended reading: Semrush vs SpyFu: Which Competitor Analysis Tool is Better?
There was a time when Moz used to dominate the SEO space with its state-of-the-art SEO tools and innovations. But ever since co-founder Rand Fishkin's departure, the company has struggled to keep pace with the other prominent SEO tools on the market.
That being said, Moz still offers decent backlink analysis features, primarily through its Link Explorer tool.
Using Link Explorer, you can generate a complete set of link metrics for your website, including number of referring domains, backlinks, domain authority, and page authority.
You can also research competitor backlinks and see how they are earning their links and how. You can check their top performing content and use the Link Intersect tool to identify potential link building opportunities.
Pricing: Starts at $99/month
Moz Free Trial: Moz offers a 30-day free trial on their Standard and Medium plans. Click on the link below to sign up for the free trial and see what's included in each of these plans.
Final Thoughts on Backlink Checker Tools
Whether you're a seasoned SEO professional or just starting your digital journey, investing in a reliable backlink checker tool is a wise decision that can unlock new possibilities and propel your website's visibility and authority to new heights.
Our top recommendation for backlink analysis is Semrush. It's the most comprehensive SEO toolkit equipped with a wide range of features to enhance your online marketing efforts.
BuzzSumo is the perfect choice if you require a backlink checker tool that also offers an extensive set of content marketing features.
If you're on a shoestring budget, SE Ranking, Serpstat, and LinkMiner are excellent options.
Finally, if you're looking for free backlink checker tools, you can explore the free plans offered by Ahrefs and Ubersuggest.
We hope this article provided you with useful information regarding the most effective backlink checker tools. You might also want to check out our ultimate guide to link building and our top recommendations for rank tracking tools.
Related Articles