Picture this scenario.
You've worked incredibly hard to create an in-depth article for your blog. You're really proud of your work. This really is your magnum opus. But it's just not getting the traction you hoped it would achieve on social media.
What went wrong?
Creating content is easy. Creating content that gets instant shares and links, on the other hand, is a tad more difficult.
According to MarketingProfs, there are 2 million blog posts published each day. Keeping this staggering number in mind, it really takes time and effort to create content that goes viral on social media.
If your content is not getting you the desired number of shares on social media, it may be lacking the 7 elements we are going to discuss in this article.
So without further ado, let's take a look at 7 proven tactics to create incredibly shareable content.
Are you ready?
Let's get started then.
7 Ways to Create Shareable Content
1. Publish Long Form Content
Long form content don't just dominate Google search engine result pages (SERPs), but also resonate with readers, getting more engagement and shares on social media than shorter articles.
But what exactly is long form content and why does it work?
According to WordStream, long form content refers to articles of around 1,200 words or longer. There is no consensus among marketers yet as to what constitutes a long form article, but it is generally accepted that they are articles with more than 1000 words.
And the reason long form content is so popular is because these in-depth articles provide tons of value to readers. A site that consistently produces long form content does so with user engagement in mind, and not just search rankings.
As a result, since the Hummingbird algorithm update, top-ranked articles on Google SERPs consist of 2000 words or more (as shown in the figure below from serpIQ):
Unless you're in the business of generating quick news articles, you'll benefit considerably by publishing long form content.
Take a look at this data on the average word length of a random sampling of blog posts categorized by industry, from a study done by the marketing blog ViperChill:
So if you want your content to get more shares, publish well-researched long form articles.
Here are 3 marketing articles which serve as excellent examples for long form content:
2. Use Lists
Infamously branded as listicles, thanks to sites such as Buzzfeed and Huffington Post, articles with lists continue to be hugely popular on social media because of how easily users can skim through the content.
A study done by BuzzSumo and OkDork revealed the following breakdown of social shares by content:
As you can see, list-based articles are the second most popular forms of content based on average number of shares.
Leverage their popularity and aim at publishing 2-3 list-based blog posts each month.
3. Publish Infographics
The only form of content more popular on social media than lists at the moment is infographics.
Data-driven infographics are fun, interesting and get tremendous amount of engagement on social media. Studies reveal infographics are shared 3 times more than any other type of content on social media.
Here's the simple truth…
You don't need to be a professional designer to create an infographic that generates engagement. Simply use tools like Canva, Piktochart or Infogr.am which have tons of free infographic templates.
You could even outsource the design of your infographic to a site like Fiverr and get a well-designed infographic within $5-$10. It's that simple.
Once your infographic is published, make sure it's easily shareable by including the social share buttons. I recommend you install the free Image Sharer app from Sumo.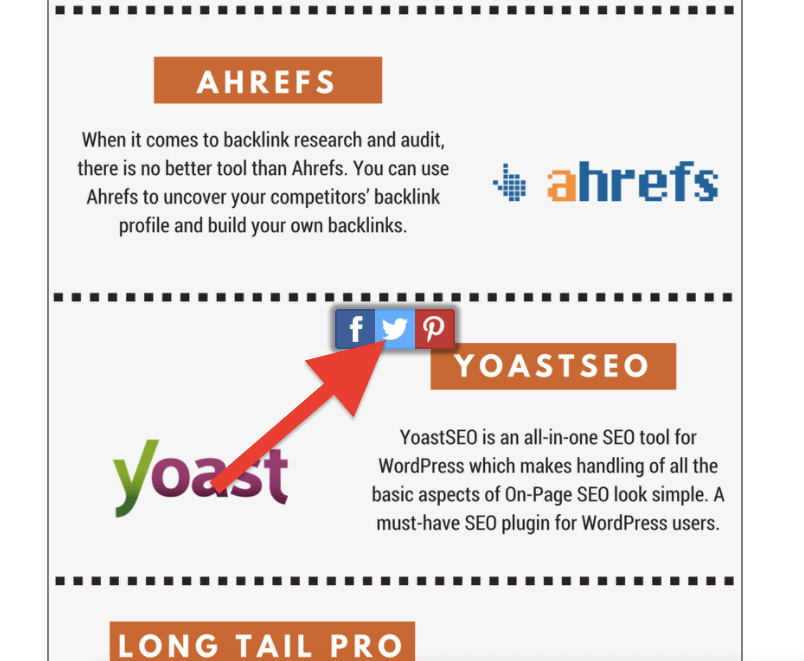 Pro Tip: Check out this step-by-step guide to creating professionally-designed infographics that gets tons of social shares and backlinks.
4. Write on Topics That Are Trending
Writing on trending topics is one of the quickest ways to generate social shares. In 2016, PokemonGo was all the rage. In fact, it was the 3rd most popular topic in 2016.
As a result, you had articles like these popping up on your newsfeed from time to time.
Take a look at the number of shares this article got!
Would an article like this get the same amount of attention on social media if it was published now? I highly doubt it!
The key lesson here is to capitalize on trending topics to give your posts a social media boost. These posts may not be 'evergreen' like some of your 'how-to guides' or 'tutorials', but at least they will generate social velocity in the short term.
So don't focus too much on them. Just aim at creating 1 article per month on a topic that's trending.
But how do you find out what's trending at the moment?
Here are 3 tools/channels you can use to find trending topics:
By far, the best tool to find out topics that are trending currently in any niche. Simply create a free account with BuzzSumo and type in the topic you'd like to find trending content on.
Once the results are displayed, you can filter the articles by date to see what's trending in the week or in the last 24 hours.
Or you could simply click on the Trending Now section to see which content is being shared fastest on a daily or hourly basis
2. Twitter/Facebook Trending
Twitter and Facebook both show trending news stories in the sidebar. You can leverage these by writing on topics that are trending currently on these two popular social networks.
And finally, you can use Google's very own Google Trends to find out what kind of topics are trending in your niche.
5. Write Compelling Headlines
A boring headline gets ignored, while a compelling headline captures readers' attention and pulls them in. As such, you need to spend some time crafting the perfect headline for your article.
A study by Conductor found that audiences prefer number headlines to almost any other type.
Need help creating those catchy, compelling headlines for your blog posts? You can use any of these tools to help you in your effort.
This free tool by CoSchedule allows you to gauge your headlines by analysing the overall structure, grammar, and readability of your headline.
Once you get the score of your headline, you can work on improving it by adding 'power' or 'emotional' keywords to make it resonate with your audience.
YoRocket is a WordPress plugin developed by Backlinko's Brian Dean. It is designed to help you increase your site's CTR by optimizing the title of your blog posts.
Slightly on the expensive side at $39/mo, it's nonetheless a great tool which integrates seamlessly with WordPress and SEO plugins such as Yoast. Plus, Brian Dean keeps adding new updates to the tool on a regular basis, adding improvements and new features.
Buffer is my favorite social media scheduling app. You can use it to test out different headlines for the same article and see which one gets more shares and engagement.
Here's how Sumo schedules their articles on Twitter using Buffer:
Here are some more resources to help you create killer headlines:
6. Include Images and Summary Cards
According to Buffer, tweets with images receive 150% more retweets than tweets without images.
And Buzzsumo analyzed 100 million Facebook updates over a period of three months to find that updates with images had an amazing 2.3x more engagement than those without images.
So make sure you're including high-quality images in your blog posts. HubSpot recommends using one image for every 350 words.
Pro Tip: Use high-quality stock images from sites such as Unsplash and Death to the Stock Photo in your articles to awe your readers.
In addition to images, you could also use large summary cards with tweets. According to Twitter, summary cards with large images are designed to give the reader a rich photo experience, and clicking on the image brings the user to your website.
Here's what a tweet with large summary card looks like:
Studies indicate that tweets with large summary cards on Twitter get 300% more shares than any other.
But how do you enable these tweets with large summary cards?
If you use WordPress, it's quite simple.
Simply install Yoast SEO WordPress plugin and head to Social –> Twitter. From here, enable Twitter card meta data and select 'Summary with large image' option from the dropdown menu as shown below.
That's it. All your tweets will now automatically include a neat summary card.
7. Conduct Interviews with Influencers in Your Niche
Conducting interviews with popular influencers in your niche is a sure shot way to give a social media boost to your articles.
Why?
Because these influencers are more than likely to share the content with their large audience on social media. Moreover, people trust these influencers which in turn means they trust the content being shared by them.
To find influencers in your niche, use Buzzsumo. Type any term or phrase in the search bar to find influencers in your industry. Once the results are displayed, filter the influencers by number of followers, domain authority, retweet ratio, etc.
But how do you tackle the problem of getting in touch with these influencers?
This is where I'd suggest you use an influencer outreach tool like Ninja Outreach.
Ninja Outreach has a feature called Email Finder which allows you to find anyone's email address just by giving a search for the specific domain (as shown below):
Once you've a list of influencers and their email addresses, it's time to start your outreach.
You can use this sample template to contact the influencers:
(Note: This is just a sample template. Don't copy it verbatim. Add your own voice and insights.) 
Hi [name],
My name is [Your Name] from [Your Blog]. I've been an avid reader of your blog since 2015.
I read all your posts and I loved your recent one on [Blog Topic].
Would it be possible to publish an interview with you on my blog?
I am reaching out to all the big players in the [Topic] field, and I think an interview with you would really add value to my readers.
Here's what I would like to know for the piece:
[Insert Questions]
I know you are probably busy and completely understand if you don't have time to contribute. If you are interested, I would appreciate it if you got back to me within the next seven days.
Thank you,
[Your Name]
[Your Blog URL]
Use tools such as Ninja Outreach or Mailshake to send out these emails. Both these tools provide follow-up templates for your campaign and help you monitor clicks, replies, and more.
Here's a good example of this from TechWyse: Interview with the Wizard of Moz: Rand Fishkin.
Further reading: Check out this awesome post by SmartBlogger on how to interview influencers.
Conclusion
There's a tidal wave of content on the internet. With 2 million blog posts published each day, you really need to ensure that your content stands out amidst all the noise and clutter.
Follow the 7 tactics of shareable content outlined in this article and give your articles a much needed social media boost.
Bonus resource: If you'd like to learn more techniques to create engaging content, check out these 25 easy tips for creating great content by Caseo.
Did we miss out on any tactics? What tactics do you use to create shareable content? Please share your thoughts in the comments section below.
If you liked this article, please share it on Twitter using the link below.
Related Articles