Trying to get more customers to visit your store?
Then you need backlinks. As far as Google is concerned, they are a major indicator of trustworthiness, so they are a must for getting your landing pages higher.
The more quality websites link to yours, the more reputable it becomes for search engines. In fact, quality links account for 30 percent of your page score in Google.
Heck, if you have enough authoritative right backlinks, you could outrank Amazon.
This doesn't happen overnight, of course. But if you stay committed to link building, you can outrank many competitors for high-volume keywords and get more customers.
Below, you'll find five effective strategies to build backlinks to your online store.
1. Use Influencers
Up to 49 percent of online shoppers make buying decisions based on influencer recommendations.
This means that content produced by known influencers – product reviews, blog articles, comparisons, etc. – enjoys a lot of high-quality traffic (customers who are interested in buying, that is).
That's why influencers are considered by many small eCommerce businesses when developing a marketing strategy.
For you, this means that a partnership with a relevant, known influencer can bring a lot of customers who might be interested in your products.
The influencer can:
mention your business in their blog content
give a link to a product page
drive traffic to a landing page with a social media contest
write a product review or comparison and mention your business
be a guest on a webinar or a product review made by you.
The most challenging part of influencer marketing is finding the right person.
It must be someone from your market niche whose audience consists of your target customers. Also, they need to have a decent amount of followers who, in turn, should resemble your customer personas.
That's why you might spend days and even weeks trying to find the right influencer.
To speed up your search, use an influencer outreach tool. It's an app that helps with searching for quality influencers in specific markets, niches, locations, and filter them by audience, language, and other characteristics.
Another thing. When you find "the one" influencer and launch a campaign with them, you need to monitor how often your brand gets mentioned on social media.
Since the influencer will be sharing the campaign there, monitoring the performance of the campaign is a must to assess its effectiveness.
For that, you'll need a social media monitoring tool like Brand24. It searches the social media for mentions of your business so you could track everything in one place.
Having the information about how often the influencer mentions your business and how it impacts your social media reach will help to see how well the campaign is performing.
2. Create Linkable Blog Content
Reading eCommerce blogs are an indispensable part of the online buying experience.
In addition to being a great source of information for consumers, blogs have one more benefit to offer: link building opportunities.
If you publish content that your customers, bloggers, social media users find useful, you might make them want to link back to your blog.
Here are some linkable content ideas:
Product comparison infographics. In a comparison infographic, you can compare two or more popular products and pick the winner for specific users based on a review of both. ZDNet, for example, does these in-depth comparisons of complex services that are truly link-worthy.
Guides. It could be a guide, an expert opinion, or a compilation of tips on how to generate leads, increase sales, etc. Like this expert guide to conversational marketing that many business owners can use to inform their strategy.
Statistics and reports. Relevant data gathered in a single piece can serve as a source for other people's content. This impressive compilation of 100 SEO stats is a great example of linkable content.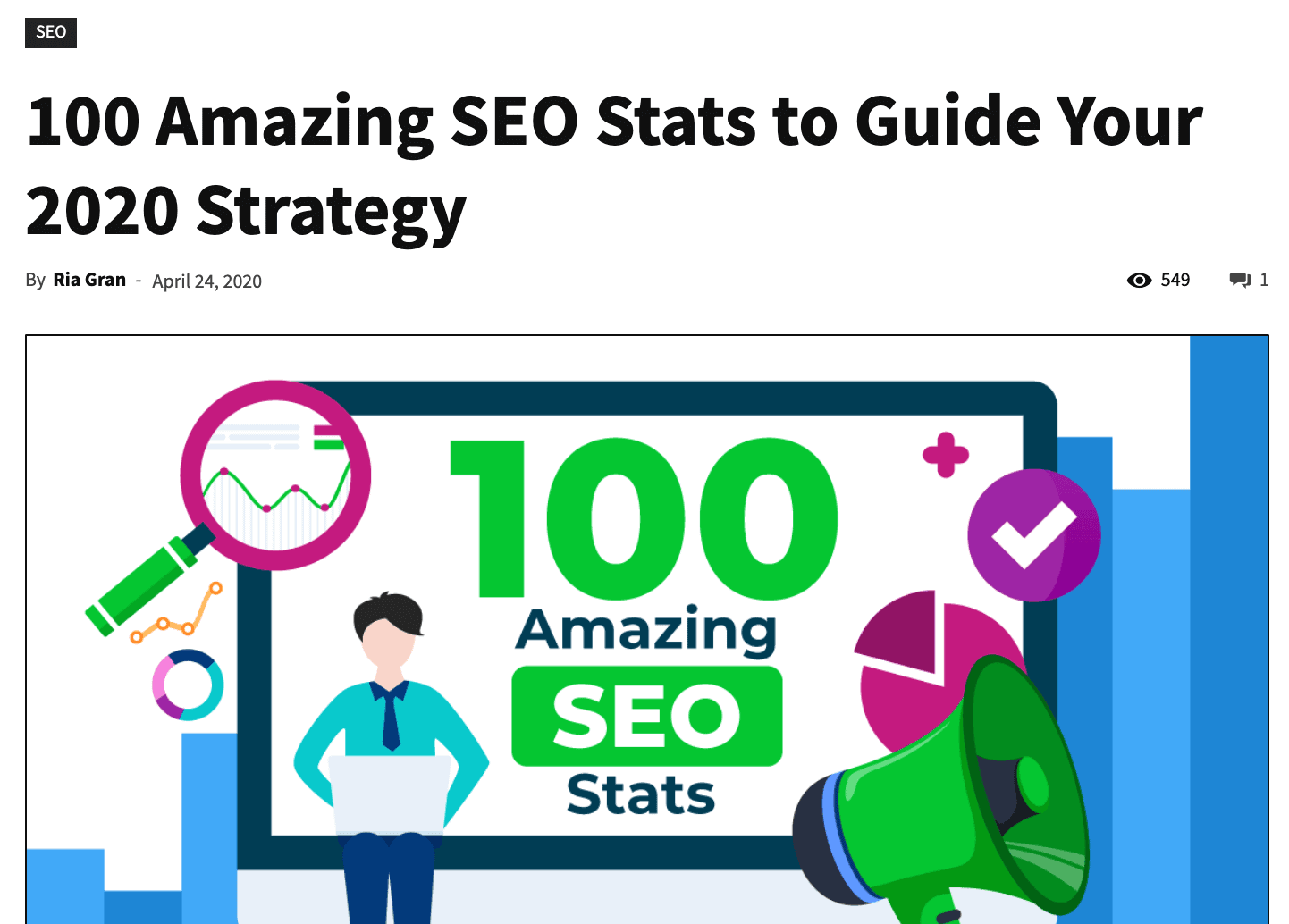 Product reviews. Write an article or make a video with a review of a popular product to highlight its pros, cons, and give your verdict. Just like Best Buy did this smartphone review on their blog.
You can get a head start by finding high-performing content on competitor stores' blogs in Ahrefs. It might help you to come up with ideas for your own blog.
Ahrefs allows you to see how many sites link to a page. You can check some content by placing the link into the tool's Site Explorer. There, you can see the number of backlinks that the page has accumulated so far.
For example, this chatbot statistics article from the Tidio blog has 70 backlinks from 37 domains.
Users looking for chatbot data come across this piece and link to it naturally as a reference data source in their own published content. In case of eCommerce, you can create similar reports with data related to shopping habits, spending, trends and alike.
By checking content from your competitors like this, you can get good ideas for your blog that are proven to generate backlinks.
The most important thing to remember about creating linkable eCommerce blog content is its contribution to the positive customer experience.
People love resourceful content that gives them something they can use in product research, so they are also more likely to link to it.
To create additional backlinking opportunities and increase your content reach, don't forget to share blog content on social media. You can also check out this list of 25 awesome places to share your content. Track the traffic from there with Google Analytics to see how many potential customers it brings into your store.
3. Write Guest Posts
Guest posting is a low-cost and effective link building technique that's perfect for small eCommerce stores.
Here's how it works:
find a reputable, high-traffic website in your industry that accepts guest posts. One way to do that is to search Google for "guest post eCommerce." This request should generate a list of websites you can submit eCommerce-related posts to
create a quality piece of content, e.g. a blog article about selling niche products, according to the guest post guidelines of the website you've chosen. It needs to contain a backlink to your store in a relevant way
submit that content to the website. Typically, it's done via a dedicated form
the content gets accepted and published, which means you get a backlink from that website.
Following guest post guidelines is essential to get published, so do your best to ensure that your content is exactly what the folks at that website are looking for.
The more guest posts with links to your store get accepted, the more chances are that your store will beat many competitors to the top of Google search results.
4. Partner with Other Businesses
You can get involved with other companies – non-competitors, of course – to create more backlinks. For example, if there's a business selling complementary or related products to yours in the same area, you can ask them to exchange links.
An example: a business selling paint can collaborate with someone who sells custom furniture.
They can mention each other in their content to attract mutual customers (specifically, those looking to buy paint for new furniture and those in search of hand-painted furniture).
For example, the first company gives a link to the other one's website in a blog post while the latter does the same. Or, they can create a marketing campaign on social media and promote their products as a bundle in an Instagram contest.
This campaign from Pooch Bandana, for example, gives away packs of prizes to customers (dog treats, a bandana, a bow, a pin badge, and a "lucky dip iron on patch").
Pooch Bandana can partner with companies selling dog food to expand the packs used in a marketing campaign like this. It would make the prize more enticing for customers.
Plus, mentioning partners on online resources where the campaign is distributed – a website, social media, etc. – results in a backlink from the partner.
To find businesses to partner with, you can:
visit local business directories
attend local business conferences or events to meet fellow entrepreneurs.
Finding local businesses for partnership is typically recommended to ship joint orders faster, which makes warehouse management and logistics easier. However, if you have a chance to partner with a company from a distant geolocation, you should definitely consider it, too.
5. Create Free Interactive Tools for Your eCommerce Blog
Interactive content – calculators, generators, surveys, quizzes, etc. – is popular and can get a lot of backlinks. It's much more attractive than traditional content because it requires some input from the user and gives them a personalized result they can use.
Not only interactive content helps to build a strong reputation by consistently providing value to potential customers, but it also attracts backlinks.
Many bloggers and content marketers might want to link to it as an example of content that serves as a marketing tool (and, possibly, as a lead generation tool if it requires users' emails).
That's why many online businesses are using them to increase customer engagement and website traffic.
The Chatbot Suggester from Tidio is an example of interactive content. It's a tool designed to help people choose the best chatbot for their business.
The user answers a few questions about their business's goals and the tool instantaneously generates a preview of the chatbot which they can interact with.
As a result, a business owner wondering about chatbots can get their questions answered. On top of that, they'll be able to test one and find the best chatbot for their online store based on their needs.
A high level of engagement provided by interactive content makes it a great way to earn quality backlinks.
To accomplish this, though, your interactive content must:
be relevant to your intended audience. Create your content to solve a specific need of your customers
be quick to complete. The user shouldn't have to navigate more than several steps to get an outcome
be easy to navigate. For example, a generator with a complex structure that requires too much information will be difficult to navigate, so many users will abandon it
have a simple copy written in a conversational tone. This makes it easy to understand, therefore, easier to get the value from it.
Just keep in mind that each piece of interactive content should be based on your user persona.
Since the persona contains the goals and pain points of your customers, it can help to create something that provides real value.
Conclusion
If you'd like to get more potential customers to visit your eCommerce store, you need backlinks. They account for a major part of your small business website's rating score, so having them sends a signal to Google that you are important and reliable.
With these five effective strategies, you can get quality backlinks that will move your store higher in search results and attract more customers.
Just remember that link building is something that needs your commitment and serious time investments. If you do it right, it will translate into acquiring more customers and boosted sales. Fingers crossed for you!
If you found this article useful, please share it on Twitter using the link below:
Related Articles