When it comes to SEO content on YouTube, there's a lot of information out there and it can be overwhelming at times. Plus, a great deal of this information is often redundant at best and unreliable at worst.
Which is why I decided to create this list of best SEO channels on YouTube. Regardless of your level of SEO experience, these YouTube channels will help boost your SEO game.
Let's dive into it.
11 Best YouTube Channels to Learn SEO
Ahrefs is one of the leading SEO tools on the market. As such, it's not surprising to find that their YouTube channel produces top-notch SEO and online marketing content.
Whether you're an SEO beginner or seasoned SEO juggernaut, you'll discover something on this channel that resonates with you and helps you level up your SEO and content marketing skills.
While most SEO analysis tools produce content on YouTube, what sets Ahrefs apart from the rest is their commitment to consistency in uploading helpful tutorials on important SEO and content marketing topics. No wonder it's one of the fastest growing SEO channels on YouTube with over 360,000 subscribers.
If you are new to SEO, you'll find Ahrefs' complete SEO course really helpful as it covers all the essential aspects of SEO that will help you rank your pages on the first page of Google.
Seasoned SEO professionals and bloggers can check out their case studies and marketing experiments to explore new ideas to power up your website. For example, in this video on MacRumors' link building strategy, they deconstruct MacRumors' $7.8 million dollar link building strategy and the three key principles that can turn your content into link magnets.
If I could recommend only one channel on this list of best SEO channels, Ahrefs' channel would be it.
Subscribers: 420,000+
Most Popular Video: SEO for Beginners: A Basic Tutorial for Higher Google Rankings
Subscribe to the Ahrefs YouTube Channel
Recommended Ahrefs Videos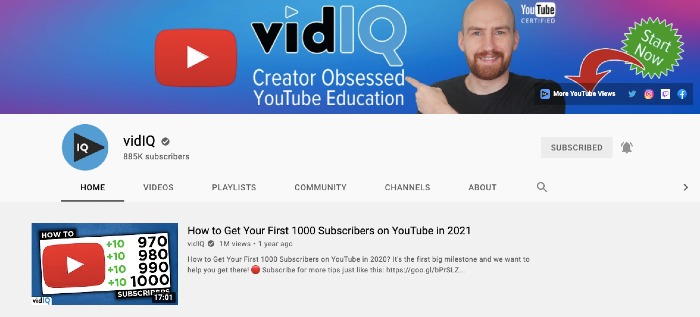 When it comes to YouTube SEO, vidIQ is the gold standard of SEO channels on YouTube. vidIQ is a premium YouTube marketing tool that helps you find hidden metrics on every YouTube video and provides you with content ideas for your next YouTube video. Their YouTube channel is an extension of their core product and is one of the most popular marketing channels on the platform.
If you have a brand new channel on YouTube and are looking for ways to grow your channel amidst stiff competition, vidIQ's YouTube channel has a treasure trove of tutorials and case studies to help you gain better visibility for your videos on YouTube. If you're indeed new to YouTube, you can get started with their video on how to get your first 100 YouTube subscribers.
They also have a weekly series called "YouTube Channel Audits," where they review different YouTube channels and offer tips and recommendations to help creators take their channel to the next level.
Subscribers: 1.55 million+
Most Popular Video: How to Download a YouTube Video
Subscribe to the vidIQ YouTube Channel
Recommended vidIQ Videos
I've been a fan of Semrush since 2015. Over the years, I've used several SEO tools at my agency and blog, but no tool comes close to what Semrush offers.
SEOs will agree that Semrush's offering is top-notch, but Semrush sets itself apart by going above and beyond to provide in-depth resources for marketers, including up-to-date blog posts, weekly webinars, and a meticulously updated YouTube channel.
The channel has a great selection of videos that will teach you everything from the basics of SEO to more advanced concepts. Whether you're just getting started in the world of SEO or you're already an experienced practitioner, you're sure to find something useful on this channel.
You can also follow their live events channel, Semrush Live, for weekly webinars and online conferences.
Subscribers: 160,000+
Most Popular Video: Most Common SEO Mistakes You Don't Wanna Make
Subscribe to Semrush's YouTube Channel
Recommended Semrush Videos
Related: Semrush Review: The SEO Tool Trusted by Experts
Launched in 2014 by online entrepreneurs Jim Harmer and Ricky Kesler, the Income School YouTube channel is dedicated to teaching SEO, digital marketing, blogging, and YouTube marketing. It's a channel that both SEO beginners and experts will appreciate.
I've been a fan of this channel ever since they posted this excellent rebuttal on a controversial SEO advice given by Neil Patel. It really made me reassess some of the "expert SEO tips" that we take for granted without doing our own research.
If you're new to the blogging scene, you'd want to check out videos like "Best vs Worst Blog Posts – The BIGGEST Differences" and "How to Write a Perfect Blog Post in One Hour." You can also watch their webinar on the complete guide to blogging.
But the channel doesn't just cover SEO and blogging basics. You'll also find advanced SEO tutorials on topics like link building, keyword research, and WordPress SEO. In addition, you'll find videos on how to adjust your content for all the latest Google algorithm updates.
Subscribers: 230,000+
Most Popular Video: How to Write a Perfect Blog Post in One Hour
Subscribe to the Income School YouTube Channel
Recommended Income School Videos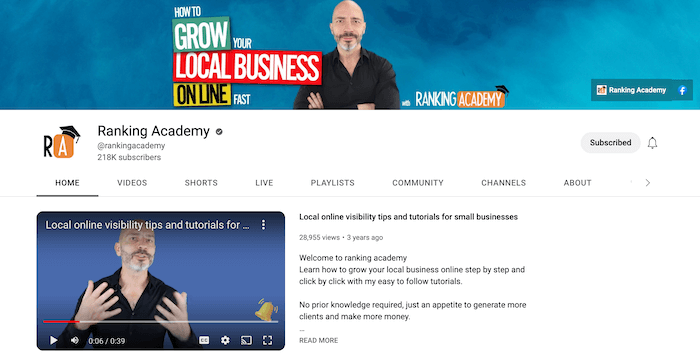 As the name suggests, this channel focuses on teaching you how to get higher rankings and better online visibility through search engines. It's one of the fastest growing SEO channels on YouTube with over 200,000 subscribers.
The channel is run by Luc Durand, who has a wealth of experience in online marketing and website development. His videos offer tips and advice for small business owners and bootstrapped entrepreneurs who want to improve their visibility and rankings on Google.
If you're looking to improve your local SEO, optimize your Google My Business (GMB) listing, and gain more visibility for your business on Google, then Durand's videos are essential viewing.
Subscribers: 235,000+
Most Popular Video: How to Create a Facebook Business Page – Step by Step Instructions
Recommended Videos from Ranking Academy
The official Google Search Central YouTube channel is an excellent place to find information and resources on how to improve your Google search rankings and stay up-to-date on the most recent happenings in Google Search.
The channel not only provides SEO tips and insights, but also includes a regular segment called #AskGooglebot in which Google's Search Advocate John Mueller answers questions about SEO from Twitter users. You can also find full episodes from Google's official SEO podcast, Search Off the Record.
Subscribers: 565,000+
Most Popular Video: How Does Google Search Work?
Subscribe to Google Search Central
Recommended Google Search Central Videos
With over 18 years of experience, Craig Campbell is a highly respected SEO expert based in Glasgow. His YouTube channel is a great resource for all levels of SEO proficiency, boasting 100,000+ subscribers and featuring tips, advice, webinars, and tutorials.
From answering pressing SEO questions on AI copywriting to Black Hat SEO to long-form videos on actionable SEO and link building tactics, Campbell's channel focuses on providing the most in-depth resources for SEOs, bloggers, and affiliate marketers.
Subscribers: 120,000+
Most Popular Video: How Many Links Does My Website Need?
Subscribe to Craig Campbell's YouTube channel
Recommended Craig Campbell Videos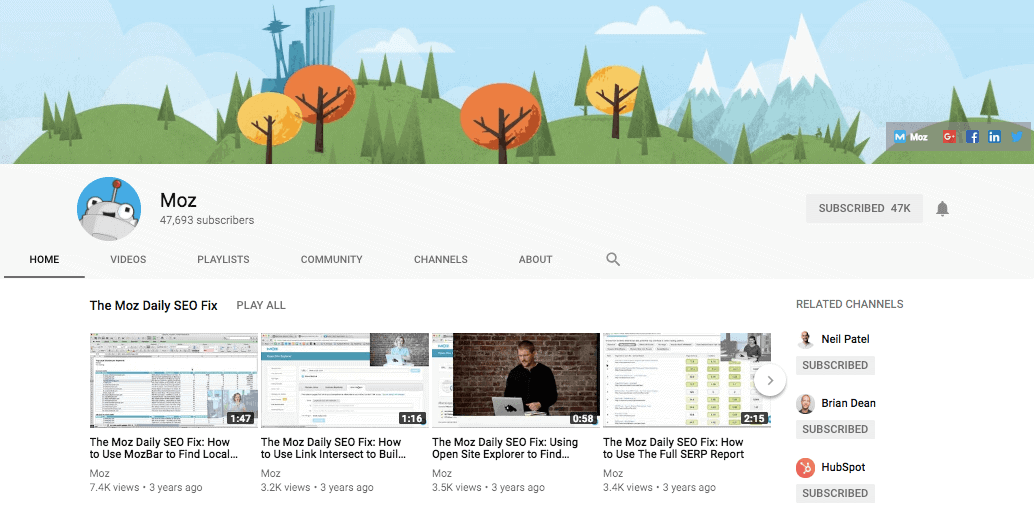 Although not as good as it once was (just like their SEO tool), the Moz YouTube channel still churns out helpful videos from time to time.
Ever since Rand Fishkin, the former wizard of Moz, bid farewell to the company he founded, things have not been the same at Moz. His absence is especially evident in their YouTube videos, as the views have decreased dramatically. (Although he does make cameos in their video segment called Whiteboard Friday.)
Having said that, Moz has a large repository of videos which are essential viewing for SEO beginners and bloggers. The aforementioned Whiteboard Friday segment still continues to this day and does a fairly decent job deconstructing evolving marketing concepts and trends.
Subscribers: 89,000+
Most Popular Video: Content Marketing Tips for B2B Organizations
Recommended Moz Videos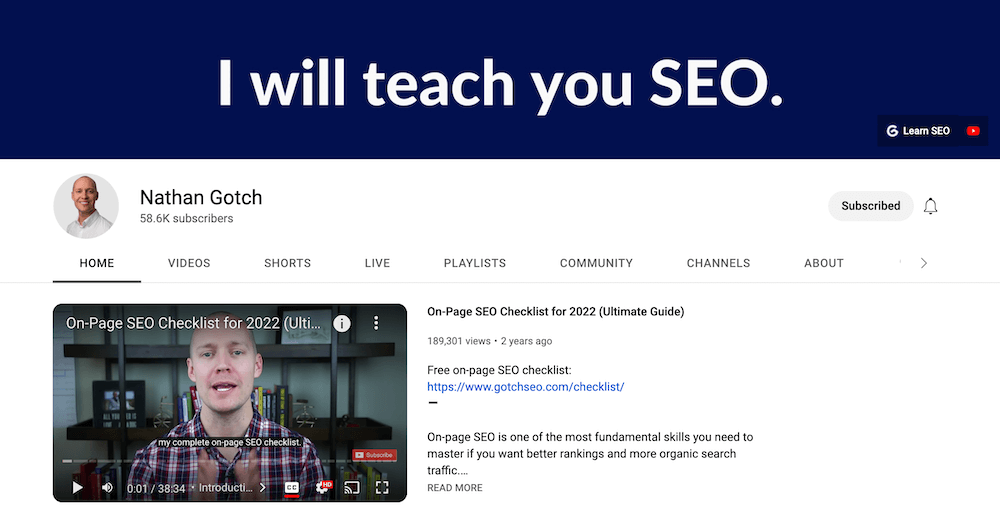 If you're looking for a channel dedicated to SEO, then Nathan Gotch's channel is worth a look.
Although Gotch is widely known for his excellent SEO blog, his YouTube channel is slowly growing in reputation because of his unique knack of breaking down complicated SEO topics in an easy to understand, digestible way.
Gotch may not have as many subscribers as some of the other SEO YouTubers on this list, but his videos are always informative and cover a broad range of SEO topics.
His video on how to learn SEO is a must-watch for SEO beginners. On the other hand, advanced SEOs will appreciate his videos on essential Google ranking factors and habits of wealthy SEO experts.
Subscribers: 70,000+
Most Popular Video: On-Page SEO Checklist
Subscribe to Nathan Gotch's Channel
Recommended Videos from Nathan Gotch
Matt Diggity has a wealth of experience in SEO and has helped thousands of people through businesses like The Affiliate Lab, The Search Initiative, and the Chiang Mai SEO Conference. On his channel, Diggity provides easy-to-follow SEO tips to help maximize your website's organic traffic.
In addition to actionable guides on a wide range of SEO topics, you'll also find a lot of SEO case studies and real-life examples on his channel. For example, in this eCommerce SEO case study, you'll get a step-by-step guide on how to effectively double the traffic of your eCommerce business.
Subscribers: 120,000+
Most Popular Video: How To Get to $1000/Month With Affiliate Marketing
Subscribe to Matt Diggity's Channel
Recommended Videos from Matt Diggity
This channel is dedicated to optimizing your presence on YouTube. Run by Nate Black, Channel Makers provides tried-and-tested strategies to scale up your YouTube channel.
Nate's videos are always deeply researched and include actionable tips that you can implement on your own channel. For example, in one of his most popular videos, Nate researched over a hundred channels to share the best strategy to get 4,000 watch hours on YouTube.
If you're looking for ways to level up your YouTube channel, then subscribing to Channel Makers is a must.
Subscribers: 220,000+
Most Popular Video: If I Were Starting a YouTube Channel in 2023, This is What I'd Do
Recommended Videos from Channel Makers
Final Thoughts
That wraps up my list of best SEO channels on YouTube. Subscribe to these channels to improve your SEO strategies and level up your SEO skills. If you're looking for more recommendations on YouTube, check out my list of best marketing YouTube channels and these 10 best YouTube channels for entrepreneurs.
Did I miss out on your favorite SEO channel on YouTube? Let me know in the comments section below.
If you found this article useful, please share it on Twitter using the link below:
Editor's Note: This article was first published on 14 Dec 2022 and has been updated regularly since then for relevance and comprehensiveness.
Related Articles