Semrush Traffic Analytics is a market intelligence and competitive research tool that provides estimations of any website's desktop and mobile traffic. In other words, you can use the Traffic Analytics tool to get a behind the curtain sneak peek into your competitors' strategies and campaigns.
In this guide, we'll examine all the top features of Traffic Analytics and help you maximize the results obtained via Traffic Analytics.
Before we dive in, you should be aware that Traffic Analytics isn't included in the standard Semrush package – it's a feature of the add-on Semrush .Trends toolkit, which you'll need to purchase separately from any paid Semrush subscription.
To unlock all the tools in Semrush .Trends, you'll need to shell out an extra $200 per month. We'll break this down further in the pricing section.
At first, $200 a month might look like a big ask, but once you grasp the sheer power of this tool and the easy access to competitor insights it offers, you'll see it's a solid investment.
But don't take my word for it. Sign up for a two-week trial of Semrush Pro + Semrush .Trends and see if it's worth the investment.
Get 2-week free trial to Semrush PRO + .Trends
This trial will give you access to all the features available with a regular Semrush PRO subscription, plus additional access to all the tools within Semrush .Trends, including Traffic Analytics.
Once you've successfully signed up, check out the following guide to get the best insights and data for your website.
Before we get into the nitty-gritty of using Traffic Analytics, I'll try to answer the three most pertinent questions concerning the Traffic Analytics tool:
How is Traffic Analytics different from Domain Overview?
Why do you need to use Traffic Analytics?
How much does Traffic Analytics (or Semrush .Trends) cost?
How is Traffic Analytics Different from Domain Overview?
Domain Analytics is a tool that's part of the regular Semrush subscription. As such, you may be compelled to think that the data obtained via both Domain Analytics and Traffic Analytics are similar. But that's not the case.
The key difference between these two tools is in how they gather data. The numbers reported via Domain Analytics are estimations based solely on keyword positions and their estimated traffic. These numbers are calculations of how much traffic the website could get based on their positions in organic and paid search result pages.
Traffic Analytics, on the other hand, gathers data by analyzing clickstream data (the path the visitor takes through a website) about all of a domain's sources of traffic, not just from search.
At the top of each Traffic Analytics report, you'll notice Estimated Accuracy. This is a metric that lets you gauge the accuracy of the report based on the size of the domain and how much clickstream data was available to make estimations on the website being analyzed.
When you scroll down, you'll find the Traffic Journey widget which shows the top sources of the website traffic and where that traffic goes next.
To sum up, Traffic Analytics estimations are based on clickstream data, and not based on keyword positioning as is the case with Domain Analytics.
Why Do You Need to Use Traffic Analytics?
Traffic Analytics allows you to benchmark estimations of a website's overall traffic against any other website. You can analyze the traffic of multiple sites at a time (for example, your website vs. 4 of your top competitors' websites) and get an idea of who's bringing in more traffic from direct, search, social, paid traffic, and referrals.
The tool also lets you compare visitor engagement metrics and see which countries the websites get their traffic from.
All in all, Traffic Analytics provides six highly-useful reports:
Traffic Overview
Audience Overview
Top Pages
Geographic Distribution
Traffic Journey: Top Sources & Destination Sites
Top Subdomains and Subfolders
The data in these reports offers quick insights and thorough analysis on the competition and market.
Shortly, we'll delve into each of these reports to explore the types of data, insights, and competitive analyses we can garner through Traffic Analytics. Keep reading!
How Much Does Traffic Analytics (or Semrush .Trends) Cost?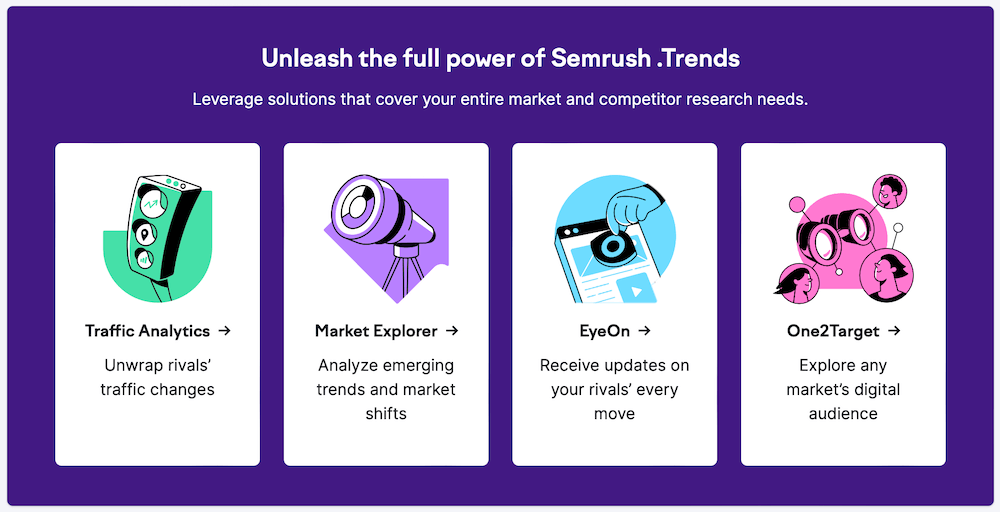 If you're an existing Semrush user, you can purchase Semrush .Trends as an add-on for $200/month.
This will give you full access to all the four tools in Semrush .Trends:
Side note: We'll explore Traffic Analytics in more detail shortly, but if you're curious about the other three tools available in .Trends, check out this post on how to use Semrush .Trends.
If you don't have an active Semrush account, the pricing for combining Semrush .Trends alongside your existing subscription would be:
Sign up for a 2-week free trial of Semrush Pro + .Trends
How to Use Semrush Traffic Analytics: 7 Actionable Tips
1. Get Detailed Traffic Insights for Competitors' Websites
The Traffic Analytics Overview report allows you to gather estimates on any website's traffic and make comparisons. It gives you the scoop on your competitors' strategies, lets you in on how users are behaving on their sites, and helps you spot the latest trends in your niche.
To start using Traffic Analytics, login to your Semrush dashboard and go through this sequence:
.Trends > Traffic Analytics
Enter your competitor's domain in the search box and hit the "Analyze" button.
You can enter up to five domains here, but for this example, let's keep things simple for now and focus on one domain.
As an example, this is the Traffic Analytics Overview report for the social media scheduling app, Buffer.
The Overview report will show you the following estimates of traffic and engagement data for the analyzed website:
Visits – total monthly visits to the website
Unique Visitors – total unique visits to the website in a month
Pages/Visit – how many pages a user visits in one session on the website
Avg. Visit Duration – average amount of time spent on the site during each visit
Bounce Rate – average bounce rate of the website.
The numbers in red or green beside the metrics indicate the change in the metric compared to the previous month.
Below the metrics, you'll see a line graph which shows the traffic trends for the website. By default, it is set to the past 6 months, but you can change it to 12 months or All time.
You can also switch the view to see the trends for total visits, unique visitors, average visit duration, or bounce rate.
The line graph is really useful in understanding the seasonal trends associated with the website you're analyzing in Traffic Analytics. The data can help you figure out if spikes in traffic are associated with a creative marketing campaign or some other trend you need to research into.
Below the line graph, you'll see the Top Pages, Top Subfolders, and Subdomains widget. On the right, you'll find the Traffic Share widget, which shows the proportion of estimated traffic coming to a website from mobile vs. desktop.
Next, you'll come across the Traffic Channels chart. This handy graph lays out how the traffic is spread across various source categories like direct visits, referrals, organic and paid searches, organic and paid social media, email, and display ads.
When analyzing Buffer, we see that a significant chunk of their traffic is from direct visits (64.87%), followed by organic search (21.45%), and referral (6.8%).
Moving on, you'll find the Traffic Journey chart. This chart helps you pinpoint the primary sources fueling the highest traffic to your competitor's website, along with a rundown of the top 5 external domains users often head to post their visit to the analyzed domain.
Finally, you'll see the Traffic Distribution widget which lists down the countries and regions that have the most users visiting the analyzed website. The report also shows the desktop vs. mobile share of traffic from each location.
In the case of Buffer, a large portion of their traffic comes from the United States (38.07%), followed by United Kingdom (9.45%) and India (6.96%).
2. Benchmark Traffic Statistics of Multiple Websites
From the Traffic Analytics Overview report, you can benchmark and compare traffic statistics of multiple websites at the same time.
To compare multiple websites, simply enter the domain names into the search boxes at the top of the Overview report in Traffic Analytics and hit Compare.
The Overview report will show you the traffic stats of all 5 websites you're analyzing.
Below you will find a line chart of the chosen domains and estimates of the visits, visitors, visit duration, bounce rate, etc. Each website will have a designated color representing them in the reports.
By default, the line graph is adjusted for visits, but you can change the view to unique visits, average visit duration, or bounce rate. You can also change the view from 6 months to 12 months or All time.
Next, you'll find the Traffic Journey widget, which compares the top traffic sources and top destination sites for the domains you're analyzing.
The information presented here will help you identify broader industry trends and patterns. It will also pinpoint which competitors are outperforming others and what's fueling their success.
Finally, in the Traffic Distribution widget you'll see the top 5 countries that send traffic to the analyzed website (in the example, buffer.com) and how much traffic other websites in the comparison are estimated to receive from these countries as well.
Get 2-week free trial to Semrush PRO + .Trends
3. Identify the Sources of Your Competitors' Traffic
The Traffic Journey report estimates how much traffic is going to a website from five main online sources:
Direct – traffic to a domain via URLs entered in a browser's search bar, saved bookmarks or links from outside a browser
Referral – traffic to a domain from a hyperlink on another domain
Search – traffic to a domain directly from a search engine such as Google, Bing, etc.
Social – traffic to a domain from links on social media sites like Facebook, Twitter, Reddit, Pinterest, YouTube, etc.
Paid ads – traffic to a domain from paid advertisements on

Google Ads or Bing ads.
To access this information, visit the "Traffic Journey" tab from your Traffic Analytics Overview report.
With this information, you can gain insights into the analyzed website's digital strategy and see which channels generate the most traffic for them.
Scroll down to get deeper insights into the analytics of your competitor's domain. You can filter the traffic source data by all sources, referring sites, search engines, and social networks.
The report will show you estimated number of visits from the different sources and the change percentages in these visits compared to the previous month.
The Traffic Sources report helps you identify which channels in your niche are working for your competitor which can in turn help you decide which channels are worth your time and investment.
Related: How to Use Semrush for Keyword Research: The Definitive Guide
4. Uncover the Top Geographical Regions Driving Traffic to Any Website
The Geo Distribution report in Traffic Analytics lets you identify the countries and regions where a website gets most of its visitors.
Traffic Analytics can currently analyze traffic in 190 countries and regions.
To access this report, visit the "Geo Distribution" tab from your Traffic Analytics Overview report.
The first widget you'll see is the Traffic Map, which highlights the top countries, business regions, or geographical regions where a website gets most of its visitors.
You can use the upper menu to switch between viewing Countries, Business, and Geographical Regions, in addition to Visits and Unique Visits.
As you scroll down, you'll find a detailed Geo Distribution report, which displays the total traffic (desktop and mobile) and traffic share percentage from each country. In addition to this, you can also compare each country's visitor behaviour in terms of pages/visit, average visit duration, and bounce rate.
The data obtained via Geo Distribution is vital when you're doing competitive analysis to understand what global markets your competitors are leveraging. Armed with this information, you can discover a potential country or region that you could leverage for your own business or website.
Get 2-week free trial to Semrush PRO + .Trends
5. Identify Trending Destination Sites or Traffic Channels in Your Niche
Besides giving you the scoop on where your competitors' websites are getting their traffic from, the Traffic Journey report also clues you in on the trending destination sites or traffic channels in your niche.
To check out this report, just hit the "Traffic Journey" tab and scroll down till you reach the "Traffic Journey Details" section. Click on "Destinations" here to see all the destination sites linked to the domain you're analyzing.
In this example, we're analyzing "buffer.com" in Traffic Analytics and as you can see in the Destination Sites report above, the top 5 sites people go to after visiting Buffer are Facebook, Google, LinkedIn, Twitter, and TikTok. Note that all these sites are social platforms linked with Buffer, so a typical user would likely want to check the status of their scheduled posts on each respective platform.
To narrow down your search results, you can use the Category filter on top of the table. This filter makes it easier to identify the most promising websites and platforms for ad placement and marketing collaborations in your specific niche.
For Buffer, I applied the "Publishing" category filter to pinpoint websites that would be perfect for advertising and marketing partnerships.
Bottom line: The Destination Sites report is your best bet if you're seeking top-notch websites in your niche and potential partnerships that you might want to replicate to improve your own online visibility.
6. Examine Your Competitors' Top Pages
The Top Pages report in Traffic Analytics gives you the lowdown on how your competitors' websites are doing and what their content game looks like. You can leverage these insights to fine-tune your content approach, zero in on the right keywords, and boost your overall digital marketing efforts.
This report reveals SEO metrics for up to the top 1000 pages ranked by traffic. These are the pages drawing the largest pool of unique visitors to your competitors' websites.
To access this report, visit the "Top Pages" tab in your Traffic Analytics Overview report.
First up, you'll notice the "Insights" widget, which shows pages from your competitor's website that have been newly detected, are facing a traffic downturn, or are enjoying a traffic uptick.
Next, you'll see a list of top pages from your competitor's site, alongside crucial traffic metrics such as traffic share, 1-year traffic trend, unique pageviews, unique visitors, entrances, and the different traffic sources.
In the case of Buffer, you can see that its homepage generates the highest volume of traffic (27%).
To further analyze the page, you can select the page in the report to access a detailed analysis of the sources contributing to its traffic and historical data on unique pageviews, unique visitors, entrances, exits, and average visit duration.
You can also use the search bar on top of the table to filter the list of top pages by a specific topic.
7. Analyze Your Competitors' Top Subdomains and Subfolders
With the Subdomains report in Traffic Analytics, you can easily spot which subdomains of a competing website are the hotspots drawing the most traffic.
Similarly, the Subfolders report gives you a peek at which subfolders on a competitor's website are the real crowd-pullers, bringing in the most traffic.
To view the Subdomains report, visit the "Subdomains" tab from your Traffic Analytics report.
The tool will then generate a list of subdomains from your competitor, alongside estimated monthly visits and traffic share.
You should be on the lookout for subdomains typically falling into these categories:
Blog subdomains
Support and knowledge base subdomains
Store subdomains (for eCommerce stores)
Course subdomains
Podcast subdomains
Product access subdomains (for SaaS companies)
News subdomains
Geographic subdomains
For instance, when I gave "HubSpot" a spin with Traffic Analytics, I noticed the following subdomains pulling in the highest traffic numbers.
As you can see, a large volume of their traffic goes to their product access subdomain, blog subdomain, and course subdomain.
Similarly, to view the Subfolders report, navigate to the "Subfolders" tab within your Traffic Analytics report.
At the top of the Subfolders report, you'll find the "Top Subfolders by Traffic" widget which highlights the top 5 subfolders in terms of previous month's traffic.
The default view shows you total traffic, but you can toggle between different sources (direct, referral, organic search, paid search, referral, etc.)
Next, you'll find the Subfolders table which provides a breakdown of each subfolder's respective traffic into 8 major factors, including Traffic Share, Unique Pageviews, Unique Visitors, Pages/Visit, Exits, Average Visit Duration, Bounce Rate, and External Source.
In Summary
Traffic Analytics provides a goldmine of data for your website and business, helping you unravel your competitors' digital strategies.
Armed with this information, you can successfully craft your own digital marketing campaign and outsmart your competitors in every department.
Get started with Traffic Analytics by signing up for a 14-day trial of Semrush .Trends below:
Get 2-week free trial to Semrush PRO + .Trends
If you found this article useful, please share it on Twitter using the link below:
(Editor's Note: This review was originally published on 25 June 2019 and has been updated regularly since then for relevance and comprehensiveness.)
Related Articles