Despite there being a plethora of SEO tools in the market, Semrush continues to be one of the most popular and effective tools for professional bloggers.
Just check out this research study from Robbie Richards where he reached out to 143 marketing experts to reveal their top 3 favorite SEO tools. Semrush ranked top among SEO tools fetching 63 votes while the second most popular tool (Ahrefs) got 42 votes.
In short, Semrush is the go-to keyword and competitor research tool for a majority of marketers and professional bloggers.
In this article, we'll examine why it's such a resourceful tool for bloggers and show you practical tips to get the most out of your Semrush subscription.
If you run a blog and have just started using Semrush or would like to use it to its maximum potential, then this article is for you.
If you haven't subscribed to Semrush yet, please click on the link below to get free access to Semrush PRO for 30 days.
Get 1-month free access to Semrush Pro (Worth $119.95)
Here are the 5 best Semrush features you should use to improve your search rankings and drive more traffic to your blog.
Top 5 Semrush Features for Bloggers
1. Analyze Long Tail Keywords using Keyword Magic Tool
Semrush is primarily known for its Keyword Analytics feature to extract different reports for keyword research.
It works like this:
Just enter your seed keyword(s) into the search box and hit enter. Within a few seconds, Semrush will pull out the following data for the keyword(s):
Volume of searches
Number of results
Phrase match
Related Keywords
Competition
But there is another feature within Semrush that's often ignored by users – The Keyword Magic Tool.
The Keyword Magic Tool is an easy-to-use keyword research tool that provides all the keywords you need to build an effective SEO or PPC campaign. With this tool, you can generate tons of long-tail keywords for your seed keyword(s).
To use this feature, navigate to Keyword Analytics and select Keyword Magic Tool.
Enter your seed keyword(s) and hit 'Search'. The Keyword Magic Tool will then automatically calculate keyword potential for you, presenting you with data on important metrics such as:
Volume
Keyword Difficulty
CPC
Competition
In addition to these metrics, Semrush will also present you with a long list of long-tail keywords for the seed keyword(s) which can be exported onto a spreadsheet for manual sorting.
Semrush will show you data on volume, keyword difficulty, CPC, and competition for each of these keywords, helping you identify the most profitable keywords for your campaign.
Once you have identified the keywords you'd like to include in your campaign, you can add these keywords directly into Keyword Analyzer to get more in-depth information on the keywords.
2. Optimize Your Existing Blog Posts with On Page SEO Checker
The On Page SEO Checker (formerly SEO Ideas) on Semrush is designed to help people optimize their websites for better search rankings. This tool suggests precise optimization ideas to improve the search visibility of web pages on your site based on what your competitors are doing to rank ahead of you.
In this case, you can use On Page SEO Checker to optimize the existing blog posts on your site.
On Page SEO Checker is a project tool, so in order to use this, you'll need to create a new project for your domain if you haven't already done so.
Once you've done that, go to the projects dashboard to start yourOn Page SEO Checker campaign. In a few seconds, Semrush will generate a report that will list all the optimization ideas Semrush has gathered to improve your website's SEO.
At the bottom of the report will be your TOP pages to optimize, listed by their combined total volume.

The pages that are targeting the most volume of search will be at the top. To see all of your ideas, click on "View all pages and ideas" at the bottom.
To read your ideas for a specific page, click on one of the green buttons next to that landing page. Semrush will pull out the Optimization Ideas report and suggest improvements to your overall strategy, content, usage of semantically related words (aka LSI keywords), backlinks, technical issues, and user experience.
3. Optimize Your Site's Technical SEO with Site Audit
As a blogger, the importance of technical SEO shouldn't be overlooked. To rank high in search result pages, you need to ensure that there are no issues with the technical side of your website.
The Semrush Site Audit feature can help you identify technical SEO issues with your site and highlight steps you'll need to take to fix these issues.
To run site audit for your site, navigate to Projects and select Site Audit.
The Semrush bot will crawl your website and return with a report on all the on-site errors you need to fix in order to obtain a higher health score. The total health score of the website is based on the ratio of found issues to the number of performed checks.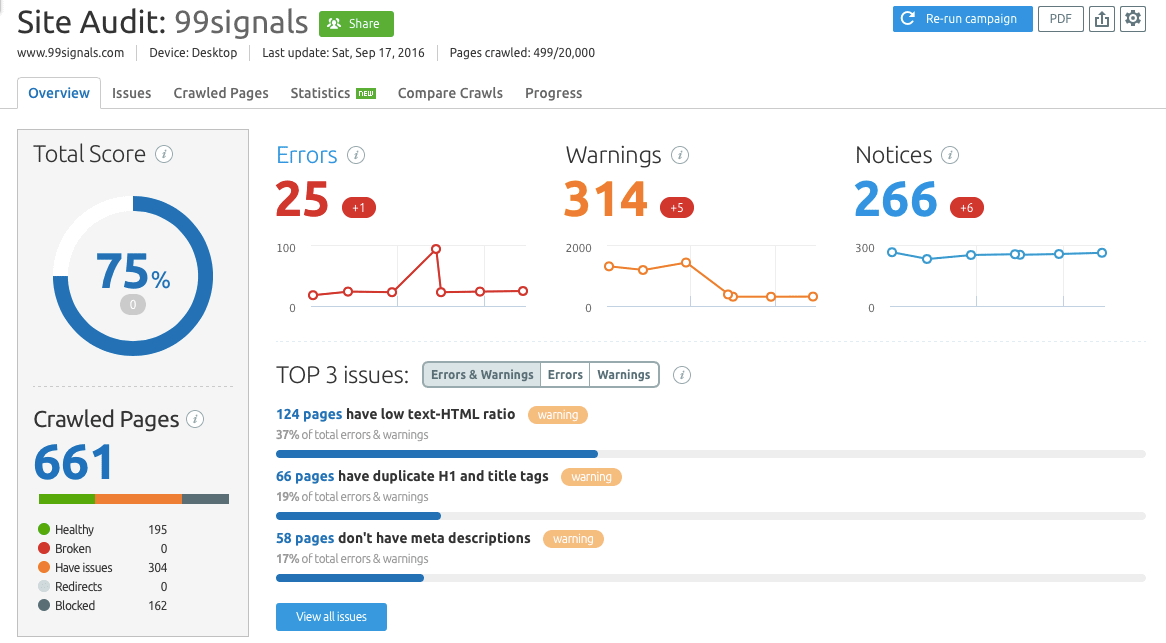 The technical issues on your site are organized into 3 categories:
Errors – These are the issues that are of the highest severity and as such, should be fixed immediately. Examples include Broken links (internal and external), duplicate content issues, Robots.txt format errors, sitemap errors, etc.
Warnings – These issues are of medium severity. Examples include duplicate title and H1 tags, images that don't contain alt attributes, internal links that contain nofollow attributes, missing meta descriptions, etc.
Notices – These are minor issues. Examples include external links that contain nofollow attributes, pages blocked from crawling, orphaned pages in sitemaps, etc.
Needless to say, the higher the number of errors on your site, the lower your total health score. Always aim at keeping the health score at 85-90% on a weekly basis.
By running regular site audits, you can monitor your site's health on a consistent basis and ensure that your search rankings are not affected by technical issues on your site.
4. Monitor Your Brand Outreach using Brand Monitoring Tool
While brand monitoring is done mostly by marketing agencies and PR managers, it is equally important for bloggers to keep a track of any mentions that are positive as this can help you obtain an easy backlink.
The Semrush brand monitoring tool can help you save plenty of time by scanning the web to find online mentions and customer reviews of your blog. You can also monitor the mentions of your blog on Twitter.
Brand Monitoring can be found in the projects section. Go to your projects dashboard and click on the setup button in the Brand Monitoring widget.
Semrush will pull out a report listing all the mentions of your brand. These mentions can be filtered by their source (news feeds, blogs, web) and date, as well as segmented for better navigation with the help of various tags.
Furthermore, you can also use this tool to track the mentions of your competitors' blogs to unravel new link building opportunities.
We'll cover link building in detail in the next step.
5. Find New Link Building Opportunities with Link Building Tool
Link building still remains an integral part of SEO and authoritative backlinks from high DA sites can propel your blog post to page 1 in SERPs within no time.
Semrush's Link Building Tool allows you to determine websites where you can reach out to acquire new potential backlinks and improve your search rankings.
To access Semrush's Link Building Tool, go to your projects dashboard and click on the setup button in the Link Building widget.
Next, enter 10 keywords that you wish to earn a higher ranking for and 10 competitors you'd like to outrank in SERPs.
Semrush will then present you with a list of link prospects that could help your overall backlink profile, breaking them down into different sections – prospects based on organic search, competitors' backlinks, mentions, etc.
Each link in the prospects list can be expanded to see further details by clicking on the dropdown arrow in the Rating column.
When expanded, you will be able to see the domain quality, domain relevance, and domain health of the backlink. Each of these metrics will help you determine if this link will be beneficial to your backlink profile.
To see what each prospect looks like, you can open the link in a new tab using the blue pop out icon next to the URL.
Once you've identified what backlink opportunities you want to go after, your link building success comes down to reaching out with your pitch for a backlink. You can connect your GMail account with Semrush so that you can send and monitor outreach emails directly from the interface.
To get even more value out of the Link Building tool, I suggest you integrate your Semrush account with Google Search Console. This will allow you to access additional domain prospects on which you'd like to place a backlink, automatically mark already acquired backlinks, and ensure that your most important backlinks have been indexed by Google.
Over to You
Now that you know the best features and tools within Semrush, it's time to start optimizing your blog for better search rankings.
If you haven't used Semrush yet, I hope this post convinced you to at least give it a try. You can even check out my full review of Semrush here to see whether it is the right tool for your requirements.
To take the tool for a free 30-day test drive, click on the link below. Trust me, you won't be disappointed!
Get 1-month free access to Semrush Pro (Worth $119.95)
If you liked this post, please click on the link below to share it on Twitter or use the social bar on the left to share it on other major social networks.
Related Articles