Despite Quora crossing over 300 million monthly active users, the Q&A platform remains overlooked by many marketers and businesses. And whether they admit it or not, they are missing out on a lot of marketing opportunities.
All of us probably have the same content marketing goals — to drive traffic to our website, boost sign-ups, build authority, and ultimately to make more money. All these are achievable with Quora, and yet it continues to fly under the radar.
If you want to supercharge your content marketing campaign, it's about time you were serious about Quora marketing.
In this article, I'm going to show you how to use Quora marketing as part of your content strategy.
But before that…
What is Quora?
Quora is a place to ask and answer just about any question, either based on facts or opinions. Users can either upvote or downvote answers to determine which are the most or least helpful.
Different people use Quora for different reasons.
Some seek advice for their personal lives or careers; others look for recommendations for products and services. Some others just want to put their most interesting question on Quora.
Here's an example:
This question has nearly 3 million views.
You see, Quora is a favorable place for professionals, marketers, businesses, and anyone who wants to put their brands in front of these users one way or another.
Why Quora Marketing?
Ultimately, Quora can help your content marketing strategy in several ways:
You can use it as a solid source of referral traffic.
You can generate quality leads no matter where you point them — social channels, sign-up forms, blog posts, etc.
You can build authority from scratch and manage social influence.
You can understand your audience better — what exactly are their pain points — and engage with them.
How to Answer Questions on Quora
Now that you have a good grasp of the benefits of Quora marketing, the million-dollar question is…
How do you choose the queries to respond to?
According to JD Prater, Quora's evangelist, being the first or second to give the best answer to a question almost always guarantees you at the top spot of the ranking — a great opportunity to gain exposure for you and your brand.
But not all new questions are worth responding to. Use your discretion to size up the potential of the question to draw views and followers.
When choosing older questions to answer, check the stats first, like so: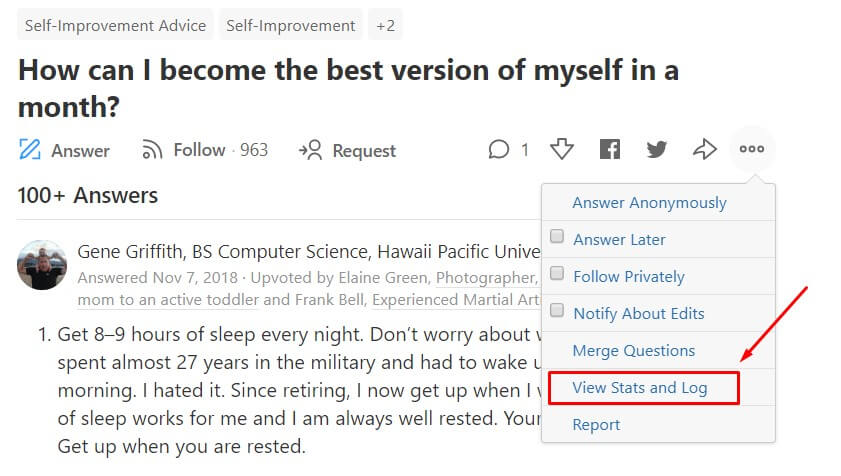 It should give you an idea if the question has too many answers already, the last time the thread was active, the views it garnered over time, and the number of followers.
If a question has too many answers already, and you want to answer it, make sure to add value and new insights. Otherwise, your answer might just drown or drift away. If a thread hasn't been active recently, it's either because nobody's visiting it or reading the answers anymore.
There are no hard and fast rules on the number of followers a question should have. But as a rule of thumb, questions with at least 20 followers are worth considering.
How to Use Quora Marketing
True to its marketing flywheel, Quora is best used on three standpoints — content marketing, thought leadership, and paid advertising.
Here are five proven ways to get the most out of your Quora marketing efforts:
1. Promote Existing Content
Quora provides one of the most clever ways to repurpose content and drive referral traffic.
Why is referral traffic important?
Referral traffic is your safety net amid constant search engine algorithm changes.
Quora is also a great avenue to share blog posts and other content that may not be getting the exposure they deserve.
Yes, social media channels may have numbers. But distribution-wise, Quora posts are evergreen and are indexed well by Google.
Ways to Promote Content on Quora
There are two ways to promote your content organically on Quora:
Write an original response.

Extract parts of your existing content.
Either way, you can then add links to your website in your answer. Make sure the links are relevant enough. Otherwise, people will think you are merely spamming.
If you are extracting your answer from your website content, I suggest making it anywhere between 100 and 200 words and then direct them to the original content on your site.
And make sure to re-word the extracted text or put it in quotation marks or brackets to avoid being flagged down as duplicate content. This helps Quora identify it as a quoted material rather than duplicate content, which can be removed.
Use Genuine Anchor Texts
When using anchor texts, don't be too pushy.
Don't say…
"Go to my blog to read more."
"Check out my website for more information."
Say…
"Check out the complete step-by-step process here."
"Read this article to learn more."
Any words actually will do — as long as it won't make you look like a spam-monger who's clearly only up for the views.
You can even include links to other websites as well to neutralize the look of your own links. 
2. Establish Thought Leadership
On Quora, credibility is king. If you think you don't have it, build it. As a social Q&A platform, Quora makes for an ideal place to earn credibility and establish yourself or your business as an industry authority.
Truth is, Quora isn't meant to be used for link building or growing referral traffic. The purpose of Quora is to answer questions, a.k.a. to give value. It's where people of all stripes get to demonstrate their expertise on any subject and learn from one another at the same time.
If you align your philosophy with Quora's — that is to provide value — you'll eventually establish yourself or your business as a thought leader. In the long run, you'll see people approaching you as an industry expert… just by giving valuable, insightful answers. And your personal or company brand will come naturally.
Becoming an Expert on Quora
It only takes 20 to 30 answers to the same topic for Quora's algorithm to regard you as an expert in the field.
While there are some people who were already famous and well-respected in their industries when they used Quora, like Sheryl Sandberg, Mark Cuban, and Neil Patel…
Some have attributed their success to Quora marketing.
That's why in the last two years, there have been so many C-suite executives, VPs, even consultants, coaches, and managers who have jumped on the Quora train to gain authority and social influence.
Even online learning platform Udemy and software company Ahrefs use Quora to expand their reach.
Most Viewed Writers
Of course, Quora incentivizes the top contributors of each topic by putting them in the "most viewed writers" roster.
Some of the best contributors on Quora have been picked up and quoted by the ranks of Forbes, HuffPost, Business Insider, Inc, and other trusted publications.
When you enter a topic, the top contributors are the ones you'll get to see first.
So, how often should you answer questions? I suggest responding to at least once or twice a week just to get the ball rolling. And once you get the hang of it, you can most certainly do more than that.
Notice that three of the top five most viewed writers in the Entrepreneurship topic only had less than 13 answers in the last 30 days. It speaks volumes that it only needs a few valuable and sincere answers to make Quora work for you.
(Though mad props to the two guys who answered more than 120 questions in the last 30 days. They must have all the time in the world.)
Anyway, these views are futile if they don't convert. That's my next point.
Related: Google E-A-T: How to Create Content That Ranks Higher on Google
3. Generate Quality Leads
Quora is entirely based on demand-driven questions and answers.
And as a result, the traffic it generates is likely going to convert better because users are purposeful with their visit, compared to Facebook, for instance, where people visit to connect with people or just kill time.
As long as you are providing real value in your answers, people naturally get attracted to your profile. 
So in your bio, make sure to have a call-to-action, whether it's a sign-up form, social media links, or a website link — anything that'll get your foot in a prospect's door. Mention your business, services, or company, too.
Here's a great Quora profile from Single Grain's CEO:
Now, imagine if you are giving valuable answers. Thousands of people may potentially visit your full bio with a link to your website. That's a steady stream of traffic and leads right there.
4. Build Conversations Around Your Brand
The real impact of Quora is in finding your tribe of followers and getting involved with them. That's why Quora is becoming a robust platform to build presence, whether it's for your company or yourself.
With its new feature Quora for Business, you can now set up an official page for your company, at no cost. Though it's still in beta, Quora for Business is a promising tool to ignite conversations around your brand.
And with an official business page, it will also enable you to keep tabs of the discussions that mention your brand and easily engage with people who are talking about your business.
If these users have something to speak of your service, results, and experiences, that will make for a great starting point for a case study.
Why Set Up Quora for Business
Having a business account for your company has a few benefits. It allows you to address:
Technical questions

Industry questions

Business FAQs
While you can answer those things using your personal account, the benefit actually is on your audience's end.
A business account forms a business's own persona, making it easier for past, present, and future customers to understand and communicate with your business.
5. Find Targeted Blog Ideas
Quora is a powerful tool to do market and customer research. Real people come here to look for answers, so it can't get any perfect to learn more about your audience.
This makes it very useful for marketers to create more targeted content based on:
Problems they are dealing with

What they are looking for

What their interests are
Yes, there are a lot of fantastic tools out there to find topic ideas like Ubersuggest, BuzzSumo, and Answer The Public.
But with Quora, you get ideas that SURELY resonate with your audience because it came from them, including how they frame their questions.
When looking for these questions, make sure it hasn't been answered anywhere around the web yet or at least questions that already have some following. Otherwise, you might end up answering the most common questions that can easily be Googled. If you have unique insights on the subject, then write content around it by all means.
Finding Blog Topic Ideas on Quora
There are two ways to find blog topic ideas on Quora.
Use industry keywords to look for relevant questions.

Follow industry topics and spaces to keep up with the trending posts that may interest your audience.
If you think nobody is asking the right questions in your niche, then start the conversation by all means.
6. Reach Potential Customers
From an advertising standpoint, Quora gives you a cheaper and more effective way of reaching out to your potential customers by promoting answers.
These answers could be yours or someone else who has great things to say about your product or service. You also have the option to use image or text-based ads on Quora. But that's for another topic.
Truth be told, Quora does not have a massive pool of audience as Facebook and Google. By contrast, Quora has a more demand-driven audience. As I said, users visit Quora with clear intentions of researching, finding answers, or evaluating products.
That puts them in the right mindset to hear different opinions, and they would probably not hesitate to click on ads that may be of interest to them.
Right now, the minimum bid for a click on Quora is $0.01. That's way cheaper compared to Google's average CPC at $1 to $2 and Facebook's $0.40.
Conclusion
To maximize your Quora marketing efforts, here are a few reminders:
Complete your profile with a professional photo, description, credentials, and links to your website and social media handles.

Create in-depth content on your blog so users have an irresistible reason to check out your website.

Place links in your answer

only once

,

when in context

, or

when necessary

.
Now that you've got some Quora marketing tactics up your sleeve, it's time to put in the work and make Quora the up-and-coming star of your marketing toolset.
Have you used Quora marketing as part of your content strategy? What are the results it has brought so far? I'd love to know in the comments.
Editor's Note: This article was first published on 1 January 2020 and has been updated regularly since then for relevance and comprehensiveness. 
Related Articles