As entrepreneurs, we are constantly trying to acquire new skills and knowledge to survive and thrive in the competitive business landscape. While reading an insightful business book is almost always the best way to gain knowledge and wisdom, not everyone can find time in their busy schedule to read books.
So what should a busy entrepreneur do?
The answer is simple: listen to podcasts!
You can tune into podcasts anytime you want — while commuting to work, jogging, cooking, cycling, or even while working out at the gym.
Podcasts are immensely popular these days. According to Convince and Convert, podcast listeners listen to an average of 8 podcasts per week.
There are podcasts covering almost any topic you can imagine. Entrepreneurship is no different. There are a ton of business podcasts, where successful entrepreneurs and business leaders share their expertise, insights, experiences, and strategies that can be immensely helpful in your own entrepreneurial journey.
To that end, I've compiled a list of podcasts that will make you a better entrepreneur.
Here are the 20 best entrepreneur podcasts to help you get started.
Top 20 Podcasts for Entrepreneurs
1. Rework: A Podcast by Basecamp
Rework is a podcast by Jason Fried and David Heinemeier Hansson, co-founders of Basecamp and co-authors of Rework, one of my favorite business books.
In the podcast, Fried and Hansson share startup stories and unconventional wisdom from their own experience and other business owners who have embraced bootstrapping, staying small, and growing slow.
Listen on: Apple Podcasts | Google Podcasts | Spotify
Recommended reading: 7 Business Lessons from "Rework" by Jason Fried & David Heinemeier Hansson
2. Pivot
Pivot is a weekly podcast by Recode (owned by Vox Media), hosted by Kara Swisher, Silicon Valley's most revered journalist, and NYU Professor Scott Galloway.
The podcast offers sharp, unfiltered insights into the way technology is shaping business and culture across media, advertising, politics, and more.
If you'd like to stay informed about all the current events in technology, business, and politics, Pivot is a must-listen podcast.
Listen on: Apple Podcasts | Google Podcasts | Spotify
3. The Tim Ferriss Show
Tim Ferriss is a serial entrepreneur and best-selling author of profoundly influential business books such as The 4-Hour Workweek, Tribe of Mentors, and Tools of Titans.
Tim's podcast, The Tim Ferriss Show, is often the #1 business podcast on all of Apple Podcasts, and it's been ranked #1 out of 500,000+ podcasts on many occasions.
The podcast features interviews of successful people from all areas of life (investing, sports, business, art, etc.) as Tim examines the tactics, tools, and routines they typically use to achieve peak performance.
Past guests on the show have included Arnold Schwarzenegger, LeBron James, Doris Kearns Goodwin, Malcolm Gladwell, Vince Vaughn, Susan Cain, Ramit Sethi, and many more.
Listen on: Apple Podcasts | Google Podcasts | Spotify
Naval Ravikant is a serial entrepreneur and one of the most well-known venture capitalists in the world. Naval's unique perspective on life, happiness, and success has set him apart from other tech entrepreneurs and he has amassed quite a following on Twitter because of this quality.
Naval explained this dichotomy on the Joe Rogan podcast by saying, "The reason why people like hearing me is because it's like if you go to a circus and you see a bear, that's kind of interesting but not that much. If you see a unicycle, that's interesting. But you see a bear on a unicycle, that's really interesting. So, when you combine things you're not supposed to combine, people get interested."
Naval has been sharing his unique philosophy on business, wealth, and happiness on Twitter, his blog, and his podcast over the last few years and has built quite a reputation for his reflections. While you can always tune in to Naval's several podcast interviews on shows like The Tim Ferriss Show and The Joe Rogan Podcast, Naval's podcast is the best place to get a peek into Naval's thought process and mental models.
Naval's "How to Get Rich" podcast episode contains a treasure trove of tips for entrepreneurs on how they can maximize their leverage, acquire specialized knowledge, and build wealth. The podcast contains two long-form episodes (over 2 hours), while most of the other episodes are bite-sized snippets on a broad range of topics.
If you find Naval's philosophy interesting, I'd highly recommend you read Eric Jorgensson's The Almanack of Naval Ravikant, a compilation of Naval's best thoughts and reflections on wealth, happiness, and life. You can read the entirety of the book online for free at navalmanack.com.
Listen on: Apple Podcasts | Google Podcasts | Spotify
Recommended reading: 50 Best Naval Ravikant Quotes to Inspire You
The Wondery podcast network has several podcasts that entrepreneurs will find useful and entertaining. But my pick for the best business podcast series from the network is Business Wars.
Hosted by veteran radio journalist David Brown, Business Wars explores some of the most intense corporate rivalries and how the leaders and investors involved in competing companies drove their companies to new heights or financial ruin.
From covering classic brand rivalries like Coke vs Pepsi and iPhone vs BlackBerry to more recent rivalries like Marvel vs DC and Red Bull vs Monster, David Brown's impeccable storytelling skills will keep you hooked and wanting more. That said, it's not just the entertainment factor that makes this such a compelling podcast. You'll also find a ton of lessons and cautionary tales along the way.
The podcast gives a multi-episode treatment to each brand rivalry, while each episode is around 30 minutes long. My personal favorite is the 8-part Netflix vs BlockBuster series.
If you enjoy learning about corporate rivalries as much as I do, you're going to love this podcast.
Listen on: Apple Podcasts | Spotify | Website
6. Side Hustle School
Chris Guillebeau is the author of The $100 Startup, a New York Times bestseller that has sold over 500,000 copies worldwide. In his most recent book, Side Hustle, Guillebeau explains how anyone can create a new source of income in 27 days. He explores the subject in greater depth in his podcast, Side Hustle School.
The purpose of Guillebeau's podcast is to help you create a new source of income without quitting your job.
In each episode, you'll hear a different story of someone who's started a side hustle — along with what went well, how that person overcame challenges, and what happened as a result.
Listen on: Apple Podcasts | Google Podcasts | Spotify
7. The GaryVee Audio Experience
Gary Vaynerchuk is a serial entrepreneur and chairman & CEO of VaynerMedia, a full-service advertising agency servicing Fortune 100 clients. Gary Vee has an active presence on social media, including Instagram, Twitter, Snapchat, and YouTube, where he has his Q&A show #AskGaryVee and the daily video documentary series DAILYVEE.
In his podcast, The GaryVee Audio Experience, you'll find a mix of #AskGaryVee show episodes, keynote speeches on marketing and business, segments from his DAILYVEE video series, interviews, and fireside chats, as well as original content recorded specifically for the podcast.
Listen on: Apple Podcasts | Google Podcasts | Spotify
8. Entrepreneurs On Fire
Entrepreneurs on Fire is an award-winning business podcast by John Lee Dumas, where he interviews successful entrepreneurs to inspire you in your entrepreneurial journey.
The goal of this podcast is to present you with the inspiration and strategies you need to fire up your entrepreneurial journey and create the life you've always dreamed of.
Since launching his podcast on September 22nd, 2012, Dumas has interviewed over 2,000 entrepreneurs, including Seth Godin, Gary Vaynerchuk, Barbara Corcoran, Tim Ferriss, Neil Patel, and many more.
Listen on: Apple Podcasts | Google Podcasts | Spotify
9. Unchained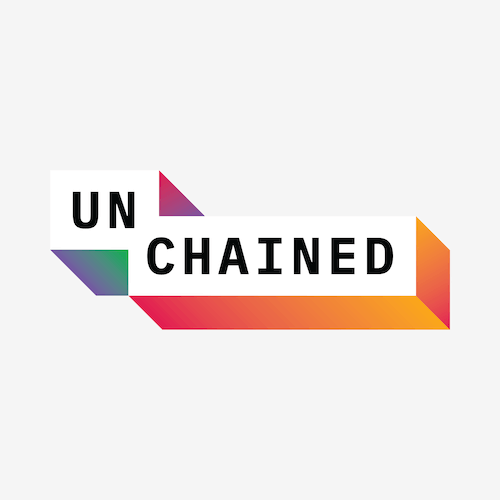 Hosted by Laura Shin, Unchained is one of the best cryptocurrency podcasts on the web. Shin was the first mainstream media journalist to cover cryptocurrency and blockchain full-time at Forbes. Most recently, she authored the book The Cryptopians, which explores the origin stories of Ethereum.
If you're a crypto entrepreneur, then you should definitely tune in to this podcast as it delivers the most up-to-date information on the top crypto stories of the day. In addition to covering breaking news stories in the cryptosphere, the show also features interviews with thought leaders, leading experts, and influencers from the industry.
Past guests on the show have included the likes of Ethereum creator Vitalik Buterin, Binance CEO Changpeng Zhao (CZ), prominent Canadian VC Chamath Palihapitiya, and several other blockchain innovators and investors. If you're a crypto beginner, then their episode on "How to explain cryptocurrency to the average person" is highly recommended.
Listen on: Apple Podcasts | Spotify | Website | YouTube
10. Business Movers
Hosted by the Webby award-winning host Lindsay Graham, Business Movers is a weekly podcast that explores the true stories of innovative entrepreneurs, creators, and businesses. It examines their strengths, flaws, and the incredible risks they took to reach new heights.
From unravelling Coca-Cola's biggest mistake to exploring the secrets of Warren Buffet's business success, Business Movers examines the triumphs, failures, and ideas that transformed our lives. My personal favorite is the 5-part George Lucas series, which explains how Lucas defied the odds and risked it all to make Star Wars.
Listen on: Apple Podcasts | Spotify | Website
11. WeCrashed
WeCrashed is a limited podcast series that covers the rise and fall of WeWork and its eccentric founder Adam Neumann. If you don't know about the whole WeWork IPO fiasco and the company's subsequent fall from grace, this podcast should definitely be on your radar. It tells you exactly what was happening behind the scenes at a company that was once valued at $47 billion dollars and highlights the pivotal reasons behind the company's downfall.
This 6-part series is hosted by podcast veteran David Brown, who also hosts Business Wars (see #5). The podcast was later adapted into an Apple TV+ limited series of the same name, starring Jared Leto as Adam Neumann and Anne Hathaway as Rebecca Neumann. The show is a good adaptation of the podcast and it's one of the must-watch series for entrepreneurs.
Both the podcast and the accompanying TV series are worth your time if you'd like a sneak peak at all the insanity that preceded WeWork's disastrous IPO.
Side note: To learn more about WeWork's rise and fall, and Adam Neumann's eccentricity and narcissism, I'd recommend Reeves Wiedeman's book Billion Dollar Loser.
Listen on: Apple Podcasts | Spotify | Website
12. Recode Decode / Decoder
Aside from co-hosting the Pivot podcast with Scott Galloway (see #2), Recode's Kara Swisher has her own podcast called Recode Decode.
In this podcast, Swisher hosts candid interviews with tech execs, politicians, celebrities, and more about their big ideas and how they're changing our world.
Past guests on the podcast have included Elon Musk, Hillary Clinton, Mark Zuckerberg, Jason Fried, Adam Grant, and many more.
Listen on: Apple Podcasts | Google Podcasts | Spotify
Side note: Kara Swisher left Recode Decode in July 2020 and the podcast was rechristened as Decoder in October. Hosted by The Verge's Nilay Patel, Decoder launched on the Recode Decode feed and the first episode was published in November 2020. The podcast builds on the foundation set by Swisher and follows a similar format where Nilay interviews leading tech and business executives.
13. Masters of Scale with Reid Hoffman
Masters of Scale is a business podcast hosted by Reid Hoffman, co-founder of LinkedIn, where he invites successful entrepreneurs to share the stories and strategies that helped them grow from startups into global brands.
Reid and his guests talk entrepreneurship, leadership, strategy, management, and fundraising. But they also talk about the human journey — with all its failures and setbacks.
Past guests on the podcast have included Arianna Huffington, Ben Chestnut, Kevin Systrom, and many more.
Listen on: Apple Podcasts | Google Podcasts | Spotify
14. Founder's Journal
With over 3 million subscribers, Morning Brew is one of the leading business newsletters on the internet. Founder's Journal is a podcast hosted by Morning Brew co-founder Alex Lieberman.
Lieberman approaches his podcast like his personal audio diary where he shares the tools you need to think better and build better products. You'll also find a ton of productivity hacks on his podcast. For example, in episode #298, Lieberman reveals his favorite productivity method and entrepreneurs from all walks of life can take valuable insights from it.
Listen on: Apple Podcasts | Spotify | Website
15. Thrifty Titans
Thrifty Titans, hosted by marketer-creator-media nerd Saikat Pyne, has been ranked as India's #1 Marketing Podcast, and among India's Top 20 Business Podcasts by Apple Podcasts. Tune in to learn business and audience growth insights and hacks that you can implement without losing your mind or breaking the bank.
Past guests on the show include Neil Patel (New York Times bestselling author and Founder at NP Digital), Bharati Balakrishnan (Country Head and Director – India and SEA at Shopify), RS Raghavan (Founder & CEO – Animaker), Tusharr Kumar (COO – Only Much Louder), Advait Gupt (Co-founder & CEO at Kulfi Collective) among other top global media founders, business leaders, influencers, and content creators.
Listen on: Apple Podcasts | Google Podcasts
16. StartUp
StartUp is a podcast from Gimlet Media hosted by Alex Blumberg and Lisa Chow. The podcast is all about what it's really like to start a business.
The first two seasons of the show followed stories of starting businesses. Season 1 was about the starting of Gimlet Media itself, and season 2 dealt with the starting of a dating company called "Dating Ring." The third season follows one business per episode.
17. The Smart Passive Income Podcast
Smart Passive Income is a top-ranking and award-winning business podcast hosted by Pat Flynn, a blogger and entrepreneur known for his immensely successful blog, The Smart Passive Income, where he teaches his followers about investing in online businesses and generating passive income.
In his podcast, Pat Flynn reveals all of his online business and blogging strategies, income sources, and killer marketing tips and tricks so you can be ahead of the curve with your online business or blog. The podcast covers a broad range of business topics such as automation, crowdsourcing, SEO, affiliate marketing, outsourcing, and more.
Since launching his podcast in 2010, Flynn has invited several entrepreneurs, authors, and business leaders to share their secrets of success. Past guests have included Gary Vaynerchuk, Nir Eyal, James Clear, Ramit Sethi, and many more.
Listen on: Apple Podcasts | Google Podcasts | Spotify
18. We Study Billionaires
Hosted by Stig Brodersen and Trey Lockerbie, this podcast interviews and studies famous financial billionaires. From Warren Buffet to Jeff Bezos to Howard Marks, We Study Billionaires teaches you how to apply the billionaires' investment strategies in the stock market.
This podcast was launched in 2014, so there are a lot of episodes to skim through. I'd personally recommend you start with the very first episode of the podcast which examines Warren Buffet's business philosophy and investment strategies.
Listen on: Apple Podcasts | Spotify | Website
19. The Dropout
The Dropout is a limited podcast series that tells the story of the rise and fall of Elizabeth Holmes and her revolutionary blood-testing company, Theranos.
Once touted as the "next Steve Jobs," Holmes' net worth was valued at $4.5 billion while her company's valuation was $9 billion. It all came crashing down when it was later revealed that her blood-testing technology didn't work and that she had been deceiving investors and using intimidation tactics to silence her employees.
All this and more is covered on the podcast, which features exclusive interviews with former Theranos employees, investors, and patients. The podcast also covers Elizabeth Holmes' trial and final sentencing in detail. The podcast was later adapted into a Hulu limited TV series of the same name which is definitely worth a watch. It features a great ensemble cast and Amanda Seyfried nails her role as Elizabeth Holmes.
To learn more about the Theranos scandal, I'd highly recommend you check out John Carreyrou's brilliant book Bad Blood. Carreyrou was the first reporter to investigate Theranos and played a significant role in its downfall.
Listen on: Apple Podcasts | Google Podcasts | Spotify
20. Marketing Mantra
Last but not least, I'm including my own podcast on this list — Marketing Mantra. I launched this podcast with the help of Spotify for Podcasters (formerly Anchor) back in August 2018, with an aim to share actionable marketing strategies and tactics that have worked for me at my blog and my digital marketing agency.
From time to time, I also invite other bloggers and entrepreneurs to share their success stories and business tactics. Past guests on the podcast have included Matthew Woodward, Daniel Daines-Hutt from AmpMyContent, Alexandra Tachalova from Digital Olympus, Vlad Calus from Planable, and many more.
If you've liked any of my content in the past, I'd request you to please subscribe to Marketing Mantra on your preferred podcast player.
Listen on: Apple Podcasts | Google Podcasts | Spotify
Honorable Mentions
The 20 podcasts featured above are my personal favorites, but the entrepreneur podcasts below are also highly recommended:
Summary
So there you have it — the 20 podcasts that will make you a better entrepreneur. You can also check out this list of 38 marketing podcasts if you'd like to get your fill of the latest marketing trends, insights, and tips.
Looking for more business podcast recommendations? Check out these other lists from my blog:
Did I miss out on any of your favorite entrepreneur podcasts? Let me know in the comments section below. I'd love to hear your recommendations.
If you liked this article, please share it on Twitter using the link below:
Editor's Note: This article was first published on 20 September 2019 and has been updated regularly since then for relevance and comprehensiveness.
Related Articles