If you're an entrepreneur and an avid watcher of TV shows, you may be wondering if there are any shows out there that can help you become a better entrepreneur.
To that end, here are the 17 best TV shows for entrepreneurs.
Side note: If you're a movie buff, I'd urge you to also check out my list of best movies for entrepreneurs and this list of best documentaries for entrepreneurs.
Top 17 TV Shows for Entrepreneurs
1. Silicon Valley
Image Credit: HBO
Created by Mike Judge, Silicon Valley is a critically-acclaimed sitcom that follows the struggle of a group of young software programmers and developers trying to succeed in Silicon Valley.
Featuring a great ensemble cast comprising of Thomas Middleditch, TJ Miller, Kumail Nanjiani, and Martin Starr, Silicon Valley is a hilarious take on the startup ecosystem. It shows how challenging it can be for new entrepreneurs to make an impact in the competitive environment of Silicon Valley, despite having a game-changing product.
Silicon Valley has 6 seasons with a total of 53 episodes. The sixth season, which was the show's last season, aired in October 2019 and the last episode aired on December 8, 2019.
This show was on my watchlist for the longest time. I finally managed to binge-watch all five seasons of the show in a week's time, and then waited patiently for the final season to premiere. If you're an entrepreneur, you're going to find the plot super-relatable and you may end up binge-watching all the episodes as I did. Just make sure you start on a weekend.
Where to watch: HBO (US & UK); Hotstar (India)
IMDB Rating: 8.5/10 (based on 144,000+ user ratings)
2. Shark Tank
Image Credit: Inc
Shark Tank is a business-related reality TV show where investment-seeking entrepreneurs make business presentations to a panel of five investors aka "sharks" who then choose whether to invest in their company as business partners. The show first premiered on August 9, 2009 as the American franchise of the international format Dragons' Den (see #3).
Longstanding panel members of the show include business tycoons such as Mark Cuban, Barbara Corcoran, Kevin O'Leary, Daymond John, and Lori Greiner; while Richard Branson, Ashton Kutcher, and Chris Sacca have all appeared as guest sharks.
I've been a long-time watcher of this show and I've seen some of the best and the worst product pitches. But I watch it mainly to take notes on the product pitches that resonate with the sharks and trigger multiple offers.
Where to watch: ABC (US); Netflix (UK & India)
IMDB Rating: 7.7/10 (based on 9,500+ user ratings)
3. Dragons' Den (UK)
Image Credit: BBC
Dragons' Den originated in Japan in 2001, where the series was called The Tigers of Money. Local versions of the show have been produced in over 30 countries, but it's the British version of the show called Dragons' Den that's considered the most popular and the series that inspired Mark Burnett to produce Shark Tank.
The premise of the show is similar to that of Shark Tank — budding entrepreneurs pitch their ideas to five investors aka "dragons" who then decide whether to invest in the product/service that they have just been pitched. The panel of investors typically includes successful entrepreneurs like Deborah Meaden, Peter Jones, Duncan Bannatyne, and Theo Paphitis.
To get a feel for the show and its unique format, watch a few pitches on the official Dragons' Den YouTube channel.
Where to watch: BBC (UK); BBC America (US)
IMDB Rating: 6.8/10 (based on 2,000+ user ratings)
4. Better Call Saul
Image Credit: Hollywood Reporter
You may already be familiar with Saul Goodman if you've watched Breaking Bad. Better Call Saul is a prequel to Breaking Bad and is centered on the character of Jimmy McGill aka Saul Goodman.
The show takes place six years before the events of Breaking Bad and shows the transformation of Jimmy McGill, a former scam artist, and small-time lawyer, into Saul Goodman, a lawyer who frequently represents criminals while himself becoming involved in the city's criminal world.
Bob Odenkirk is absolutely brilliant as the lead and the supporting cast, comprising of Rhea Seehorn, Jonathan Banks, and Giancarlo Esposito, give stellar performances to make this a worthy spin-off to Breaking Bad.
Each season comprises of 10 episodes. The show's sixth and final season premiered on 18 April 2022.
Where to watch: AMC (US); Netflix (UK & India)
IMDB Rating: 8.7/10 (based on 400,000+ user ratings)
5. Planet of the Apps
Image Credit: The Asian Age
Planet of the Apps is just like Shark Tank, but for mobile apps. Software developers have 60 seconds to pitch the idea of their app in front of four judges (Jessica Alba, Gwyneth Paltrow, William Adams (aka will.i.am), and Gary Vaynerchuk) in hope to partner with one of them for six weeks.
This series was Apple's first original TV series, but unfortunately, it was canceled after just one season. Though the series has been criticized for being self-indulgent, it's still a fun watch with a lot of takeaways for app developers and tech entrepreneurs. If you're looking for business TV shows like Shark Tank, you'll find Planet of the Apps interesting.
Released before the launch of Apple TV+, this show was broadcast on Apple Music and you can still find it there.
Where to watch: Apple Music
IMDB Rating: 6.0/10 (based on 200+ user ratings)
6. StartUp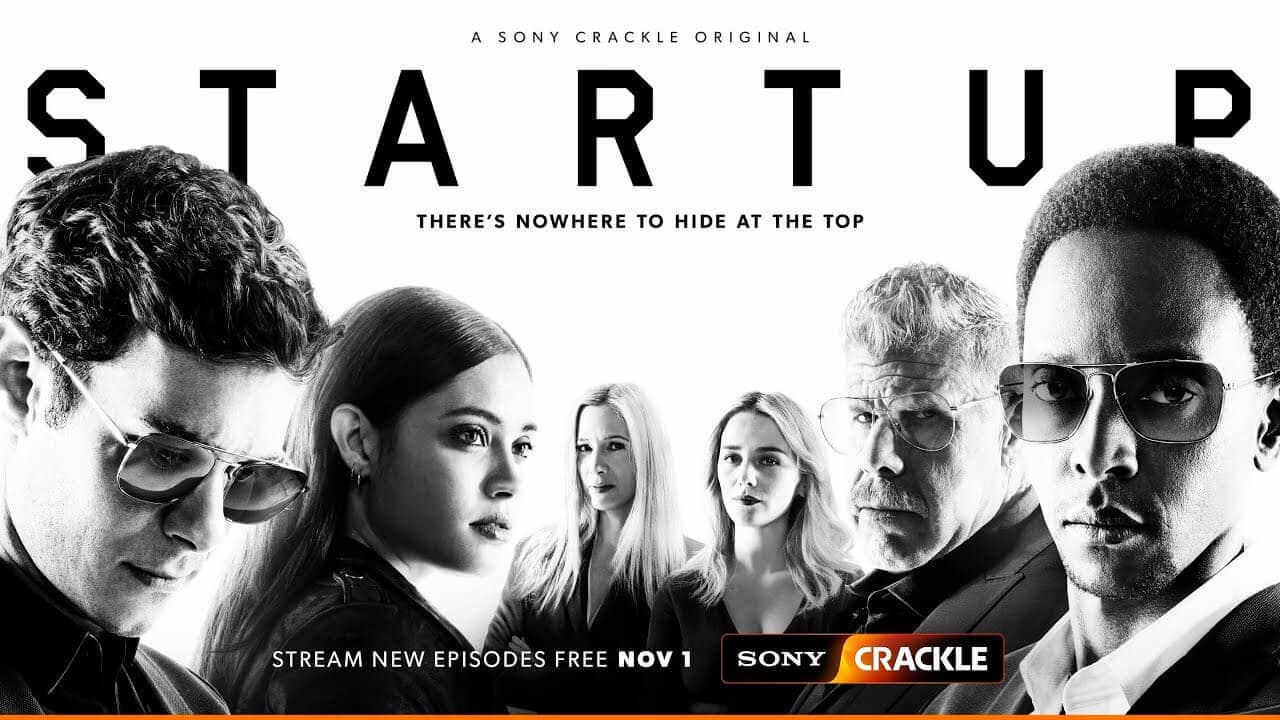 Image Credit: YouTube
StartUp is a web drama series that follows the emergence of GenCoin, a brilliant yet controversial cryptocurrency startup. The series has a great ensemble cast featuring Adam Brody, Edi Gathegi, Otmara Marrero, Martin Freeman, Ron Perlman, Addison Timlin, and Mira Sorvino. While the first season of the show received a mixed response from critics (33% approval rating on Rotten Tomatoes), it has slowly gained loyal fans over the years.
There are currently 3 seasons of this series — with a total of 30 episodes. The fate of the show hangs in balance; it has not been renewed for a fourth season yet nor has it been canceled.
Where to watch: Sony Crackle (USA); Amazon Prime (India)
IMDB Rating: 8.0/10 (based on 11,000+ user ratings)
Related: 21 Inspiring Movies for Entrepreneurs
7. Billions
Image Credit: YouTube
Starring Paul Giamatti and Damian Lewis, Billions is a drama series about power politics in the world of New York high finance. The central plot revolves around the legal battles between two powerful New York figures — U.S. Attorney Chuck Rhoades (Giamatti) and hedge fund king Bobby "Axe" Axelrod (Lewis).
Aside from being wildly entertaining and binge-able, the show is filled with insightful quotes on business, startups, and leadership. Definitely a must-watch TV show for entrepreneurs.
The show currently has six seasons (72 episodes) and has been renewed for a seventh season.
You can watch a few clips of Billions on their official YouTube channel.
Where to watch: Showtime (US); Sky Atlantic (UK); Hotstar Disney+ (India)
IMDB Rating: 8.4/10 (based on 61,000+ user ratings)
8. The Dropout
Silicon Valley companies have long since survived and thrived on the "fake it till you make it" mindset. But when this approach is extended to the medical tech field, where people's lives are at stakes, you get an unprecedented disaster like Theranos.
The Dropout is an 8-episode limited series that tells the story of Elizabeth Holmes, who co-founded Theranos, a revolutionary blood-testing company that was destined to change the medical world. It documents Holmes' initial success with private investors and media, and chronicles its eventual downfall.
Featuring a great ensemble cast which includes Amanda Seyfried, Naveen Andrews, Stephen Fry, William H. Macy, and Dylan Minnette, this is a binge-worthy TV series that you can watch in a day or two, and learn crucial lessons along the way. I had my doubts when Seyfried was cast as Elizabeth Holmes, but she did a phenomenal job and even nailed Holmes' signature deep voice.
As good as The Dropout is, I'd still urge you to read John Carreyrou's brilliant book Bad Blood to learn more about the complete Theranos story. You can also listen to The Dropout podcast series that the show is adapted from.
IMDB Rating: 7.5/10 (15,000+ user ratings)
Where to Watch: Hulu (US); Hotstar Disney+ (India)
9. Ballers
Image Credit: HBO
Ballers is a comedy-drama series starring Dwayne "The Rock" Johnson who plays Spencer Strasmore, a retired NFL player who must navigate his new career of choice as the financial manager of other NFL players. The show is critically acclaimed and has been called the NFL version of the show Entourage. Dwayne Johnson's performance, in particular, has been praised by critics and fans alike.
Ballers has five seasons with a total of 47 episodes. The fifth and final season of the show premiered on August 25, 2019.
Where to watch: HBO (US); Sky Atlantic (UK); Hotstar Disney+ (India)
IMDB Rating: 7.5/10 (based on 42,000+ user ratings)
10. Empire
Image Credit: TVMovieFix
Created by Lee Daniels and Danny Strong, Empire is a drama series that tells the story of Empire Entertainment, a fictional hip hop music and entertainment company, and the drama that unfolds among the members of the founders' family as they fight for control of it.
The series has six seasons. The sixth and final season premiered on September 24, 2019.
Where to watch: FOX (US); Amazon Prime (UK); Hotstar Disney+ (India)
IMDB Rating: 7.3/10 (based on 39,000+ user ratings)
11. Dirty Money
Image Credit: Facebook
A Netflix original TV series, Dirty Money documents stories of corporate fraud and corruption. The series features six hour-long episodes, each episode focussing on one example of corporate corruption.
Although I liked all episodes, my personal favorite was Payday (Season 1, Ep. #2) which revolves around amateur racing driver Scott Tucker and his fraudulent online business, AMG Services, which made payday loans with extremely high-interest rates.
Each season has 6 episodes and the most recent season, the show's second season, premiered on March 11, 2020.
Where to watch: Netflix
IMDB Rating: 8.1/10 (based on 9,000+ user ratings)
Related: 27 Best Documentaries for Entrepreneurs
12. Mary Queen of Shops
Image Credit: Images Magazine
Not many people know about this show, but it's an absolute gem. Mary Queen of Shops is a retail-related business show by Mary Portas, a highly successful British retail consultant.
In each episode, Portas troubleshoots her way around the UK on a mission to help turn around struggling retail stores and fashion boutiques. To get a feel for the show, watch this episode on YouTube.
IMDB Rating: 7.9/10
Where to Watch: YouTube
13. Mad Men
Image Credit: Wired
This immensely popular drama series gave us one of the most iconic characters in television history, Don Draper, portrayed brilliantly by Jon Hamm.
Mad Men revolves around the fictional Sterling Cooper ad agency in New York in the 1960s and the personal and professional lives of people who work there. The series ended in 2015 after 7 seasons. You can binge-watch the entire show on Netflix.
IMDB Rating: 8.7/10 (230,000+ user ratings)
Where to Watch: Netflix
14. Kitchen Nightmares
Image Credit: Amazon Prime
Celebrity chef Gordon Ramsay has had multiple shows on TV, but the one I'd recommend to entrepreneurs and business owners is the highly entertaining Kitchen Nightmares. Each episode, Ramsay spends one week at a failing restaurant in an attempt to revive their business.
Pro Tip: Don't miss the episode on Amy's Baking Company which you can watch here on YouTube.
IMDB Rating: 7.5/10 (13,000+ user ratings)
Where to Watch: Amazon Prime
15. WeCrashed
Image Credit: YouTube
Based on the popular Wondery podcast series of the same name, WeCrashed is an Apple TV+ limited series that chronicles the entrepreneurial rise and fall of WeWork and its founder, Adam Neumann.
With his unique ability to charm investors, Neumann was able to raise funds from prominent VCs and private equity firms from all over the world. WeWork was once valued at a whopping $47 billion dollars. All this came crashing down when Neumann decided to take his company public. Dubbed as the most ridiculous IPO of 2019 by Forbes, WeWork's flawed business model and practices were finally exposed.
Both Jared Leto and Anne Hathaway are brilliant as Adam Neumann and Rebecca Neumann respectively, and the series neatly summarizes what went on behind the scenes at WeWork. WeWork's rise and fall is a cautionary tale for entrepreneurs and business leaders, and WeCrashed covers all the major events and practices that led to the company's downfall.
To learn more about the WeWork debacle, I'd also urge you to listen to the WeCrashed podcast, hosted by podcast veteran David Brown. You can also check out Reeves Wiedeman's book Billion Dollar Loser, which goes into great detail chronicling the rise and fall of WeWork.
IMDB Rating: 7.3/10 (8,500+ user ratings)
Where to Watch: Apple TV+
16. The Last Dance
Image Credit: The Sporting News
The Last Dance is a sports documentary series, but there are a lot of entrepreneurial lessons you can learn by watching the show. This 10-part Netflix series juxtaposes Michael Jordan's last season with the Chicago Bulls alongside his early years when he was still a rookie player at Bulls. The Last Dance also highlights the careers of Jordan's teammates, rivals, and Chicago Bulls' head coach Phil Jackson.
You don't have to be a basketball fan to enjoy this series. It has several takeaways on leadership skills and growth mindset which Jordan possessed in abundance. Jordan didn't just motivate himself, but motivated everyone around him to strive for the best. The Last Dance is a compelling watch that will leave you wanting more.
IMDB Rating: 9.1/10 (110,000+ user ratings)
Where to Watch: Netflix
17. The Billion Dollar Code
Image Credit: Netflix
The Billion Dollar Code is a German Netflix miniseries that follows two interconnected timelines — the founding of ART+COM in the 1990s, a company that combined programming and digital art, and ART+COM's lawsuit against Google where they alleged that the search giant used their product Terravision's code to build Google Earth.
Jumping back and forth between these two timelines and presenting a dramatized depiction of real-life events, this critically-acclaimed series is easily one of the best shows about tech entrepreneurs. If you loved The Social Network, you'll love this brilliantly-made TV series.
IMDB Rating: 8/10 (7,900+ user ratings)
Where to Watch: Netflix
Final Thoughts on Business TV Shows
That wraps up my list of must-watch TV shows for entrepreneurs. Add these 17 business-focused TV shows to your watchlist and learn important entrepreneurial lessons along the way. Are there any shows that you'd like to recommend to entrepreneurs and business owners? Let me know in the comments section.
If you liked this article, please share it on Twitter using the link below:
Editor's Note: This article was first published on August 16, 2019 and has been updated regularly since then for relevance and comprehensiveness.
Related Articles