Cryptocurrency and blockchain may have gone mainstream in recent years, but there's still a lot to unpack and learn about this emerging technology.
Crypto YouTube channels are the best places to learn about cryptocurrency basics, fundamentals, and advanced crypto trading techniques.
But there's a caveat!
Silicon Valley entrepreneur and investor Naval Ravikant once said, "Bitcoin is a tool for freeing humanity from oligarchs and tyrants, dressed up as a get-rich-quick scheme."
Sadly, the cryptocurrency space has conjured up several "get-rich-quick" gurus, MLMs, and scam artists who are always on the lookout for people to sell their ponzi schemes or shady coins and NFTs. Remember Bitconnect? These fake gurus are still all too prevalent on YouTube, so you need to be extra cautious while adding crypto channels to your list of subscribed channels.
Side note: The YouTube channel Coffeezilla does a great job of exposing these "get-rich-quick" gurus and their ponzi schemes.
This is one of the reasons why I was compelled to create this list of best crypto YouTube channels. The advice and insights you'll find on these channels are genuine, unbiased, and steeped in research.
The cryptocurrency YouTube channels listed here will help you make sense of the cryptocurrency landscape. Whether you are a crypto beginner looking to understand the basics or a seasoned crypto investor seeking advanced strategies, these channels will cut through the clutter and help you build a more robust portfolio.
Without further ado, here are the 13 best crypto YouTube channels that should be on your radar.
13 Best Crypto Channels on YouTube
It feels strange to have a podcast at the top of the list of YouTube crypto channels, but the Unchained podcast channel on YouTube has some of the most insightful and thought-provoking interviews with founders and leaders from the crypto industry.
If you're looking for a YouTube channel that covers the crypto industry at large, then make sure you check out the Unchained channel. This is home to one of the largest crypto podcasts, the Unchained podcast, and a homebase to inform the public of the initiatives of journalist and author Laura Shin.
Laura is the creator and host of the Unchained podcast, as well as the host of Unchained's second crypto podcast The Chopping Block. During the past few years, the channel has featured some major discussions with huge names like Vitalik Buterin, Changpeng Zhao (CZ), the Winklevoss Twins, and many more.
The crypto industry moves extremely fast and there is always a new story to tell each and every day. Unchained is one of the top crypto YouTube channels for consistent and informative output. After tuning in for a few weeks, you'll start to realize that there aren't as many other channels that can match Unchained's pace, attention to detail, and resourcefulness.
Subscribers: 42,000+
Most Popular Video: Interview with Chamath Palihapitiya: Why Bitcoin Will Be 'the Category Winner'
Subscribe to the Unchained YouTube Channel
Recommended Videos from Unchained
Recommended reading: Top 22 Cryptocurrency Podcasts
Andreas Antonopoulos is one of the most sought-after experts in bitcoin and open blockchain technologies. His books, The Internet of Money (3 volumes) and Mastering Bitcoin, are must-read books for crypto beginners and enthusiasts alike.
In 2012, when Bitcoin was still in its infancy, Antonopoulos left his job as a freelance consultant and became a full-time Bitcoin advocate by speaking at conferences and writing articles about Bitcoin. He has since invested in several bitcoin-related startups.
Andreas Antonopoulos' YouTube channel is the place to find free, unbiased educational videos on bitcoin and blockchain. Antonopoulos has a knack for breaking down complex blockchain topics into easy-to-understand concepts for his audience. He highlights both the positive and negative impacts blockchain technologies can have on our society.
If you'd like to learn the basics of bitcoin, cryptocurrency, and blockchain, then Andreas Antonopoulos' YouTube channel is a must-follow.
Subscribers: 318,000+
Most Popular Video: Introduction to Bitcoin: What is Bitcoin and Why Does it Matter?
Subscribe to Andreas Antonopoulos' YouTube Channel
Recommended Videos from Andreas Antonopoulos' Channel
With over 2 million subscribers, the Coin Bureau YouTube channel is one of the most popular cryptocurrency channels on the platform.
Coin Bureau was launched by a person who goes by the pseudonym of "Guy" with an intent to provide the best educational blockchain content on the web. Fast forward to today, Coin Bureau has a thriving community of millions of followers for their blog, YouTube channel, and a secret Coin Bureau Insider Group on Telegram.
The Coin Bureau YouTube channel covers informational videos on all the popular cryptocurrencies and the latest breaking news stories and trends in the world of blockchain.
If you're new to cryptocurrency, their guide to cryptocurrency for beginners is a must-watch. In addition, the channel doesn't shy away from promoting other crypto YouTubers. Check out their list of top crypto YouTube channels to learn about all the crypto influencers you should follow on the platform.
If you'd like to master the basics of blockchain and learn best practices for investing and trading cryptocurrencies, Coin Bureau is one of the best crypto YouTube channels you can subscribe to.
Subscribers: 2 million+
Most Popular Video: Explain Crypto to Complete Beginners
Recommended Videos from Coin Bureau
While many websites and channels discuss cryptocurrency in the form of memes and clickbait headlines, Benjamin Cowen's videos are steeped in technical analysis.
With a background in Computational Mathematics and Programming, Cowen approaches cryptocurrency from a technical perspective and provides insights to those who'd like to dive deeper into the metrics that are driving the crypto market. His channel is best suited for people who have a deeper understanding of how crypto works.
With over 750,000 subscribers, Cowen's channel covers price predictions for different cryptocurrencies from a technical analysis standpoint, highlights key milestones for popular cryptocurrencies like bitcoin and ethereum, and predicts the worst-case scenarios for these coins. His video on likely possibilities for a worst-case scenario for bitcoin is a must-watch.
While Cowen does explore altcoins from time to time, his videos are mostly focused on bitcoin and ethereum. So if you're a long-term investor in these digital coins or a technical crypto trader, Cowen's channel should definitely be on your radar.
Subscribers: 750,000+
Most Popular Video: A Bitcoin Discussion With Michael Saylor
Subscribe to Benjamin Cowen's YouTube Channel
Recommended Videos from Benjamin Cowen's Channel
Ben Armstrong (better known as BitBoy Crypto) is one of the most outspoken voices in the cryptoverse. On his channel, he covers the latest crypto news, project reviews, and offers cryptocurrency trading advice.
Whether you want to learn about cryptocurrency and bitcoin market cycles or keep your pulse on the latest cryptocurrency news and trends, this crypto channel has all the content you need to level up your cryptocurrency knowledge.
With almost 1.5 million subscribers on YouTube, BitBoy Crypto is one of the most popular and fastest growing channels on the platform. It's the best place to learn the basics and latest trends in blockchain and step up your crypto investment game.
Subscribers: 1.45 million+
Most Popular Video: Top 3 Coins to $3 Million
Recommended Videos from BitBoyCrypto
Anthony Pompliano, aka Pomp, is an entrepreneur, investor, and host of the popular cryptocurrency podcast, The Pomp Podcast. On his channel, he posts his podcast interviews and personal opinions, focusing on bitcoin in particular and the blockchain technology in general.
Over the years, Pompliano has interviewed several prominent crypto entrepreneurs, investors, and blockchain innovators, including billionaire crypto enthusiasts like Mark Cuban and Chamath Palihapitiya, Shark Tank investor Kevin O'Leary, retired army general Tony Thomas, bestselling author Robert Kiyosaki, among others.
An interesting side note — Pompliano and BitBoy Crypto (see #5) disagree on some fundamental points when it comes to crypto trading and they have engaged in some verbal back-and-forth over the years. A few months ago, Pompliano invited BitBoy Crypto to his podcast to clear the air. You can watch the full interview here; it's definitely worth checking out.
Subscribers: 390,000+
Most Popular Video: Billionaire Chamath Palihapitiya on How to Invest in this Crisis
Subscribe to Anthony Pompliano's YouTube Channel
Recommended Videos from Anthony Pompliano's Channel
Recommended reading: 85+ Best Business Books for Entrepreneurs
Hashoshi is a crypto influencer, whose podcast Crypto Over Coffee is one of the top-rated cryptocurrency podcasts on the internet. On his podcast, he educates his listeners about the latest innovations in blockchain, cryptocurrency, and emerging technology. This aspect is extended to his YouTube channel as well, which is much more than your run-of-the-mill podcast YouTube channel.
Hashoshi's channel focuses on providing the best knowledge you need as a crypto investor, enthusiast, or a career blockchain professional. You'll learn about how the latest crypto platforms work, how to build a robust crypto portfolio, and the mechanics of blockchain technology.
In addition, you'll also find product reviews and tutorials to help you protect your cryptos and strengthen your personal cybersecurity. His in-depth review of hardware wallet Ledger Nano X, for example, is one of the most-watched videos on his channel and helps you make an informed decision whether or not to invest in this crypto wallet. You should definitely add it to your watchlist if you're serious about buying this hugely-popular hardware wallet.
Subscribers: 168,000+
Most Popular Video: Ledger Nano X Review After One Year
Subscribe to Hashoshi's YouTube Channel
Recommended Videos from Hashoshi's Channel
Cryptocurrency is one space where you need to keep yourself up-to-date with the latest updates, regulations, and price movements.
While there are several cryptocurrency news sites out there covering these things, you need someone who has a deep understanding of the blockchain technology to contextualize these stories. Digital Asset News, run by Rob Wolff, is one such crypto channel you can count on to keep yourself informed about the latest crypto news.
In addition to covering the latest breaking news in the cryptosphere, Digital Asset News also holds regular livestreams and Q&A sessions to answer your most pressing cryptocurrency questions. Occasionally, Rob also reveals his investment strategies and interviews prominent crypto leaders and influencers to discuss the current state of the market.
Subscribers: 325,000+
Most Popular Video: Economist Reveals Horrific Future Economy
Subscribe to Digital Asset News
Recommended Videos from Digital Asset News
If you'd like to learn more about decentralized finance (DeFi) and how different DeFi protocols work, Finematics is the channel for you. Started by Jakub Hruby, a software engineer passionate about decentralized finance and cryptocurrencies, the channel deconstructs DeFi and makes it easier for you to understand this complex new technology.
While many believe DeFi is the future of finance, it can be quite overwhelming for crypto newcomers to understand this financial technology. It relies heavily on ethereum, cryptography, blockchain, and smart contracts.
Which is why you need an expert with deep knowledge of blockchain to unravel these concepts for you. If you're just getting acquainted with DeFi, I'd highly recommend you watch Finematics' video on guide to DeFi and read this accompanying article.
In addition to DeFi, Finematics also does a great job explaining the basics of other cryptocurrencies, key blockchain concepts, NFTs, and more.
Subscribers: 330,000+
Most Popular Video: How Do Liquidity Pools Work?
Recommended Videos from Finematics
Crypto Casey, run by blockchain technology expert Casey Leigh Henry, is one of the best crypto education channels on YouTube. Her channel focuses on breaking down complex concepts and processes related to crypto and finance that are easy to understand.
Whether you're a newcomer who's interested in learning more about how bitcoin works or looking at cryptocurrency from an investment perspective, Casey's channel has all bases covered.
Crypto Casey's video on "How to Become a Millionaire in a Bear Market" is one of the best videos I've seen on investing in crypto markets. As Casey says, "Even though the bull markets feel good, it's the bear markets that will make you rich."
Her podcast, Cryptocurrency for Beginners, is also equally good; so if you like Casey's educational videos, do consider subscribing to her cryptocurrency podcast as well.
Subscribers: 360,000+
Most Popular Video: How to Buy Cryptocurrency for Beginners
Recommended Videos from Crypto Casey
Bob Loukas' channel is one of the best bitcoin YouTube channels for those who'd like to study market cycles. Loukas specializes in crypto market cycles and was the person who brought bitcoin's four-year cycles to everyone's attention. Indeed, if you watch Loukas' video on Bitcoin's four-year cycle from January 2019, you'll notice how spot-on he was about his key predictions.
When it comes to posting content on YouTube, Loukas focuses on quality rather than quantity. He is not as active as the other best crypto YouTubers on this list, but when he does publish a video, you can be sure it's deeply researched and informative.
His videos mostly focus on market cycles and what you should expect in terms of price and volatility in the next market cycle.
Subscribers: 100,000+
Most Popular Video: Bitcoin's 4 Year Cycle
Subscribe to Bob Loukas' YouTube Channel
Recommended Videos from Digital Asset News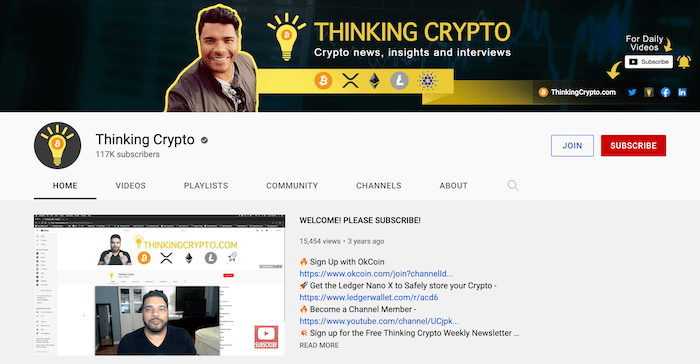 Tony Edward's Thinking Crypto channel covers the latest cryptocurrency news and analysis of cryptos and digital assets. Edward's channel is an extension of his hugely-popular crypto podcast of the same name, where he interviews thought leaders, entrepreneurs, and investors in the cryptocurrency space.
In addition to his podcast interviews, Edward also shares his views on the latest technological developments in the crypto space, crypto regulations, and political influence on crypto.
Subscribers: 117,000+
Most Popular Video: Brad Garlinghouse Interview – SEC Ripple Lawsuit, XRP, ODL, CBDCs, Bitcoin
Recommended Videos from Thinking Crypto
Founded by Steve Courtney, Crypto Crew University is best known for offering cryptocurrency courses. Courtney's YouTube channel has over 250,000 subscribers, where he deconstructs various cryptocurrency trends, technologies, and breakthroughs.
The channel also offers investment advice to help guide your crypto portfolio and answers some of the most frequently asked questions on cryptocurrency. For example, in one of his most-watched videos, Courtney answers the often-asked question regarding the best time to sell your cryptocurrency and maximize your profits.
If you'd like to make informed decisions about investing in a variety of cryptocurrencies, Crypto Crew University is just what you're looking for.
Subscribers: 250,000+
Most Popular Video: When to Sell Cryptocurrency – 3 Simple Steps
Subscribe to Crypto Crew University
Recommended Videos from Crypto Crew University
Final Thoughts
So that wraps up my list of best crypto channels on YouTube. Like I said at the start of this article, when it comes to cryptocurrency, you need to be mindful of what you add to your list of subscribed channels. That said, I'm sure I may have left out a few creators who deserve to be on this list.
This is where I'll need your help — share some of your best cryptocurrency YouTube channels in the comments section below and state the reasons why you think they should be included on this list (if they aren't already there.)
If you found this article useful, please share it on Twitter using the link below:
Related Articles