Online marketers, especially those handling multiple accounts, are all too familiar with the tedious process of setting up and running campaigns in online advertising.
This continuous cycle involves extensive research, intricate design work, and in-depth analysis. As long as there's a budget in place, the demands of these tasks seem never-ending.
However, just as seasoned sailors rely on modern navigation tools to make their voyages manageable, marketers have a treasure trove of online advertising and ad intelligence tools at their disposal.
In this article, we feature 17 of the most dependable online advertising tools you can use for running PPC campaigns. We break it down to phases, starting off with:
Keyword and Competitor Research Tools
Crucial to the setup is getting a grasp of the market, and that includes your audience and competitors. The more you know about your customers, the easier it becomes to reach them. This makes keyword research crucial and worthy of some focus and time before starting any campaign. Likewise, the more you know about your competitors, the better you get at outperforming them.
Semrush is an exceptional partner in building PPC campaigns with its powerful keyword research tools. Starting at $129.95 a month, the platform makes it easy to examine your competitors' strategy and compare it to yours.
The best way to use Semrush for PPC is by using the data the Advertising Research Tool provides to get ahead of your advertising competitors. Using keywords you plan on targeting, you can discover competitors and study how they're incorporating those keywords into their ad copies.
If you need ideas on keywords to target, the Keyword Magic Tool can generate keyword ideas by monthly search volume, search difficulty, cost-per-click data, and even competitive density.
The Domain Overview feature on Semrush is also great to use if you're starting off with a list of your competitors' websites. This feature can provide you paid traffic data on any domain, which can allow you to understand where you have a chance of outdoing them in terms of paid advertising.
Another noteworthy online advertising tool within the Semrush platform is BuzzGuru — an all-in-one influencer marketing platform that helps brands manage their entire influencer marketing campaign cycle in one place. It offers a variety of features, including competitor intelligence, influencer discovery, reporting and analysis, and campaign management.
With BuzzGuru's competitor intelligence feature, you can evaluate your competitors' ad campaign budgets, perform market and trends analysis, and discover the influencers that leading brands work with. You can also learn about the preferred dates and time of promotion, and discover videos promoting or mentioning a particular website, app, or game.
Price: Starts at $129.95/mo
Get 2-week free access to Semrush Pro ($65 value)
Note: BuzzGuru is a part of the Semrush App Center. It costs $169/mo. Each app, plugin, and extension within the App Center is hand-picked by the Semrush team. The products are designed to seamlessly integrate with other Semrush services.
Related: Semrush vs Moz: Which is the Best SEO tool?
Another tool you may consider for competitor research is SpyFu. Starting at $39 per month, you can run queries on the platform and gain a preview of your competitors' paid advertising strategy.
Similar to Semrush, SpyFu allows you to see a list of keywords your competitors are targeting, as well as the various ads they're running.
A great feature in SpyFu is its PPC Ad Rank Tracker, which intelligently shows you ranking progress and impression share on your most effective keywords. Using this data, you can get actionable insights and focus only on the ads that are bringing in results, which can help you spend your ad budget more effectively.
Price: Starts at $39/mo
Related: SpyFu vs Which Competitor Analysis Tool is Better?
Google has a free keyword research tool that allows you to understand what your market is searching for. The Google Keyword Planner is free to use, and you can access it just by creating a Google Ads account.
There are two ways you can use the Google Keyword Planner, which are:
Find keywords: Enter words, phrases, or a URL related to your business and get keyword ideas that can help you reach your potential market;

Get search volume and forecasts:

See historical metrics for keywords you wish to target, as well forecasts for how they might perform in the future.
Both options take you to the Keyword Plan where you can filter suggestion results by language and even down to a particular town. In our opinion, the Google Keyword Planner's strength is being a handy keyword research tool if you're looking to run area-specific campaigns. Check out the article we wrote on maximizing this powerful tool in creating effective campaigns on Google Ads.
Price: Free
Last on the research tools list is Ahrefs, a paid toolset that starts at $99 a month, is mostly used for SEO, but is also a great aid for understanding your market's language. The platform stores tons of industry data and presents them in a neat and accessible user interface.
In our post on using the Google Keyword Planner to create effective ads, we also point out how low budget campaigns can fare better with the use of long-tailed keywords. With keywords composed of four words or more, you can target subtopics in your niche and improve your ads' chances of appearing in related searches.
Ahrefs has a feature called the Keyword Explorer, where you can type in a parent topic and generate a list of long-tailed keyword ideas from over 5 search engines, including YouTube, Bing, Yahoo, Amazon, Yandex, and Baidu.
Price: Starts at $99/mo
Related: SEO Tools Showdown: Semrush vs Ahrefs vs Moz Pro vs SpyFu
Ad Creation Tools
Once you've figured out how your market is looking for your products or services through keyword and competitor research, it's time to grab their attention with stunning ads that speak to them. For a small team, hiring a graphic designer for this task may be too costly. Luckily, a number of web-based solutions are available nowadays, and the ones we're about to feature have free-to-use versions.
Canva is a web-based tool you can use to easily create striking display ads. While it's free to use with limited templates and features, the pro version starting at $9.95 per month allows you to resize your creations to any format – perfect if you're looking to A/B test different ad sizes.
The best thing about Canva is that it helps you produce professional material in less time, and with less costs. Its web ads templates include sizes for Facebook, as well as skyscraper, rectangle, and leaderboard sizes for Google Ads. The templates are already very customizable in the free version, and you can upload your own assets for branded campaigns.
Price: Free; $9.95/mo for the pro version
Smart Ads Creator is a free design tool from online advertising advisor, WordStream. It's completely free and quickly creates display ads for you from grabbing copy, colors, and images from a landing page you provide.
If you need to do a little more tweaking to the tool's initial output, it allows you to upload more images and customize text, colors, and element positions. However, where it really proves itself as a timesaver is in its capability to automatically build ads for you in seven different standard sizes on the Google Display Network.
If you ask any graphic designer, it's the manual resizing of assets that can take up so much time. Smart Ads Creator takes care of that, so you can focus on creating ads that attract.
Price: Free
Last on the designing tools list is Crello, a graphic design software featuring pre-made image and video templates for advertising on social media. The premium version is priced at $81 per year and includes over 25,000 professional looking templates, plus the capability to add your own brand elements to your creations.
Crello was created by Depositphotos, so the platform also comes with more than 60 million stock images you can use for your designs. If you use a lot of videos for advertising, its intuitive video editor allows you to cut a huge chunk of time usually spent editing promotional videos. It comes with video templates in various sizes, so you don't have to manually readjust like you would on a traditional video editing platform.
Price: Free; $9.99/mo for the pro plan (when priced monthly)
Landing Page Builders
Majority of advertisers waste their time and money on PPC because they can create ads that catch attention, but not landing pages that convert. How you structure your landing pages largely influence your conversion rates, hence it's crucial to put thought into building them, and customize them for each audience you are targeting. Here are landing page builders that can make all that work a breeze.
Instapage is a leading landing page builder that helps marketers create more relevant advertising with less effort. It allows anyone, without any background in design or coding, to create professional sales pages and A/B test them regularly. Instapage offers a free trial and starts at $99 a month.
Overall, it's the ease of use that Instapage provides that makes it worth adding to your PPC toolkit. Its elegant and intuitive visual editor is a top feature for most of its users, as well as its use case page templates. Pages you can create in Instapage are also fully customizable, and can be integrated without the need for coding to any software you might be already using.
Price: Starts at $99/mo (Sign up for a 14-day free trial)
Related: Instapage Review: Landing Page Software for Agencies and Bloggers
Similar to Instapage is Unbounce, a landing page platform of choice for marketers for its ease of use. It has received praise from various agencies for becoming an indispensable tool in their PPC toolkit, offering value for money with its paid version starting at only $79 a month.
Like Instapage, Unbounce also boasts an intuitive drag-and-drop editor and over 100 use case templates. It's also easy to integrate it with email platforms such as Mailchimp and AWeber, and analytics tools like Google Analytics. Given that Unbounce is more affordable than Instapage, it's a good choice to go for if you're a marketer who doesn't need to collaborate with a team when creating campaigns.
Price: Starts at $79/mo
HubSpot has developed a variety of tools for marketing and sales, including a landing page tool packed with additional features to help you convert more customers. Its cheapest tier starts at $50 a month and already includes the landing page tool along with other features.
HubSpot has been a known leader in creating marketing solutions, hence, offering products that are versatile and cost-efficient. The starting tier is packed with capabilities such as email marketing, a simple CRM tool, analytics, and social media tracking – making it a powerful and complete tool for bigger teams looking for an all-in-one platform.
Because HubSpot is packed with so many features, it can admittedly be hard to navigate for beginners. HubSpot has thought this through by providing a good deal of resources and prompt customer service, which is another plus to using this great platform.
Price: Starts at $50/mo
Related: 15 Free HubSpot Tools and Resources Every Marketer Should Be Using
Last in the post-click support tools list is Leadpages, another favorite among marketers for building landing pages that capture and convert. It's the cheapest option among all the landing page builders we featured, starting at only $25 per month for its Standard plan.
Like the others, Leadpages provides everything you need in a landing page builder, such as a visual editor, plugins, and over 100 use case templates. Although its templates look less professional compared to the ones in Instapage and Unbounce, it's a no-fuss builder, which is a great option if you only need a landing page and already use other platforms for analytics and CRM.
Price: Starts at $25/mo
Related: 7 Best Landing Page Builders to Increase Conversions
Reporting Automation Tools
Last, but definitely also a phase you want to do right, is analyzing your campaign's performance. Marketers usually manage ad campaigns on various platforms, hence reporting and campaign management can be time-consuming. The following tools can aggregate all the information needed for reports and analysis, which can cut a significant amount of time usually spent on this last part of the PPC advertising cycle.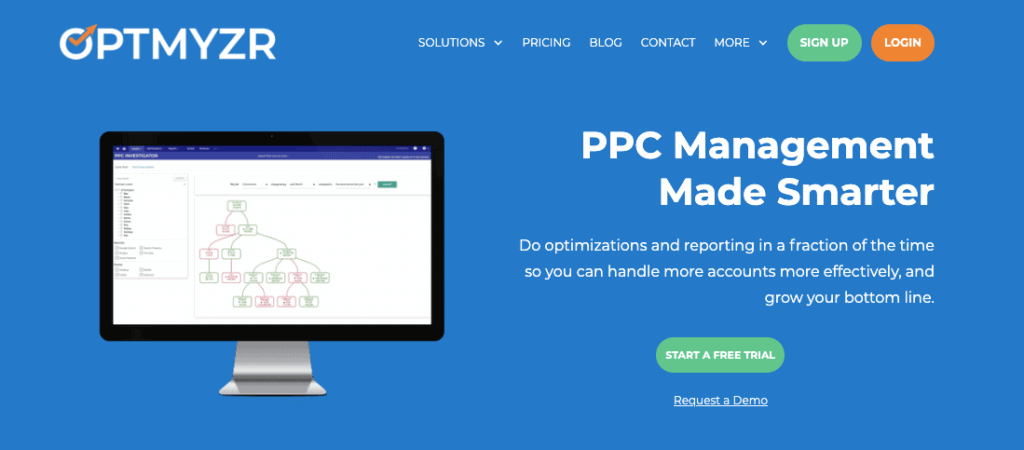 Whether you manage campaigns for multiple clients or handle your own, Optmyzr is a PPC management tool that makes staying on top of all your campaigns way easier. It offers 3 pricing plans that start at $499 per month, which allows you to access all its core features, automations, as well as connect up to 25 ad accounts.
Optmyzr was awarded Best PPC Management Software Suite at the 2018 U.S. Search Awards, and it's no surprise with the platform's ability to provide an in-depth evaluation of your campaigns on a weekly and monthly basis.
One key feature is its ability to provide useful information to optimize an ad account. On top of that, it can track a campaign's quality score over time, allowing you to understand which parts of your optimization contributed to improvements in campaign performance.
Price: Starts at $499/mo
Another tool that can aid analyzing campaign performance is Reporting Ninja, an easy-to-use PPC reporting tool that allows you to create custom reports and dashboards for Google Ads, Bing, Facebook, Instagram, and more. It offers 4 paid plans, starting at $20 per month, which allows you to generate up to 10 reports, as well as add up to 4 account managers.
Reporting Ninja allows full customization of your reports with its editable templates and extensive widget library. Simply drag and drop blocks of information you need on the report editor to create reports for a client, or for you to analyze with ease.
Besides the widget library, you can also create your own metrics, charts, and apply custom filters that allows you to gain insight from figures that may not be available on your selected ad platform's reporting dashboard.
Price: Starts at $20/mo
Another tool great for marketers who manage multiple ad campaigns is Marin, a PPC management solution made for managing bids in campaigns with thousands of keywords. While it offers a free trial, the paid subscription starts at $499 per month and features predictive bidding, customizable reports, and cross-channel analytics.
Marketers work with Marin for its three main features: the search feature, social feature, and display feature. This versatility allows you to aggregate all kinds of campaigns into one dashboard, making it easy to see which channels are performing better and track your spending each.
Its most compelling capability is its automated bidding, which is useful for campaigns where each penny adds up to thousands. This allows you to take care of other things, assured that your ads attract conversions at the best possible CPA.
Price: Starts at $499/mo

Supermetrics is an elegant one-stop solution for aggregating all your data into one place. With its Data Grabber starting at $19 a month, you can cut down a huge chunk of your time creating reports from data collected by different platforms, and see all you need in one Excel sheet.
The best part about Supermetrics is its flexibility – it offers separate products you can integrate with various data sources such as Google Sheets, BigQuery, and Google Data Studio. Additionally, in saying "all your marketing metrics in one place", they really mean all, as in your PPC, SEO, and social data.
Price: Starts at $19/mo
Related: Supermetrics Review: Reporting Automation Tool for SEO, PPC, and Analytics
Like Supermetrics, Adstage is a data collection aid that can save marketers countless hours pulling and preparing data in spreadsheets. It also offers a variety of products that allow you to only pay for what you need, as well as product bundles if you need a suite of features to help you with managing your campaigns.
Adstage works incredibly for marketers who need to stay on top of a lot of campaigns. It makes reporting easy, and even allows automation for data sourcing. Although it's fairly new in the market, it keeps up by offering integrations with modern data collecting platforms, such as Google Sheets and Data Studio.
Price: Starts at $119/mo
If you need an analytics tool that's free, easy to use, but packs powerful features, Google Analytics is always available. Although it's not possible to manage a campaign from the platform itself, it does provide a lot of tracking features that can help you run a detailed assessment of your PPC campaign's performance, such as referral source and keyword tracking.
Price: Free
Over To You
Because online advertising can require creativity from planning to execution, simplifying your work process with tools can be greatly beneficial, as it can free up a lot of the time you spend 'doing' when you should be improving. Try taking a look at which tasks in online advertising are taking up most of your time and see if any of the tools we've featured work for you and your team.
Editor's Note: This article was first published on 21 February 2020 and has been updated regularly since then for relevance, freshness, and comprehensiveness.
Related Articles