Founded by Dharmesh Shah and Brian Halligan in 2005, HubSpot is a marketing, sales, and customer service platform that helps companies grow better.
Over the last few years, HubSpot has developed a plethora of tools and resources to help marketers and entrepreneurs run successful inbound marketing campaigns. What most marketers don't realize is that many of these tools and resources are free with no strings attached.
In this article, we have listed down 15 free HubSpot tools and resources that will help you drive more traffic and get more conversions.
15 Best HubSpot Tools and Resources (That Are 100% Free)
A buyer persona is a semi-fictional representation of your ideal customer based on market research and real data about your existing customers.
Buyer personas provide structure and context for your business, making it easier to map out content, allocate your time and resources, and achieve alignment across your organization.
When creating your buyer persona, you need to consider factors like customer demographics, age, education, industry, goals, and so on.
HubSpot's free "Make a Buyer Persona" tool simplifies the process by helping you create a buyer persona for your brand through a 7-step process. Just answer a set of questions about your target audience to arrive at a buyer persona you can use to market your products or services in an efficient way.
Once your buyer persona is generated, you can download a PDF version of the data to access it anytime you want.
Click here to create your Buyer Persona
Website is a free SEO tool developed by HubSpot which grades your website on key SEO metrics — from site speed to mobile friendliness to security.
Website Grader also provides actionable tips on how to improve your website's performance to help it rank better in search results.
Click here to grade your website
Blog Ideas Generator is a free content marketing tool created by HubSpot to help you with ideas for your next blog post.
You can enter up to five different topics in the search box and hit the "Give Me Blog Ideas" button to generate 250 blog ideas for the topics you've entered.
Once the tool has generated blog ideas, you can download the same as a spreadsheet and refer to it whenever you're in need of new ideas.
Click here to generate blog ideas
Having a CRM for your business can help you easily keep track of your contact data, segment your customers, and scale your sales process. According to Salesforce, the use of a CRM can increase sales by up to 29%.
If you're looking for an efficient CRM system that costs nothing, then HubSpot CRM is the solution you should go for. It has everything you need to organize, track, and nurture your leads and customers.
With HubSpot CRM, you can get an up-to-the-minute view of your entire sales funnel on a visual dashboard, track customer interactions automatically, and see everything about a lead in one place. The best part is is that it's 100% free.
If you're looking to build a robust inbound marketing strategy for your company, then this free inbound marketing course by HubSpot is the perfect place to begin learning all things inbound marketing.
This certification course covers inbound marketing techniques that range from content creation to social promotion to converting and nurturing leads and beyond. Trust me: it's totally worth your time.
Sign up for HubSpot's Inbound Marketing Course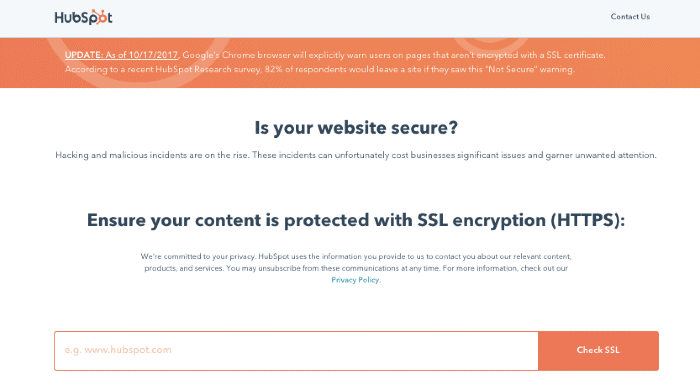 Since July 2018, Google's Chrome browser has been marking all non-HTTPS sites as "Not Secure." According to a recent HubSpot Research survey, 82% of respondents would leave a site if they saw this "Not Secure" warning. So having an SSL certificate installed on your website is an absolute must, not just for security, but also for bolstering your site's visibility in Google search results.
HubSpot's free SSL Checker lets you check the SSL security certificate status of your website. Just type your domain in the search box and hit the "Check SSL" button to check whether your website is safe and secure.
Click here to use SSL Checker by HubSpot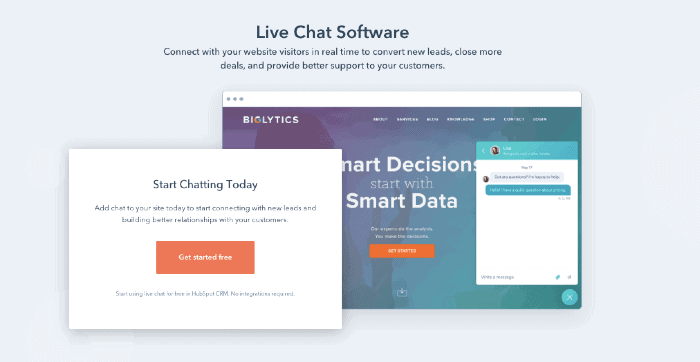 High-quality customer service is a key factor in delivering a positive user experience. By adding a live chat feature to your website, you can help drastically improve your customer support quality and give your business a competitive advantage.
HubSpot's free live chat software allows you to connect with your website visitors in real time to convert new leads, close more deals, and provide better support to your customers.
You can easily customize your chat widget to match the look and feel of your brand, and create targeted welcome messages for different webpages or segments of your audience.
Get started with HubSpot Live Chat for free
HubSpot is known for creating remarkable content on their blog. The company has used blogging as a long-term strategy to rank at #1 on Google for all the important keywords in marketing and sales. In fact, a significant portion of HubSpot customers first learn about the brand and their products through their blog. Most often, these visitors land on the HubSpot blog by searching for something on Google.
If you want to learn the secret behind HubSpot's strategy to rank high in Google search results, then this free tutorial is for you.
In this tutorial, you'll learn about the top 3 blog SEO tactics HubSpot uses to rank in search. You'll learn all about building topical relevance, optimizing your blog content for Google's featured snippet, and implementing a process called historical optimization to rank for target topics using blog posts you've already written and published.
Click here to sign up for HubSpot's Google SEO Tutorial
Chatbots have completely changed the landscape of customer support in the last few years. Outgrow predicts 80% of businesses will have some sort of chatbot automation by 2020.
You can create your own chatbot by using HubSpot's free Chatbot Builder. With HubSpot's chatbot builder, you can build chatbots to book meetings, provide answers to common customer support questions, qualify leads, and more.
HubSpot's Chatbot Builder is integrated with HubSpot's free CRM tool, which means your bots can deliver more personalized messages based on information you already have about your contacts.
Click here to create your own chatbot with HubSpot's free chatbot builder
Additional resource: 8 Best Chatbot Platform Tools to Build Chatbots for Your Business
HubSpot's WordPress plugin brings the power of HubSpot's Growth Platform to WordPress. This free plugin includes lead capture tools like forms, popups, live chat, and an integrated free contact database (CRM).
By adding this plugin to your WordPress site, you'll get access to HubSpot's free CRM, marketing, sales, and customer service tools, as well as free courses within the HubSpot Academy.
Download the free HubSpot WordPress plugin
Link building continues to be a critical factor in ranking high in Google search results.
HubSpot's free link building tutorial will teach you the basics of link building. You'll learn why link building is important for SEO, how to calculate the number of links your web page needs to rank on page one of Google, and how to build links at scale by building meaningful relationships with the right people that will lead to more links over time.
You'll also learn how to implement a key link building tactic step-by-step.
Click here to sign up for HubSpot's Link Building Tutorial
HubSpot's marketing plan generator helps you outline your annual marketing strategy and identify your most important initiatives, and track the right metrics all year long.
All you need to do is answer a few questions about your marketing goals and you'll receive a 12-month marketing plan within minutes.
Click here to generate your marketing plan
Conversion-optimized email signatures are an excellent way to generate more brand awareness, increase registrations for an upcoming event or webinar, and let customers know about your offerings and pricing plans.
HubSpot's Email Signature Generator allows you to create a conversion-optimized email signature to help you meet your marketing goals.
The email signature created via this tool works with HubSpot, Gmail, Outlook, Apple Mail, Yahoo Mail, and more.
Create your free email signature
HubSpot's collection of 45 free, designer-approved professional templates can help simplify your life and win more deals.
From startup business plan to organizational chart to marketing proposal, these business templates will help you save time and make you more productive.
Click here to access these free business templates
Need help creating professional invoices for your customers? HubSpot's free invoice generator can help.
All you need to do is fill in your business details in the invoice template to create a professional invoice for your customers.
Additionally, you can download 10 free invoice templates created by HubSpot to meet all of your invoicing needs. The templates are fully editable and can be downloaded as a PDF to send off to your customers.
Click here to use HubSpot's Invoice Generator
Final Thoughts
Now that you are aware of all the free tools HubSpot has to offer, it's time to start using them to see if they provide real value to your business.
If you found this article useful, please consider sharing it on Twitter using the link below:
Related Articles