Setting goals and targets for your business and measuring them is key to effective social media marketing. Without specific goals and targets, it's hard to understand how well your social media strategy is performing.
In this article, we'll share 5 social media goals which you can set for your business to achieve great success in social media. For each of these goals, we'll also reveal which metrics to track and share how to measure the results.
5 Social Media Goals for Your Business (And How to Track Them)
#1 Drive traffic to your website
Traffic from social media – How much of your traffic is coming from social media?

Bounce rate of social media traffic – What is the quality of the traffic from social media?

Clicks on your social media posts – How well is the messaging of your social media posts?
How to Measure Traffic to Your Website
We recommend using 
Google Analytics
, which provides you with information about your website or blog traffic from various traffic sources, including social media.
To see the traffic your get from your social media channels, go to Acquisition > All Traffic > Channel.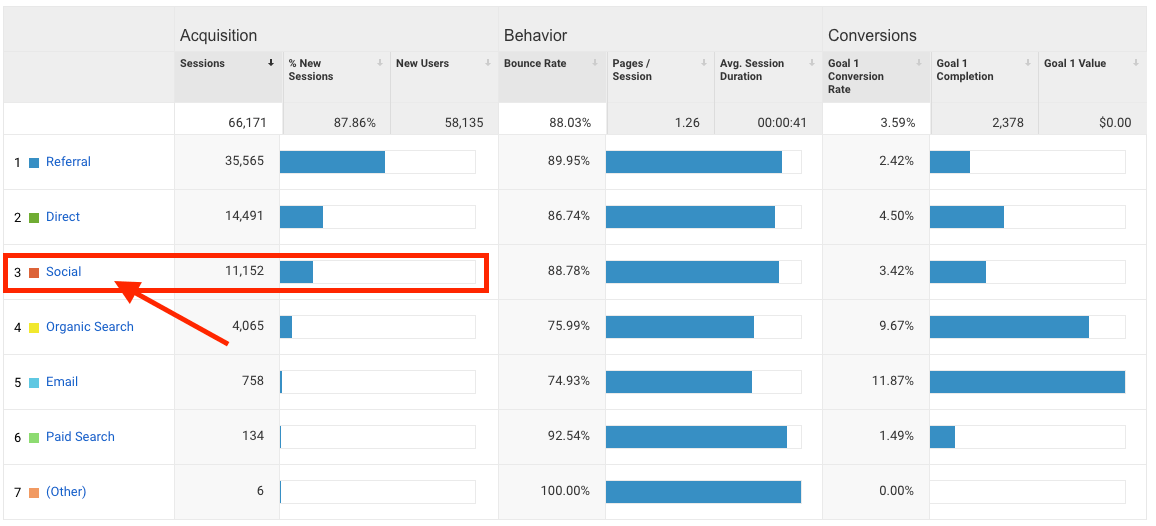 This view shows you the number of visits from each channel, the share of overall traffic (the percentage in brackets), the bounce rate, and more.
If you want to see which social media channel is getting you the highest volume of traffic, you can break this data down even further in by clicking on the 'Social' link and seeing which platforms are driving traffic.
#2 Increase Brand Awareness
According to Buffer's State of Social Media 2016 survey, brand awareness is the #1 reason why marketers use social media.
It's easy to understand why: the average person spend nearly two hours (approximately 116 minutes) on social media everyday. Here's an infographic designed by MediaKix which shows the time spent by people across the most popular social media platforms.

TL;DR – Social media is one of the best places to grab consumers' attention.
Social media has also enabled marketers to have a more quantitative understanding of their brand's presence and reach in the online world. And now most social media platforms provide data on the reach of your content, allowing you to report your online presence more accurately.
Metrics to Track
Followers count – How many people can you potentially reach on social media?

Reach of your social media posts – How many people do your posts reach each day/week/month?

Engagement (Mentions, likes, shares, and RTs) – How many people are talking about your brand or sharing your social media posts?
How to Track Brand Awareness
Most social media platforms provide native analytics which make tracking and reporting the above metrics easy for marketers.
If you use third-arty social media management tools such as 
Hootsuite
 or 
Buffer
, analytics and reporting can be more streamlined as you'll be able to view analytics for different social media platforms from one dashboard.
#3 Social Media Customer Service
Many brands are turning to social media to provide customer support. This trend is likely to continue in the coming years as well. Social media customer service is also a great way to differentiate your brands from others.
Metrics to Track
Response time – The time it takes for you to respond to your customers' queries. Facebook even has a badge for this!

Number of Support Questions – Is there really a demand for social media customer service for your brand?
How to Measure your Customer Support Effectiveness
If you don't have a high number of questions from customers on social media, you can manually track the number of questions and your response time. If you have a high volume of questions, then you are better off using a social media customer service tool such as 
Sparkcentral
 or 
Respond by Buffer
 to streamline your social media customer service.
#4 Generate Leads
Lead generation is typically used by companies with a long sales cycle, such as B2B companies. Social media can be a great tool for getting people to the top of your sales funnel.
 Metrics to Track
Personal information collected through social media (mostly email addresses) – How many leads have you collected through social media?
Downloads of your gated content – How many people visited from social media and downloaded your gated content?
Participation – How many people participated in your social media contest or events and shared their information with you?
Clicks on your lead-generation social media posts – How well is your messaging on those posts?
Conversions of leads from social media – How good are the leads from social media?
How to Track Social Media Lead Generation
Google Analytics allows you to set goals and effectively track social media lead generation. If you haven't yet set conversion goals on Google Analytics, here's a comprehensive guide to get started.
Once you've a conversion goal set up, to view reports, go to Acquisition > Social > Conversions. 
The conversion report will then show you how many leads your social media channels are bringing in and which channel is bringing in the most leads.
#5 Social Listening
Customers sharing their thoughts about products and brands on social media has become a common trend. By monitoring these conversations and responding to them, you can make your customers feel heard.
Metrics to Track
Customer conversations – How many conversations have you had with your customers on social media?
Suggestions or feedback from social media – How many suggestions are you getting from your customers on social media?
Product/content improvements made from those suggestions – How many of the suggestions influenced your product development or content production?
How to Effectively Perform Social Listening
Hootsuite is an excellent tool for social listening and research on Twitter. By setting up streams on Hootsuite, you can monitor keywords and conversations that are relevant to your business and respond to them in a timely manner. Check out this social media listening guide from Hootsuite to learn more about how you can implement social listening effectively for your business.
This article was originally published on Startup Cafe Digital's blog.
Related Articles