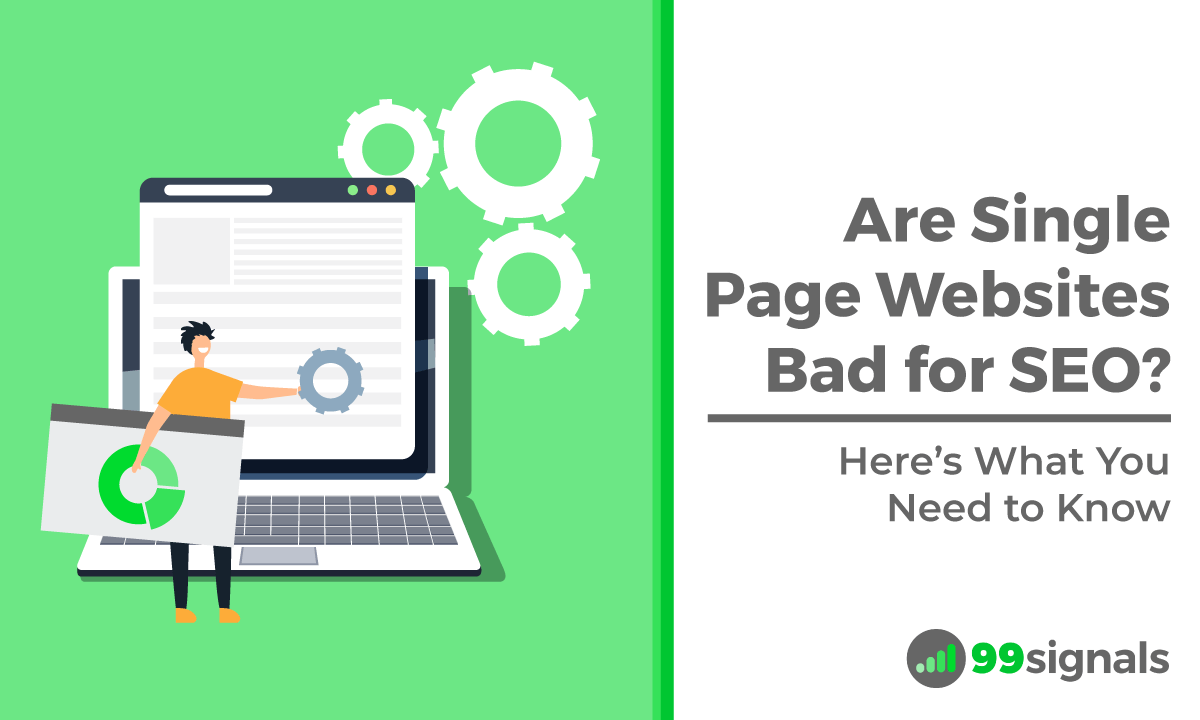 Single page websites are easy to create, great to look at, and fully responsive. More and more businesses are adopting the simplicity of single page websites over complex multi-page websites that take days to create.
But by doing this, are businesses hurting their chances of ranking higher than their competitors in search engine result pages (SERPs)?
In this article, we take an in-depth look at single page websites from an SEO perspective and weigh the various pros and cons of having a one page website.
Finally, we'll also share a few optimization tips which you can use to boost your single page website's SEO.
What are Single Page Websites?
Single page websites are websites that consist of just one HTML page and all the different sections of the site (about, products, contact, etc.) are featured on the same page.
A typical single page site has a menu bar on top, but the menu items are not linked to new content on new pages. Instead, these menu items take the user to particular sections of the website within the page itself.
In the next section, we'll reveal a few examples of exceptionally well-designed single page websites.
Best Single Page Websites
Before we explore the pros and cons of a single page website, let's take a look at a few examples of what a well-designed one page website looks like.
There are tons of single page websites on the web, but here's a small selection of the best single page websites:
Single Page Website: SEO Pros
Here are some of the benefits of having a single page website from an SEO standpoint:
1. Single page websites are more mobile-friendly
Mobile search has gradually taken over desktop search in the last few years, increasing the popularity of single page websites.
Single page websites look better on mobile, load faster, and provide a superior user experience.
Check out the above examples of single page websites on your mobile device and compare them with a typical multi-page site.
Single page websites are built for mobile which is the reason why so many mobile apps have one-page websites.
2. Single page websites are easier to build and maintain
There are tons of one page WordPress themes (free and paid) in the market which allow you to build a professionally-designed website in no time.
They take a fraction of the time and energy that's taken to build dynamic, multi-page websites. They can also be quickly updated and are easy to maintain.
3. Single page websites provide higher domain authority
Domain authority of a website is mostly determined by the number of backlinks the site has been able to generate.
This works to the advantage of single page websites as all the links acquired by the site point to the same URL, meaning there will always be a 1:1 ratio of links to pages.
4. Single page websites make it easier to target a specific audience
Single page websites are great for those looking to target a specific type of audience and provide them with a unique user experience.
This also allows you to easily control their behavior on your site and lead them in a specific direction.
In other words, you don't have to worry about them clicking on different pages in the wrong order.
Single Page Website: SEO Cons
Now let's look at some of the features that could potentially hurt your single page website's SEO:
1. The content on single page website lacks depth
One of the biggest drawbacks of having a single page website is that all your information needs to be presented on a single page.
You'll not be able to devote a separate page for each topic you'd like to cover.
This will invariably mean that the content you create will lack depth.
This might pose a problem for visitors who are looking for more in-depth content on your website on specific topics.
2. Your ability to rank for a wide variety of keywords is limited
Another drawback of a single page website is that you'll have to compromise on keyword rankings.
Single page websites are usually developed around one main concept.
In this scenario, your ability to rank for a wide variety of keywords within the concept is quite limited.
Single Page Websites Optimization Tips
Now that you're aware of the pros and cons of having a single page website, let's look at a few ways you can optimize your one page website for increased search traffic.
1. Be selective with your keywords
Because of the lack of content depth on a one page website, you need to be selective with the keywords you choose.
Do thorough keyword research using any of these tools and choose keywords you'd like to associate your business and offerings with.
Recommended reading: How to Use Semrush for Keyword Research: The Definitive Guide
2. Have multiple H1 tags on the page
As a rule, you should not have more than one H1 tag on a page. But you can treat single page websites as an exception to this rule as you're trying to pattern each section after multiple pages on a multi-page website.
As such, create H1 tags for each of the sections on your one page website.
3. Optimize page speed
Site speed is one of the most crucial search ranking signals and it is even more critical for single page websites as you're serving all kinds of elements and design layouts on a single HTML page.
Most of these elements may take a long time to load which may hurt your site's SEO.
As a result, keep checking your site speed regularly using Google PageSpeed Insights and follow these site speed optimization techniques.
Conclusion
Single page websites are not as good for SEO as multi-page websites. You need to consider your business goals and keep your buyer persona or target audience in mind when deciding to go for a single page website.
What are your thoughts on single page websites? Do you currently use one for your business? Do you think the one page website has impacted your SEO? Please share your thoughts in the comments section below.
If you liked this article, please share it on Twitter using the link below:
Editor's Note: This article was first published on March 23, 2018 and has been updated regularly since then for relevance and comprehensiveness. 
Related Articles