With so many marketing channels out there, you have to go smart about your marketing mix as you cannot target people across every single touchpoint.
From Twitter Spaces to micro-influencer targeting, we keep getting more and more platform options for reaching our audiences. But there's one good old channel that continues to bring immense benefits to any business — email marketing.
Email marketing is one of the few surefire ways to deliver your message and reach your customers in the most effective form:
From audience building and customer outreach to amplifying brand loyalty and propelling sales, email marketing should be the backbone of your marketing strategy.
But then comes the question of what's the best email marketing service. With tens of email service providers out there, I'll focus here on the three most popular email marketing platforms and stack them up against each other.
I've been a user of all three — Sendinblue, Mailchimp, and ConvertKit — for years now. On and off, I was testing and trying their features for managing our email marketing efforts at 99signals and Startup Cafe Digital, my digital marketing agency.
So armed with my own experience and knowledge of these three platforms, I'm ready to share my Sendinblue vs Mailchimp vs ConvertKit review!
Introduction: Sendinblue vs Mailchimp vs ConvertKit
Before we take a deep dive into the key features and differentiation points between the three services, let's have a brief intro.
Sendinblue started out as a transactional email provider but is now an all-in-one relationship marketing platform, featuring everything from email marketing to text message marketing management.
With a strong push towards automation and few basic CRM capabilities, it is one of the strongest solutions for SMBs and startups.
Get started with Sendinblue for free
Founded back in 2001, Mailchimp is a frontrunner among email marketing service providers. Having grown out of its email-only functionality, Mailchimp now positions itself as a full-service marketing platform, offering branding, ad placement, as well as website and domain hosting services.
ConvertKit has a strong inclination towards providing email marketing solutions for what it defines as creators — bloggers, YouTubers, podcasters, creative freelancers, etc.
With this strong targeting towards single creators, this is a great platform for those who need to manage their audience. If you have multiple subscriber lists, though, this might not be the right fit.
Get started with ConvertKit for free
Feature Comparison: Sendinblue vs Mailchimp vs ConvertKit
Through years of email marketing experience, I've pinpointed the key features that serve as make-or-break factors when choosing the best email marketing service:
List/subscriber management capabilities
Design & templates
Email marketing automation
Deliverability (very important!)
Analytics & reporting
In addition to these features, you'll also need to consider two other important aspects — customer support and pricing plans. I'll cover both these aspects in detail after the feature breakdown and comparison.
Without any further ado, let's see where each platform stands in regard to each of these features.
List/Subscriber Management Capabilities
When it comes to list management, we should really look more into Mailchimp and Sendinblue.
ConvertKit has some really intuitive list management features. For instance, you can segment and add tags based on various criteria (interests, activity, etc.) But, unfortunately, you can only add one list. So if you're managing multiple accounts (as is the case at my digital marketing agency), this comes as a huge disadvantage.
Both Mailchimp and Sendinblue have similar capabilities when it comes to list management, yet the biggest difference is in limits. Let's look at their differences under the free plan:
The sending limits are very close – 10,000 emails for Mailchimp and 9,000 for Sendinblue.
Mailchimp allows you to send out 2,000 emails at once, while Sendinblue limits you to 300 emails in one go. But this seemingly restricting feature is negated with its "Requeue" feature which lets you schedule emails for a sendout on consecutive days.
Sendinblue gives you unlimited storage, even under the free plan. Mailchimp, on the other hand, restricts you to adding 2,000 contacts. So if you're managing large contact lists, you will have to pay extra to keep working with Mailchimp.
Just like ConvertKit, the other two solutions allow you to easily segment your audience based on various factors (demographics, behavior, lead score, etc.) and automate workflows for adding contacts and new lists.
While feature-wise Mailchimp and Sendinblue are very similar, I personally find Sendinblue's workflows a bit more intuitive.
You can easily leverage dynamic personalization for subject lines, content, and even use some advanced features like attribute conditions. In Mailchimp, this is all possible through tagging.
Unlike Mailchimp, Sendinblue doesn't keep your contacts separate. It actually comes with no limitations to regrouping and contacts separation, which allows you to manage segments that span through multiple lists.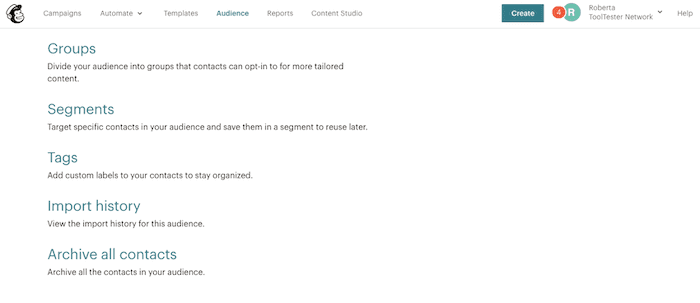 And, to be honest, Mailchimp's list management can seem quite confusing as they have groups, segments, and tags, and you can easily get something wrong unless you go through a certain learning curve.
Winner: Sendinblue
Design & Templates
Both Mailchimp and Sendinblue come with easy-to-use drag & drop builders that feature a plethora of email templates:
Mailchimp gives you access to over 100 pre-built email layouts and templates that are separated into themes: eCommerce, newsletters, holiday specials, etc.
The platform also has some blank templates that allow you to create your own layouts.
Sendinblue offers 60+ well-crafted email templates that are fully responsive. For designing a customized layout, you can use its HTML Email Editor and go all creative.
As usual, ConvertKit decided to go down the original path and offer a completely different design logic.
With the "go simple" philosophy at the heart of the solution (as they claim simple email layouts perform better than over-designed ones), ConvertKit only offers 3 basic email layouts that do support very minor customization options.
Without any drag & drop features, you can only build your own template using the HTML editor.
Winner: Tie between Sendinblue and Mailchimp
Email Marketing Automation
ConvertKit has the most advanced automation features. The platform has a "Sequences" feature that lets you create automated email workflows based on various criteria.
You can set up several triggers (added tags, purchase, etc) and connect them to actions (removed tag, added delay, list change, etc.), conditions (any if clauses), and events — all to create various kinds of automation sequences.
Sendinblue also has some strong automation capabilities.
The best part is that the platform allows you to create parallel workflows and connect them. In other words, once your contact goes through one workflow, they can immediately become a part of another workflow automatically.
Plus, you can add conditions so that your contacts get into the right workflow based on their actions without the need for your interference and management.
There are two other huge automation benefits to Sendinblue:
Ready-made sequences.
The option to send out an SMS as a part of your workflow.
When it comes to automation, Mailchimp, while intuitive, looks a little weaker than the other two contenders.
Just as Sendinblue, Mailchimp does support transactional email capabilities and features some of the basic triggers, but it is more limited in its automation power. You cannot set any if clauses and connect various sequences.
So if you're a newbie to email marketing, this automation level might be enough, but with time, you'll need more sophisticated sequences to successfully manage your efforts.
Winner: ConvertKit (and Sendinblue if you care about SMS campaigns)
Deliverability
With email marketing service providers, they can be as advanced and versatile as imaginable, but deliverability is a very, if not the most, important thing to factor in.
I personally never had any troubles with the reach and delivery rate of my email campaigns, whatever platform I work with, but research and data can tell us a bit more.
EmailToolTester runs regular tests for email deliverability across various service providers. And here's what we have as of March 2021 (according to the latest findings they published):
Emails sent via Mailchimp have both lower deliverability (87%) and higher chance (12.9%) to get into spam. So when it comes to these criteria, Mailchimp's performance could give you some food for thought.
Sendinblue and ConvertKit have superb deliverability rates of 96%.
Sendinblue is among the top three email marketing service providers that are least likely to get into spam.
So, in this regard, backed by hard numbers, Sendinblue would be a clear winner.
Winner: Sendinblue
Analytics & Reporting
ConvertKit comes with some very basic reporting power. You will only get to see your subscriber growth trend, average open rates, click rates, and emails sent on a welcome dashboard.
Sendinblue comes with much more advanced analytics features. With the option to connect your Google Analytics account, Sendinblue reflects all the key insights about your email marketing performance, giving you separate analytics for your SMS campaigns (a big advantage here).
Unlike Mailchimp, however, it doesn't return any social and conversion data.
Mailchimp features some of the most sophisticated analytics capabilities out there.
From industry averages to social stats, it has some top-notch integrations with third-party software (Salesforce and WooCommerce, for example) that can help you keep watch on email marketing ROI.
Winner: Mailchimp
Customer Support: Sendinblue vs Mailchimp vs ConvertKit
| | Sendinblue | Mailchimp | ConvertKit |
| --- | --- | --- | --- |
| Languages | English, French, Spanish, German, Portuguese, and Italian | English and Spanish | English |
| Email support | Under all plans | 24/7 for Essentials and higher plans | Under all plans: 8 AM to 8 PM ET, 5 days a week (limited support on evenings and weekends) |
| Phone support | Under Free & Lite: first 60 days; Always available for the upper-tier plans | Premium only | - |
| Live chat | Under Free & Lite: first 60 days; Always available for the upper-tier plans | 24/7 for Essentials and higher plans | Under all plans: 8 AM to 8 PM ET, 5 days a week (limited support on evenings and weekends) |
As it's already some sort of a gold standard, all the platforms feature some useful Knowledge Bases, Knowledge Centers, video tutorials, blogs, and so on. Sendinblue has even built a dedicated Sendinblue Academy that offers an email marketing certification.
But while online touchpoints can suffice for most, there's always that one time when you need to hear back from a human. And this is where the main differences lie.
Mailchimp looks unreachable unless you're on a higher-tier plan. This is a big disadvantage. As intuitive as the platform is, some help from customer support can go a long way, especially considering they are not the cheapest option in town.
Sendinblue and ConvertKit do way better when it comes to customer support. They both come with email support, and in my experience, they are pretty prompt in responses.
Sendinblue also offers phone support for those most critical first 60 days (on upper plans, it's unlimited), and the best part is that their support comes in various languages.
In its turn, ConvertKit helps you migrate from your previous email service provider.
Winner: Sendinblue
Pricing Comparison: Sendinblue vs Mailchimp vs ConvertKit
With email marketing platforms, pricing is generally based on one of two criteria:
You get unlimited contacts but are limited in the number of emails (Sendinblue);
You get unlimited emails but are limited in the number of contacts (Mailchimp and ConvertKit).
So the pricing will vary depending on either the size of your email list or the frequency of your communication.
As Mailchimp and ConvertKit's pricing is based on the same logic — they limit you in the number of contacts — let's first compare the two:
| | Mailchimp | ConvertKit |
| --- | --- | --- |
| 0-1K contacts | free | free |
| Up to 2K contacts | free | $49/mo |
| Up to 5K contacts | $52.99-$79.99/mo | $79-$111/mo |
| 10K contacts | $78.99-$299/mo | $119-$167/mo |
| 25K contacts | $200-$480/mo | $199-$279/mo |
| 50K contacts | $270-$640/mo | $379-$519/mo |
With Sendinblue, its pricing depends on the number of emails you send. So instead of focusing on contacts and emails, I'll just give a brief idea about its plans:
The free plan allows you to send 300 emails a day to an unlimited number of contacts. Maximum, you can send 9,000 emails a month.
The Lite plan lets you send from 10,000 to 100,000 emails a month, and the price ranges from $25 to $99 a month.
Its most popular Premium plan starts at $65 a month and goes all the way up to $599, allowing you to send up to 1,000,000 emails a month to any number of contacts.
It seems like Sendinblue would give a much better value per dollar spent. But once again, it really depends on your contact list size and your email volumes. In this case, I won't assign a winner — rather, I'll give you links to the three platforms' pricing pages to let you do the counting (they all come with handy price calculators):
Selecting the Best Email Marketing Service: Sendinblue vs Mailchimp vs ConvertKit
Out of the six criteria I've initially pinpointed (we're putting pricing aside), Sendinblue won in 4. So for me, the clear winner would be Sendinblue.
Mailchimp comes really close, but its deliverability is a big put-off because, at the end of the day, we all need our emails to be delivered. Although, if you need some advanced reporting capabilities, you should still consider this platform.
As for ConvertKit, I personally love the service — it's intuitive, easy to use, and has some pretty amazing automation features. So it could be perfect if you're only intending to manage a single subscriber list and don't have to deal with clients' email marketing activities.
In summary, here's our Sendinblue vs Mailchimp vs ConvertKit comparison table:
Ready to get started with one of these email marketing services? Below are links to register free accounts with Sendinblue, ConvertKit, and Mailchimp:
If you found this article useful, please share it on Twitter using the link below:
Related Articles