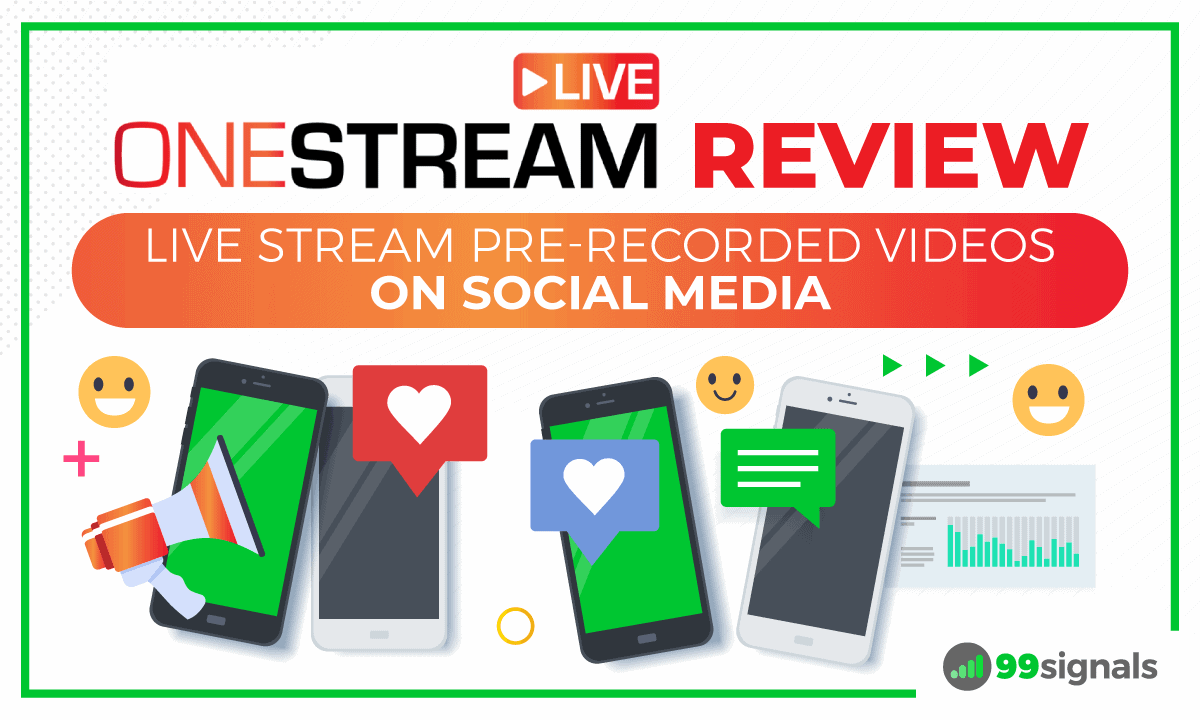 OneStream Live is a tool that lets you live stream pre-recorded videos on 40+ social media platforms simultaneously, including Facebook, YouTube, Instagram, and Periscope.
In this article, I perform an in-depth review of OneStream Live. You'll learn about its key features, pricing plans, and customer support. By the end of this review, you'll know whether or not you should buy OneStream Live.
Editor's Note: Before we begin, you can check out my video review and demo of OneStream Live below. The video provides a top-level view of OneStream Live's essential features. You'll also learn the basics of live streaming pre-recorded videos. If you'd like a deeper analysis, scroll down and read the full review.
Going Live with Pre-Recorded Videos
Live videos are extremely popular on social channels like Facebook and YouTube. In fact the algorithms on these platforms are designed in such a way that live content automatically gets more attention and engagement.
Case in point: According to Hootsuite, live videos earn 3x more watch time on Facebook than regular videos.
If you're skeptical about going live on social media, these live video stats may convince you to reconsider your position:
More than 35% of marketers use live video as part of their social media strategy. (Source: Social Media Examiner)
82% of people prefer live video from a brand over standard social media posts. (Source: Livestream)
70% of consumers who live stream do so at least once per day. (Source: IAB)
Bottom line: Live videos can help you expand your audience and gain more followers.
That said, going live has its challenges. From network issues to audio issues to the likelihood of going off script, you can't have complete control over what you're putting out there. Not to mention each platform has different streaming requirements.
That's where a tool like OneStream Live comes into play.
What is OneStream Live?
OneStream Live is a cloud-based tool that allows you to live stream pre-recorded videos across all major social media platforms, including Facebook, Instagram, YouTube, Periscope, and more.
With OneStream Live, you can have total control over your output and schedule the same stream multiple times to reach a wider audience.
What's more, OneStream Live also takes care of the bandwidth and different streaming requirements of each social media channel. You can even personalize your live streams by adding watermarks, logos, and custom thumbnails.
The best part? You can get started with OneStream Live for free.
OneStream Live's free plan allows you to connect one social account and live stream up to 5 minutes of pre-recorded content on your preferred social channel. But more on that later…
In the next section, we'll explore some of OneStream Live's key features.
Side note: When you go live with pre-recorded content, make sure your audience knows that it's a pre-recorded video. Don't misguide your audience into thinking it's a live video. Your followers are going to figure out eventually that it's not a live video when they see the quality of the video and don't see you interacting with the comments. So mention that it's a pre-recorded video in the title or description of your video when you're about to schedule the video on OneStream Live.
OneStream Live: Key Features
As mentioned earlier, OneStream Live supports over 40 platforms. From social media channels like Facebook and Instagram to gaming platforms like Twitch and Mixer, you can connect your accounts and live stream pre-recorded videos on multiple platforms simultaneously.
With most of these channels, you can connect your social accounts directly. Instagram is the only exception.
To connect your OneStream Live account to Instagram, you need to use a third-party app like Instafeed.
Instafeed will generate a Sync URL for your Instagram account. Just copy this URL and paste it in OneStream Live's Sync URL section.
Once you've connected your Instagram account to OneStream Live through Instafeed, you can upload and schedule pre-recorded videos as live videos on Instagram.
Live Stream Scheduling
OneStream Live allows you to schedule your pre-recorded videos for live streaming up to 60 days in advance. While adding stream details, just set the date and time, select your time zone, choose your social accounts, and hit the "Schedule" button to schedule your live stream on multiple channels.
Each pricing plan has a limit on the number of scheduled streams in the queue at a given time. With the basic plan ($10/mo), you can have 3 queued streams at a time. The standard plan ($45/mo) lets you have 15 queued streams at a time.
You also have advanced scheduling options. You can choose to republish your streams regularly at set intervals or schedule streams to go live one after the other with the specified gap.
Cloud Storage Integration
You can integrate your OneStream Live account with cloud storage services like Google Drive, DropBox, pCloud, and OneDrive, and stream videos directly from there.
While there's a limit of 5GB when you upload videos directly from your device, there's no such limit when you upload videos from cloud storage services.
Personalize Your Live Streams
OneStream Live also lets you personalize your live streams. With each stream, you can add a custom thumbnail, watermark, logo, and banner.
In addition to the aforementioned features, OneStream Live requires no installation or setup. Since it's a cloud-based streaming service, you can have your live streams up and running in no time.
OneStream Live: Customer Support
When it comes to SaaS tools like OneStream Live, customer support is critical to the overall user experience. When you're live streaming to multiple platforms at the same time, there are bound to be problems. Especially when you're live streaming videos for the first time.
Luckily, OneStream Live's support team is always there to assist you with whatever bottlenecks you might face while live streaming your videos or connecting one of your social accounts.
You can get in touch with customer support by clicking on the chat icon on the lower right corner of your screen. The support team usually responds to your queries in under 30 minutes.
But before you get in touch with the support team, visit their FAQ page to see if you can find an answer to your question.
More often than not, you'll be able to troubleshoot common live streaming errors and issues by browsing the articles in this section.
OneStream Live: Streaming Analytics
According to HubSpot, 88% of video marketers reported that video gives them a positive ROI.
But how do you measure the ROI of your live streams? By digging into your streaming analytics to see which of your live streams are resonating with your audience and which ones are not.
While you can view native analytics for your live streams on Facebook, YouTube, Instagram or any other channel you choose for live streaming, OneStream Live streamlines this process by providing access to streaming analytics for all your channels in one place.
Just visit the "Streaming Analytics" tab from your OneStream Live dashboard to view the performance of your live streams.
By default, the analytics view is set at "Past Week." You can change to "Past 4 Weeks" or longer depending on how long you've been live streaming with OneStream Live.
OneStream Live: Pricing Plans
As mentioned earlier, OneStream Live's free plan allows you to connect 1 social account and live stream up to 5 minutes of pre-recorded content. If you'd like to test drive the tool before you sign up for any of the plans, I'd highly recommend you try the free plan.
But if you'd like to get the most out of this tool, you'd have to upgrade to one of the paid plans.
Here are the pricing plans offered by OneStream Live:
Free – $0/mo (5 min. max each live stream, 1 social account)
Basic – $10/mo (15 min. max each live stream, 3 social accounts)
Standard – $45/mo (60 min. max each live stream, 25 social accounts)
Professional – $99/mo (8 hrs max each live stream, 50 social accounts)
If your video library consists of videos with duration less than 15 minutes each, then you can go with OneStream Live's basic plan ($10/mo). With the basic plan, you can connect up to 3 social accounts and have 3 queued streams at a time.
But if a majority of your videos are long-form videos and you'd like to connect more social profiles, OneStream Live's standard plan ($45/mo) is your best bet. With the standard plan, you can connect up to 25 social accounts and have 15 queued streams at a time.
AppSumo Deal on OneStream Live
At the time of writing this review, the OneStream Live deal is still live at AppSumo. You can get lifetime access to the Standard plan ($45/mo) for just $59.
Head over to AppSumo to grab this deal on OneStream Live while it's still available. Click here to learn more.
Related: 10 Best AppSumo Deals of the Month
Final Verdict
The video streaming market is projected to hit $184.3 billion by 2027. That's an opportunity you don't want to miss out on.
A tool like OneStream Live makes the task of going live easier by allowing you to live stream pre-recorded videos.
Since Facebook, YouTube, and others don't allow you to live stream pre-recorded videos directly from their platform, you'd have to rely on a third-party tool like OneStream Live to upload and stream pre-recorded content.
Plus, if you're a control freak like me, you're going to love what OneStream Live has to offer.
Functionality-wise, OneStream Live has it all — advanced scheduling options, streaming analytics, cloud storage integration, and much more.
But what makes OneStream Live truly unique is its ability to live stream pre-recorded videos seamlessly across multiple platforms.
Want to test drive OneStream Live and explore some of its key features? Sign up for the free plan by clicking the link below.
Sign up for OneStream Live's free plan
If you found this OneStream Live review useful, please share it on Twitter using the link below:
Editor's Note: This article was first published on 19 July 2020 and has been updated regularly since then for relevance and comprehensiveness. 
Related Articles