The platform you choose to build your ecommerce business must provide everything from design customization and conversion optimization to security, scalability, and SEO features.
It determines your ability to provide a great shopping experience. Plus, your ability to expand to international markets and reach your business goals depends on the features and functionalities that your chosen platform offers.
Two of the most recommended options are Shopify and WordPress. Both platforms offer a variety of features and tools to help you build and manage your online store.
But how do you choose which one is better for your business? That depends on your business needs, level of expertise, and budget.
A few factors to consider are:
Does this ecommerce website builder have the catalogue and inventory management features you need?
Can it be customized to your preferences?
How flexible and scalable is it?
Is it secure?
Do you have the technical knowledge to set it up yourself or will you hire someone to build it for you?
Can you afford the cost of design, development and maintenance?
Does it have suitable payment integration options?
Does it provide strong ecommerce marketing capabilities?
To help you decide which ecommerce website builder is the best fit, let's take a look at the uniqueness and key features of both Shopify and WordPress.
What is Unique About Shopify?
Shopify is a comprehensive ecommerce platform that provides a complete solution for selling online.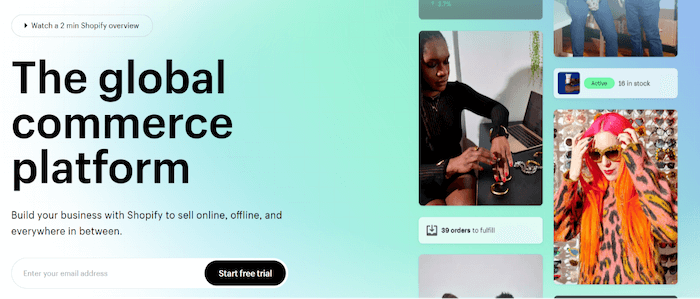 A vast array of features set Shopify apart from other ecommerce platforms. Whether you're looking for basic features like inventory management and payment processing or more advanced features like abandoned cart recovery and customer segmentation, Shopify has you covered.
Here are some of the most unique Shopify features:
Shopify is one of the only ecommerce platforms that offers a fully customizable checkout experience. This means that you can create a unique checkout experience that is tailored to your brand and your customers.
Shopify offers a standalone "Buy Button" that can be used to list your inventory on any online platform.
Shopify also allows businesses to sell directly on social media platforms such as Facebook and Instagram. This is a great way to reach out to new customers and make the selling process more convenient for existing customers.
With payments, Shopify provides its gateway (Shopify Payments) and also supports up to 100 other payment options.
What is Unique About WordPress?
WordPress stands out for its flexibility and scalability. It runs an open-source platform (WordPress.org) which means you can modify all aspects of your code and have total control over your ecommerce environment. However, the alternative, WordPress.com provides plans specifically for ecommerce businesses and is fully hosted.
It also offers a content management system (CMS) with a host of excellent ecommerce plugins like WooCommerce or BigCommerce. These make it easy to add ecommerce functionality to your website.
A few unique features of WordPress ecommerce plugins are:
The ability to display 3D Views of products
Selling intangible products such as trials, downloads or subscriptions
Partner management, contract pricing and product entitlement for B2B transactions
Enable the same user experience in all browsers or browser versions.
Allow developers to customize the platform using multiple programming languages
The Key Difference Between Shopify and WordPress
The key difference between WordPress vs. Shopify is that Shopify is a specialized ecommerce platform made for business owners. This means it has ecommerce features built-in.
On the other hand, WordPress is a content management system that can be transformed into an ecommerce site using a supported plugin like WooCommerce or Wix.
So, which platform is right for you? Let's run a side-by-side comparison.
Shopify vs WordPress: Pricing and Fees
When it comes to pricing for ecommerce platforms, there's more to it than monthly or yearly subscriptions. You must also consider extra costs like transaction fees or payment for added features, templates, and plugins.
The main pricing difference between Shopify vs. WordPress is that Shopify offers multiple plans for businesses at different stages of growth. Meanwhile, WordPress' ecommerce-specific plans are limited to just two.
Also, Shopify might look more expensive upfront, but that's because each Shopify plan includes a wide range of features such as an SSL certificate and marketing automation at no extra cost. WordPress, on the other hand, gets up to $69.78/year for an SSL certificate.
Shopify Pricing and Fees
Shopify offers three main pricing plans so you can find one that meets your business needs and fits your budget. There are also two alternative plans to accommodate smaller-scale businesses and much larger enterprises.
Each plan attracts a credit card fee which allows you to accept major credit cards as well as transaction fees for payments processed through third-party payment providers such as PayPal or Stripe.
Pricing Plans
The Basic Shopify, Shopify, and Advanced Shopify plans range between $29/mo and $299/mo with a 50% discount for yearly plans or a 25% discount for up to three-year plans.
The $5/mo Shopify Starter plan provides you with a Buy Button that lets you embed unlimited products on an existing website, social media, messaging apps, and other sales channels like Amazon or Etsy. This is great for businesses that want to add ecommerce functionality to an already existing site.
The $2000/mo Shopify Plus plan, on the other hand, is used by 7-figure brands such as Heinz and Allbirds that require localized shopping experiences, AR product pages, and process automation.
Credit Card Rates and Transaction Fees
For the three main pricing plans, the additional fees for online transactions are:
Basic Shopify: 2.9% + 30¢
Shopify: 2.6% + 30¢
Advanced Shopfiy: 2.4% + 30¢
Within Shopify Plus, you'll only be charged 0.15% per transaction. Transaction fees are waived for businesses using Shopify Payments.
WordPress Pricing and Fees
To set up a hosted online store with WordPress.com, there are two pricing plans you can choose from.
The business plan costs $25/mo and includes custom plugins to enable you to add ecommerce functionalities to your business website. The ecommerce plan costs $45/mo and offers an all-in-one online store experience with premium integrations.
Alternatively, if you want to start with a simple store and accept payments via PayPal, you can explore WordPress.org self-hosted option with a hosting provider. This allows you to access a free shopping cart plugin, install an ecommerce enabled theme and activate online payments.
The only initial cost for this option will be the price of web hosting and domain name. When you're ready for a more advanced store, you can upgrade to a managed hosting service, but it could cost you a huge sum.
Verdict
Shopify is far more transparent with pricing than WordPress, so you'll be less likely to run into unexpected costs down the line when you need more plugins and customizations.
With Shopify, store owners can save costs by paying annually and using Shopify payments to process transactions. You also have the option of a free trial, so you can go for a test drive before you fully commit.
Shopify vs WordPress: Features and Ease of Use
Some of the top must-have features of an ecommerce platform are:
Inventory management
A shopping cart
Multiple payment gateways
Sales channels
Shipping integrations
SEO tools to drive organic search traffic
Currency conversion
Security
Revenue reporting
Without access to these, you'll likely struggle to scale and satisfy customers.
The main difference between Shopify vs. WordPress when considering features is that Shopify offers the above listed features across all its pricing plans Instead, your WordPress website features depend heavily on your selected ecommerce plugin.
This means that if you choose to use WordPress, you'll also have to evaluate multiple ecommerce plugins to determine which one provides all the essential features you need to run your online business.
Shopify Features and Ease of Use
Shopify features are extensive and include customer segmentation, fraud analysis, seamless POS app, international market management, and custom automations. You also have access to an app marketplace where you can find solutions to upgrade your store's functionality.
If you're looking for a highly intuitive user-friendly platform to launch your online store, Shopify is the top choice. You can build your site in record time with ease using drag-and-drop elements directly from your dashboard.
A Shopify store is both simple and powerful with versatile customizations for beginners, growing small businesses and enterprises.
Online store features
Add unlimited products to your store (both physical and digital)
Add staff to manage products and orders
Sell your products on social media and online marketplaces like Amazon or Etsy
Track inventory and fulfill orders from multiple locations
Run your ecommerce store from the Shopify mobile app
Automatically send abandoned cart emails
Offer gift cards and discount codes to customers
Set local payment methods
Data-focused features
Track important sales metrics with in-depth revenue reports
Create customer segments and groups
Build automations to engage customers at different buying stages
Business support features
Discounted shipping rates (up to 77%) from the likes of DHL and UPS
Automate manual tasks with a built-in automation platform
Access language translation for customers in different markets
WordPress Features and Ease of Use
As mentioned earlier, the ecommerce features you get with a WordPress site heavily depend on the plugin you use to access ecommerce functionalities.
The WooCommerce plugin is the top ecommerce solution for many people who use WordPress hosting. It is open-source and fully customizable down to the code. It also offers similar capabilities to Shopify, like automated emails for abandoned carts, analytics tools for tracking profits, and coupon creation to entice customers.
Regarding ease of use, WordPress can prove to be a steeper learning curve that often requires basic coding knowledge at least.
Online store features
Sell physical products, consultations or member-only digital products
Offer single-item, bundles or subscription-based purchase options
Add photos, videos and 3D views to your product catalog
Set up promotions and time-based discounts
Enable product reviews
Access 140 payment gateways
Localized tax calculations
Expand store functionality with extensions from WooCommerce Marketplace
Data-focused features
Business support features
Enterprise solutions for when your business scales
Verdict
While Shopify is an easy-to-use all-in-one platform with impressive features, WordPress offers a collection of plugins that broaden the range of what you can access for your ecommerce business. However, this means that you'll have to update and manage multiple plugins, which can quickly become a tiring chore and come at an extra cost.
Shopify, in comparison, delivers built-in essential solutions you need to grow and scale as an ecommerce business. It doesn't require you to pay extra.
Shopify vs WordPress: Themes and Templates
Both Shopify and WordPress offer a wide range of themes and templates to upgrade the visual appearance and functionality of your store if you don't want to build from scratch.
Shopify Themes
Shopify offers over 100 customizable themes that allow you to modify color schemes, widgets and other settings. All themes are packed with features such as language translations and stock counters to help you optimize all your online sales efforts and stand out from the crowd.
The theme library includes free and premium themes grouped into categories such as electronics, food and drink, or clothing so you can choose one that is specific to your business. Each theme offers additional features and an unlimited free trial until you're ready to publish.
Currently, there are nine free themes and ninety-three paid themes on Shopify. The paid themes cost between $200 and $350.
WordPress Themes
One great thing about WordPress is that you can never run out of themes to choose from. There are multiple marketplaces selling themes for WordPress as well as countless articles featuring lists of best WordPress themes.
The only drawback is that it can be challenging to find the right theme when you have thousands of options. Regardless, you can always search for ecommerce-specific themes based on your type of business or industry.
Most WordPress ecommerce themes are mobile-friendly, and include commerce plugins and customer account management features. You'll also get access to the theme documentation and support from the theme developer. WordPress themes are also generally more affordable than Shopify themes as you can find options for as low as $19 and up to $79, which is still significantly less than Shopify's $200 price tag.
Verdict
When compared to Shopify, WordPress has a gigantic collection of themes both on its dedicated themes page and from an array of third-party platforms and independent designers. There are also countless unique design options to choose from. Shopify theme options, while not as robust, are adequate for brands that want to set up quickly, have a substantial budget and need a smaller selection of modern themes.
Shopify vs WordPress: Apps and Plugins
Besides the built-in features that come with Shopify and WordPress, some apps and plugins provide extra services you need for the success of your ecommerce website.
Shopify Apps and Plugins
Shopify offers over 1200 apps and plugins that integrate seamlessly, are mobile-friendly and easy to use. In Shopify's app store, you'll find apps like Klaviyo for email marketing, PageFly for building landing pages and Judge.me for product reviews. All these apps are free to use and have up to 11,000 5-star reviews.
WordPress Apps and Plugins
With over 60,000 WordPress plugins for SEO, conversion rate optimization and cart recovery, you have more than enough options to upgrade your site. These essential plugins come highly recommended by experts. Although they may not be free compared to Shopify options, they still are top-rated and provide key components for data-driven growth.
Verdict
Both Shopify and WordPress have outstanding app and plugin selections. So, at the end of the day, it will come down to choosing where you can find the best option for your needs and goals. Either way, both platforms offer options that will help you achieve success.
Shopify vs WordPress: Security and Support
Security in ecommerce means that your website is not exposed to potential hackers, your payment channels are protected against fraud and you have a backup of your customer's data.
Between Shopify vs WordPress, you'll find that level of security on both platforms.
Shopify Security and Support
Shopify provides a certified level 1 Payment Card Industry Data Security Standard (PCI DSS) so customers can enjoy a secure shopping experience. It also provides infrastructural security for databases, servers and recovery backups. In addition, it offers a free SSL certificate and fraud analysis for online transactions.
Regarding Shopify support, you can get 24/7 customer support or research solutions at Shopify's help centre.
WordPress Security and Support
With WordPress, you can install a security plugin, backup solution and application firewall. Unfortunately, even with the plethora of security plugins, WordPress is still a primary target for cybercriminals, so you have to engage in a lot of DIY security tasks.
WordPress Support is extensive considering its forums where faqs are answered and get helpful replies from the community as well as its live chat support.
Verdict
WordPress is known for being prone to vulnerabilities. This is because you typically set up a lot of the security options manually, from password protection to scanning for malware.
Also, due to the variety of independent plugins you might install, you'll likely need to contact the support themes of each one. With Shopify, you get more comprehensive support on all issues you might have while using the platform.
Shopify vs WordPress: The Better Choice for Ecommerce
Shopify is all-encompassing when you need store management, shopping carts, payment integrations, revenue reporting and marketing automations in a single package. It is the most legitimate contender when it comes to ecommerce.
WordPress performs best when building a content-focused ecommerce website because it works excellently as a CMS and blogging platform with superb search engine optimization functionality.
If you want to go with WordPress, you also need to allocate a sizeable budget to hire a professional developer with expert coding knowledge to get the best result.
Shopify, on the other hand, is a relatively low-cost option that you can set up beautifully on your own or with a small team.
In the end, you decide.
Related Articles