It's been over seven years since the first Google Panda algorithm update was released. So it's easy to forget its remarkable influence on SEO and the way it continues to play a huge role in how we create content on the web.
In this SEO #Throwback edition, we'll explore the launch of Google Panda algorithm, its far-reaching implications on SEO and content creation, and also answer some of the most frequently asked questions about the Panda algorithm update.
What is Google Panda?
Google Panda is a search results ranking algorithm update which was first introduced by Google in February 2011. The main agenda behind launching this algorithm update was to lower the rankings of 'low-quality sites' in search engine result pages (SERPs) and enable higher-quality sites to improve their search rankings.
At the time of its announcement in February, Google published a blog post on their official blog claiming that this algorithm change noticeably impacted 11.8% of their queries.
This is how Google described the ranking algorithm change:
"This update is designed to reduce rankings for low-quality sites – sites which are low-value add for users, copy content from other websites or sites that are just not very useful. At the same time, it will provide better rankings for high-quality sites – sites with original content and information such as research, in-depth reports, thoughtful analysis and so on."
The algorithm is named after Biswanath Panda, the Google engineer who was leading the team that developed the game-changing algorithm. It was also initially called "Farmer".
According to Moz, there have been 28 data updates to Panda between 2011 and 2015.
In the next section, we'll look at some of the critical problems addressed by Google Panda.
Problems Addressed by Panda
Google Panda addressed a large number of problems in Google SERPs, including:
Thin content/Low-quality content: 'Zero-value' pages which provide little to no value to users. Google considers pages with very little content or low-quality affiliate pages as thin content pages.
Duplicate content: Plagiarized content that appears on the web in more places than one. In some cases, your own website can have duplicate content issues when you have multiple pages featuring the same content with little to no variation.
Content farms/content mills: A content farm (or content mill) is a company that employs several freelance writers to generate short-form articles which are specifically designed to manipulate algorithms for higher search rankings. Websites like Yahoo's Associated Content, HubPages, and Ezine Articles were allegedly indulging in content farming practices at the time of Panda rollout. As such, their search rankings were deeply affected by the algorithm change.
Lack of authority: Content produced by websites that are not considered as verified sources by Google.
High ad to content ratio: Pages that prioritize ads over original content.
Low-quality user generated content: Blogs that are populated with low-quality guest posts that provide no value to the readers.
Google Panda: FAQs
Here are answers to some of the most pertinent and frequently asked questions regarding Google's Panda algorithm update.
1. How often are Google Panda updates rolled out?
For the first two years, Panda updates were rolled out on a regular basis, sometimes as frequently as monthly. Furthermore, Panda was released separately from the core algorithm.
In March 2013, Google announced that future updates would be integrated into the core algorithm. As such, the more recent Panda updates have been less noticeable. According to Search Engine Journal, the final confirmed Panda rollout (Google Panda 4.2) was on July 17, 2015.
2. How many websites were hit by Google Panda updates?
While there's no way of knowing the total number of websites that were hit by the Panda algorithm updates, there are a few high-profile cases of websites that were deeply affected by the algorithm change.
The most notable website to be hit by Google Panda was Yahoo. To be more specific, it was Yahoo's Associated Content division. Associated Content was a site that was acquired by Yahoo in May 2010 (less than a year before the Panda algorithm update).
At the time of acquisition, Associated Content was creating 10,000 pieces of content each week. As the new algorithm update targeted content farms with poor quality content, Yahoo's Associated Content was one of the first few websites to be hit hard by the Panda rollout.
The Panda algorithm update forced Yahoo to retire the associatedcontent.com domain, ditch the entire Associated Content brand, and delete up to 75,000 articles. To contain the damage caused by Panda, Yahoo launched a new site called Yahoo Voices and migrated the remainder of Associated Content articles to the new domain.
Unfortunately for Yahoo, Voices didn't work out either, despite having more stringent content submission rules. Yahoo shut down Voices in July 2014.
In addition to Yahoo, the following websites experienced a significant drop in organic traffic after the Panda rollout:
About.com
HubPages.com
eHow
Ezine Articles
Buzzle
Suite101
Articlebase.com
Encyclopedia.com
ArticlesBase
Faqs.org
A few of these brands (Ezine, HubPages, Buzzle, etc.) have failed to regain their lost popularity since the Panda update.
3. How do you know if your website has been hit by Panda?
The most obvious signal of a Google Panda penalty is a sudden drop in organic traffic correlating with a known date of an algorithm update. That said, the drop in organic traffic can be attributed to several other factors and may not necessarily have any link to Google Panda. An SEO best practice is to keep checking Google Search Console regularly for manual penalties.
If you're unsure whether your site has been hit by Panda, you may find this penalty-flowchart from Moz useful: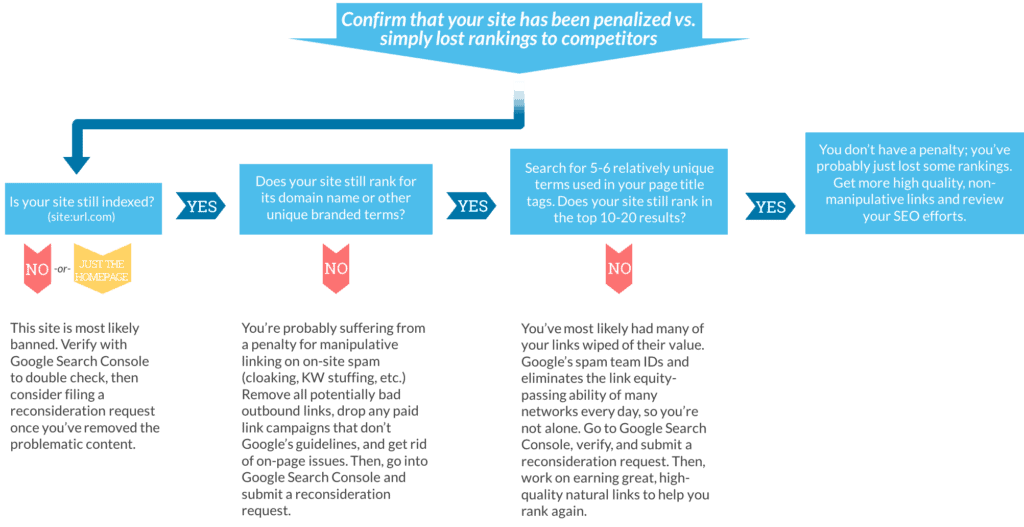 4. How do you recover from a Google Panda penalty?
To recover from a Google Panda penalty, make sure you're following these SEO best practices:
Remove duplicate content from your site. If you have multiple pages with similar content, use a canonical URL to notify Google that certain similar URLs are actually one and the same.
Delete pages with thin content. Follow a lean site architecture. Check out this guide to optimize your site structure.
Have a solid content strategy. Create long-form content on a consistent basis. Aim at publishing blog posts with at least 1,800 words. Backlinko conducted a study of 1 million Google search results and found that the average word count of a first page Google search result was 1,890 words. To learn more about the ideal word count for your posts, check out this resource.
Have a strict criteria for guest post contribution on your blog. Carefully vet the submissions and make sure the content is original and provides value to your readers.
5. What's Google's definition of a high-quality website?
Amit Singhal from Google published a blog post shortly after the first Google Panda algorithm update in which he shared the following questions to assess the quality of an article:
Would you trust the information presented in this article?
Is this article written by an expert or enthusiast who knows the topic well, or is it more shallow in nature?
Does the site have duplicate, overlapping, or redundant articles on the same or similar topics with slightly different keyword variations?
Would you be comfortable giving your credit card information to this site?
Does this article have spelling, stylistic, or factual errors?
Are the topics driven by genuine interests of readers of the site, or does the site generate content by attempting to guess what might rank well in search engines?
Does the article provide original content or information, original reporting, original research, or original analysis?
Does the page provide substantial value when compared to other pages in search results?
How much quality control is done on content?
Does the article describe both sides of a story?
Is the site a recognized authority on its topic?
Is the content mass-produced by or outsourced to a large number of creators, or spread across a large network of sites, so that individual pages or sites don't get as much attention or care?
Was the article edited well, or does it appear sloppy or hastily produced?
For a health related query, would you trust information from this site?
Would you recognize this site as an authoritative source when mentioned by name?
Does this article provide a complete or comprehensive description of the topic?
Does this article contain insightful analysis or interesting information that is beyond obvious?
Is this the sort of page you'd want to bookmark, share with a friend, or recommend?
Does this article have an excessive amount of ads that distract from or interfere with the main content?
Would you expect to see this article in a printed magazine, encyclopedia or book?
Are the articles short, unsubstantial, or otherwise lacking in helpful specifics?
Are the pages produced with great care and attention to detail vs. less attention to detail?
Would users complain when they see pages from this site?
In the same blog post, Singhal encouraged site owners to keep these above questions in mind while focusing on developing high-quality content rather than trying to optimize for any particular Google algorithm.
6. What is the difference between Google Panda and Google Penguin?
While Google Panda aims at eliminating low-quality content, duplicate content, and content farming practices, Google Penguin is a separate algorithm change that aims at penalizing websites that indulge in black hat SEO practices, especially sites that contain a lot of spammy or irrelevant links.
The first Penguin update was rolled out by Google in April 2012. We'll cover Google Penguin in detail in our next SEO #Throwback edition.
Final Thoughts
The last confirmed Google Panda update was rolled out in July 2015. There has been no confirmation from Google on subsequent Panda updates and it's generally been eclipsed by other major algorithm updates like Penguin, mobile update aka "Mobilegeddon", and RankBrain.
That said, Google Panda continues to have a massive influence on search results. As long as you're creating high-quality, original content on a consistent basis, you've nothing to worry about. Have a solid content strategy and focus on building your site's authority to keep Google Panda at bay.
Liked this article? Please share it on Twitter using the link below or use the social bar on the left to share it on your favorite social networks.
[ctt template="12″ link="1fv4f" via="yes" nofollow="yes"]The Definitive Guide to Google Panda[/ctt]
Related Articles