Instagram is now a community of 700 million users, with the last 100 million users joining faster than ever.
With millions of Instagrammers posting content every day, Instagram has started sorting posts on users' feed with an algorithm.
Here's a quick overview of how the new Instagram algorithm works (courtesy – Buffer):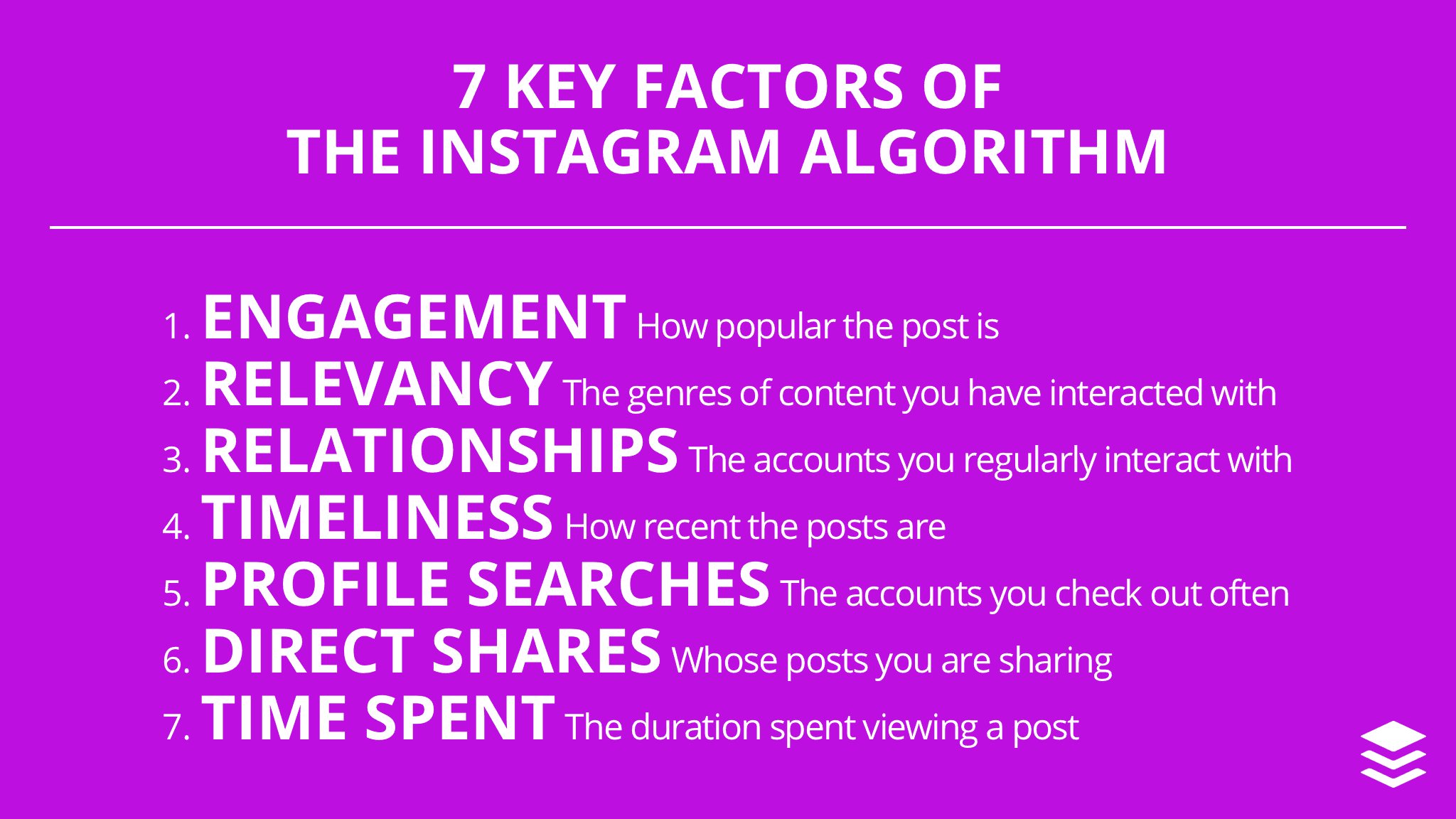 Needless to say, marketers all over the world are noticing a stark decline in their organic reach.
But that doesn't mean you should give up hope on Instagram. In fact, with the new Instagram algorithm, it's possible for your brand to reach more followers than ever.
In this article, we'll share 6 simple tactics to increase your organic reach on Instagram. And yes, these tactics don't include investing in ads.
6 Ways to Increase Your Organic Reach on Instagram
#1 Leverage User-Generated Content
User-generated content (UGC) is defined as brands selecting the best of the best user content from around the web and featuring it on their social media accounts while giving credit to the user.
UGC may include user's photos, product reviews and testimonials, and photo contests. One of the easiest ways to generate UGC is to create a unique brand hashtag and include CTAs in your posts, reminding your followers to contribute UGC content with the hashtag.
For instance, Expedia, the world's largest online travel company, asked their audience to share their most memorable holiday experiences costing £139 or less by using #My139 to win one of five £500 travel vouchers. Over 1,000 people entered the #My139 challenge in in just 5 weeks.
Spending time curating UGC is a great way to engage your fans and increase organic reach of your regular posts.
And that's not all.
Using UGC also makes your brand more trustworthy.
According to Crowdtap, millennials are 50% more likely to trust user-generated content than any other type of media and 35% more memorable than other media.
Bottom line: Leverage UGC to increase your organic reach on Instagram.
#2 Tell Instagram Stories
With Instagram Stories, Instagram is not just luring users away from Snapchat, but also retaining interest among current users of the platform.
The best part about Instagram Stories is that it allows you to post as many photos or videos you want without fear of being too intrusive or annoying to your followers. 
Over 200 million users post Instagram Stories every day. Despite its popularity, however, very few marketers are leveraging Stories to engage their followers.
According to a study conducted by Buffer, only 16% of marketers currently use Instagram Stories. This is the right time to craft brilliant Instagram Stories and engage your audience before this trend becomes more popular.
All Instagram Stories appear above the feed on Instagram, allowing you to stay on top of your followers' feed and grab more of their attention. If your followers view your Stories regularly, your regular posts may eventually start gaining more organic reach.
#3 Post Content at Optimal Times
Despite algorithm updates, posting content at optimal times on Instagram is still a good strategy to use.
Each social media network has its own optimal time to post content. Check out this article to learn more about the best times to post content on different social networks.
In a recent poll by Later, over 50% of social media managers said that evenings from 7-9pm was the best time to post on Instagram.
TrackMaven found that Instagram engagement remains consistent throughout the week, with slight spikes on Monday and a slight dip on Saturdays.
Pro Tip: If you are using an Instagram business profile, you can deep dive into your Instagram Insights to learn more about when your followers are most active by day of the week or time of the day.
#4 Go Live on Instagram
Just like Instagram Stories, a live video appears right on top of Instagram's feed with a "LIVE" logo on your profile. And like Stories, live videos are not mainstream yet. In other words, this is the right time to start uploading live videos before other brands jump on the bandwagon.
Instagram's parent company, Facebook, is prioritizing live videos on both Facebook and Instagram. Users on both platforms receive notifications on their smartphones whenever someone goes live.
#5 Create Native Content for Instagram
Instagram is a visual platform which means you need to pay more focus on the photo or the video than the text. A post that does well on Facebook may not necessary do well on Instagram. As such, you need to create content which is native to Instagram.
While creating graphics on Canva, select Instagram templates to make sure you're using images with the right resolution.
Another great content idea would be to post behind-the-scenes photos/videos of your employees at work to offer something different to your audience.
Brands such as Buffer and HubSpot do this regularly on Instagram. Follow these brands for some pointers.
Even crossposting from other platforms works well, but make sure that you craft unique captions for each social media platform. This will also give your fans an extra incentive to follow you on different platforms.
#6 Post Videos
According to several studies, photos still rule Instagram despite video consumption increasing by 40% over the last six months.
Photos tend to get more likes and shares than videos on social media. Videos, however, generate more comments than photos. A study conducted by News Whip found that videos, on average, generated 2x the amount of comments than photos.
Since commenting requires more effort from a user than liking or sharing a video, it's safe to assume that the Instagram algorithm values posts with more comments over posts with more likes or shares.
So experiment with videos and see if they get more comments than images. Aim at creating 1-2 videos per week and see if you notice a spike in the organic reach of your regular posts.
Over to You
The algorithm update on Instagram values user experience on the platform over anything else. As such, aim at creating content that your audience enjoys and engages with.
Now that you know a few tactics to increase organic reach on Instagram, it's time to experiment with these techniques and see how it works out.
What's your strategy to rank your content high on Instagram? Did we miss out on any of your favorite tactics to increase organic reach on Instagram? We'd love to hear from you. Please share your thoughts in the comments section.
If you liked this article, you may also like: